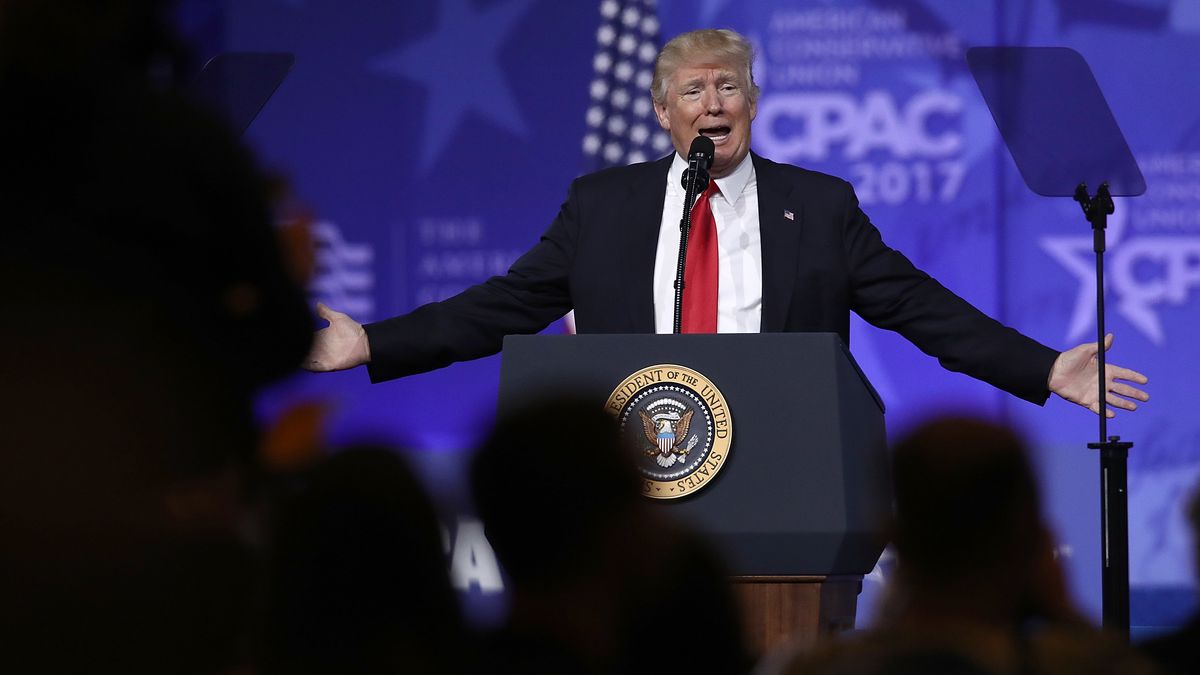 News
These are the best theories we found on the internet.
Late last night, Donald Trump left the world scratching their heads...again. And all it took this time was a mere seven letters. "Despite the constant negative press covfefe," the president tweeted (and later deleted) from his account. To which the internet replied: huh?
One can assume that what Trump meant by "covfefe" is "coverage," but since it took him hours to address the mistake—with another tweet, of course—people had a field day, coming up with meanings, posting memes and trying to use the word in a sentence. Since they're still coming (and still hilarious), we're rounding up some of the best, ahead.
---
The name of the newest Pokémon:
HOLD THE DOOR HOLD FE DOOR HOLD FE FOOR COLD FE FOOR COV FE FOOR COV FE FEER COVFEFE #COVFEFE https://t.co/1WuuauAiMS

— Risa Persuasoria (@Risa Persuasoria) 1496217442.0
Alternative lyrics to "Let It Be":
When I find myself in times of trouble / Mother Mary comes to me / Speaking words of wisdom / #Covfefe

— Verdandi【ヴェルダンディ】 (@Verdandi【ヴェルダンディ】) 1496217045.0
A Yiddish term:
"A #covfefe is a yiddish term for 'I gotta go to bed now': Sen. @AlFranken explains Trump's late-night mystery twee… https://t.co/IPfLZcO6J8

— CNN (@CNN) 1496236248.0
Me: Wtf is #covfefe and why is everyone tweeting about it?! [looks it up in urban dictionary] Me: Aha, makes sens… https://t.co/tYpovSd7Po

— Mädchen Amick (@Mädchen Amick) 1496216013.0
Another way to say coffee:
Is this #covfefe ? https://t.co/fP7G3wktxK

— Hidetaka SWERY Skywalker (@Hidetaka SWERY Skywalker) 1496234639.0
A code word:
TRUMP: What happens if they uncover the plot & want to arrest me. PUTIN: We'll pull you out. Just tweet out the code word "covfefe"

— Jeet Heer (@Jeet Heer) 1496206881.0
The aftereffects of drinking:
*want some russian vodka?*

no i remember last time when i drank it i covfefed #covfefe pic.twitter.com/TkwlPk1AfM

— king covfefe (@hordstar) May 31, 2017
The name of wizards/magical beings (and possibly the plot to the next Twitter-made movie):
Wakes up. Checks Twitter. . . . Uh... . . . 📈 Lookups fo... . . . Regrets checking Twitter. Goes back to bed.

— Merriam-Webster (@Merriam-Webster) 1496207322.0
This "Russian" translation:
@realDonaldTrump This is #covfefe translated from Russian. https://t.co/1Im7ZzLO0Y

— Kristina Wong ❄️ (@Kristina Wong ❄️) 1496207391.0