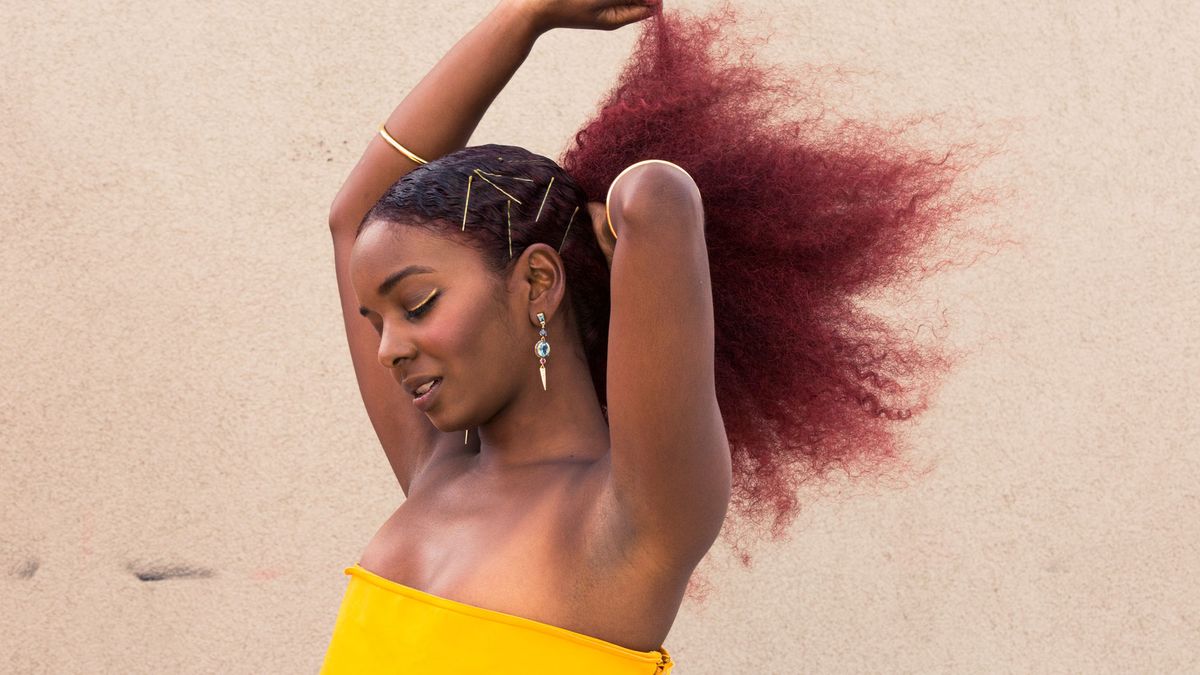 Hair
This Summer Hairstyle Actually Looks Better The Bigger Your Hair Gets
Who knew a few gold bobby pins could make such a statement?
Alec Kugler
Laurel Pantin
Makeup
Amber Amos, Hair: Paul Warren
We first fell in love with Sunita on her Instagram, and it's easy to see why we fell completely head over heels for her wild mane of bright red hair. Which is weirdly exactly how she described it to us at our shoot: "I'd say my hair is big, fun, and wild," she laughed. Surprise, surprise, we're not the only ones fawning over her hair. "It feels amazing [to hear people admire my hair]! I grew up in Wisconsin, and I didn't want to stick out any more than I already did. I hated my hair. I thought it was ugly," she admits.
She gives some credit to social media when it comes to her decision to stop straightening it and let her hair grow healthier. "It helps to see women people are embracing their natural beauty on social media, and it's inspiring. It's what helped me start. I saw women in New York City embracing their natural hair, and I was like, 'Okay, if they can do it, I can do it. They look so good, and they look like they feel good, so I'm going to do it.' It's definitely inspiring."
---
As for her day-to-day now, her main tip is to keep it simple. "I do co-wash and go. I just apply conditioner in the shower, rinse it out and go, and let my hair air-dry, and that's it. My three favorite conditioners are Pantene, Suave, and Tresemme. I love to do a deep-conditioning treatment, maybe twice a month, with Joico. They have a really great deep-conditioning mask. Then, if my hair is feeling extra dry, I like Kinky Curly Knot Today leave-in." Also, she gets that bright red color herself! She uses semi-permanent at-home box colors, which, honestly, completely blew us away, it looks *so* good.
As for her look, Warren highlighted her natural volume. "First, I parted her hair down the center, and then I went over the sides and back with water first and then gel," he said.
"Once I had worked in the water and the gel to that part of her hair, I went in with a wide-toothed comb and slowly combed through that and sculpted her natural wave into almost a finger wave, rather than fighting it.
 
"Then, I gathered the rest of her hair that was still dry, not wet with gel and water, at the nape of her neck into a ponytail holder. Once I wrapped the ponytail around it, I only wrapped it once so it wouldn't be too tight and pull out her wave. Then, I wrapped some of her hair from the bottom of the ponytail around the ponytail holder at the base and secured it with a bobby pin to cover the ponytail holder.
"Next, I just brushed out her ponytail and got it as big as I could. I re-wet the top of her head to make sure the waves were intact and then let them air-dry. Before it dried, I just sort of randomly placed gold bobby pins throughout the sides of the waved part to give it some kind of design, just for fun."