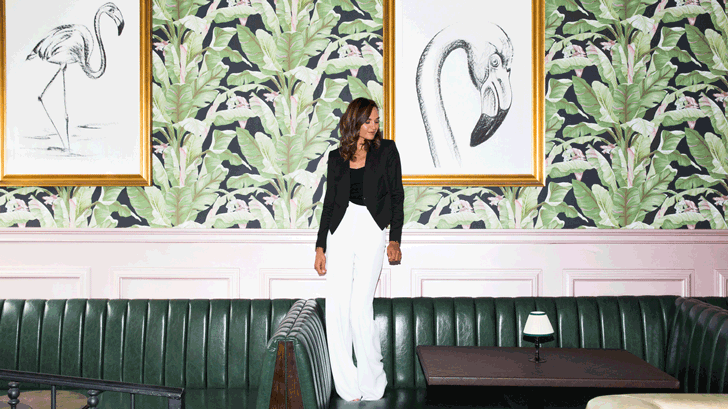 Travel
Not for long (the flamingo mural out front will make sure of that). In collaboration with Tiffany & Co.
Alec Kugler
Meagan Wilson
Navigating a new city within a short span of time—with the goal of seeing and doing it all—can be, in a word, challenging. That said, we're usually up for it—especially when said city is Chicago, teeming with endless options (both cultural and culinary—and namely, pizza-related) to tack onto our agenda. Of course, it helped that we had Chicago native Shalice Noel to give us her tour of the city, her way.
---
It was only a matter of time before we found ourselves at the newly opened Flamingo Rum Club (complete with armfuls of pieces of Tiffany & Co.'s latest HardWear collection.) Inspired by the 9-to-9 (to, if we're being honest, occasionally 9 the next morning…) style of New York women, the collection actually draws on the design of a unisex bracelet the house first released in 1971—making for a line that's as equally refined as it is sculptural and utilitarian. It's the kinda thing you buy yourself after a promotion, inking a book deal, your first gallery opening—they're pieces that have something to say without doing the speaking for you.
Of course, the space itself is far from just a pretty face: the entire experience, from the incredible decor to, well, the cocktails made it one of our favorite stops on our tour. Did we mention we even taste-tested a bunch of spring options that hadn't even made it to the menu yet—we swear a ball wire cuff or fistful of HardWear ball rings made them even more dangerously (remember what we said about having to dress with 9 AM the next morning in mind?) delicious.
It didn't hurt that it just so happened to be the perfect setting for the historied brand's latest line (yep, that would be the bold, sculptural stuff you've seen in those Tiffany blue campaigns with Lady Gaga everywhere). Turns out the murals and Art Deco touches flanking every corner (think forest-green leather banquettes, moulded millennial pink walls, and palm leaf wallpaper) was the picture-perfect (literally) setting for Shalice's cool, flowy, minimal look and statement jewelry (we were totally transfixed by those swingy gold earrings). In other words? This is already on your Chicago to-do list—even if you haven't booked your flight yet.