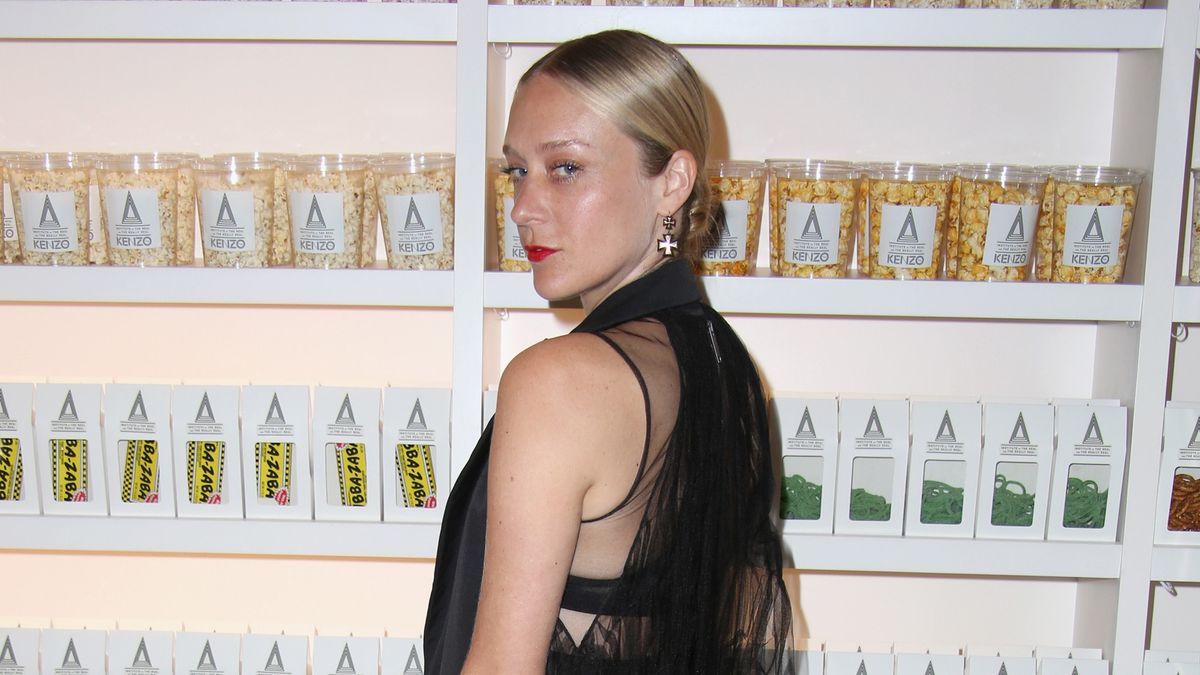 Photo by Sonia Moskowitz/Getty Images for Kenzo
Celebrity
5 Reasons Why Chloë Sevigny is Still The Coolest It Girl Out There
The style icon and indie queen talks life after 40, what she wants to see more of on Instagram, and who the next 'it-girls' are.
The first thing Chloë Sevigny  said when she gave us a call from the premiere of her newest film The Dinner in L.A. was an emphatic "HIIII New York….that's where I live!" She says it as if we don't already know that she is the definition of New York City cool. As if we haven't read (and re-read) the infamous New Yorker profile on her, where she was dubbed "the coolest girl in the world" in 1991 (a title we're pretty sure most would agree she still holds 26 years later). As if we haven't ever stopped into a East Village vintage shop hoping to walk out in an outfit she'd approve of or to walk into the actress, now filmmaker and forever it-girl, herself.
When we mention her most recent film retrospective at Brooklyn's Nitehawk Theater (where they played everything from Kids to American Psycho) we can't help but fawn (just a little) over the indie icon herself and mention how her movies have meant so much to so many. She lowers her voice with a shy "That's cool" before she laughs and adds "I'm happy I can represent something to someone, I guess! I don't want to take on that responsibility but if I can inspire some kids to do something…!" Chloë trails off before mentioning her recent short film Carmen and her desire to see more realistic depictions of beauty on Instagram. When we ask if she finds her status as an "it-girl" strange she laughs again "Well...I hope I'm still referred to as a girl!" Here are our five reasons why she is still ours (forever and ever).
---
1. She is more interested in working with inspiring filmmakers than the roles themselves
Chloë thinks that maybe she would have had a better career if she had navigated it through the parts she's taken. But we couldn't disagree more. Her love of film is evident in her skepticism of movie theaters that let you dine as you watch ("Don't you find it distracting–with the waiters?!) and her admiration for those who make it. "I wanted to work on The Dinner because I really like Oren Moverman as a director. There is always a stamp of a true filmmaker on his movies. When I choose roles, usually I'm drawn to the filmmaker. Recently my friend Natasha Lyonne was doing this movie Antibirth and she was the star and she was producing it. She's one of my best friends so I want to support her and make this freak out movie and also spend a couple of weeks in Canada."
2. She's tired of unrealistic Instagram beauty and isn't afraid to unfollow someone because of it
Chloë has modeled for Miu Miu, Louis Vuitton, Chloé, H&M and J.W.Anderson. Yet her Instagram is refreshingly devoid of photos of herself and instead filled with those of other iconic women. "When I joined Instagram, I was bombarded by images of models! So I had to unfollow them because I can't see those model images of the impossible figure over and over again." In response she posted photos of Patti Smith, Tina Turner and Michelle Obama, putting out content that she wanted to see. "I was struggling with my profession and my self-worth and all kinds of things. I just wanted to promote different kinds of beauty, women of different ages, shapes, sizes and colors and women who are part of telling stories."
3. Her first Instagram shout out was to one of her main rivals for movie roles
Even if she is recognizable to anyone who loves film and fashion she's diffident enough to talk about her shortcomings. She even brings up lost parts and a rivalry. "I think the funniest one was one of the first Instagram 'I love actresses' ones I did, that was Sarah Polley, who is a Canadian actress from the '90s who kept getting all of the parts I wanted! She was, I don't want to say my main competition...but she kinda was! She probably doesn't even know that. I kept losing parts to Sarah Polley and I kept getting super bummed. I think she even turned down the part in Boys Don't Cry that I eventually played. How funny is it to give a shout out? I do love her though!"
4. She thinks a whole new type of confidence comes with age
When people hear Chloë Sevigny they think 'it-girl' regardless of the year or her age. It may have to do with how naturally she's handled getting older, and has even used it as inspiration for her newest projects. "I was turning 40 and feeling–the more I become insecure on the outside, the stronger I become on the inside. I have this duality going on. I just found that strength within me to go for it. I had always done closing collections with Opening Ceremony and this book with Rizzoli. So doing more my own thing was rewarding! I always knew I wanted to be a filmmaker, I was just waiting for the right time."
5. She isn't worried about someone taking her place
Before she became an icon for girls everyone, Chloë was obsessed with an earlier generation of trendsetters like Clara Bow. And she isn't hung up on what people think of her or how she'll be remembered but instead on what and whose next. "There is always going to be another young person that older people find intriguing and want to project their ideas on. I have a bunch of new girls I'm into. The 'it' girls like Hailey Benton Glass and India Salvor Menuez, she's like a New York hip girl. She's in the fashion shows. They are always those hip girls around that you see and you're like 'oh my god they're so cute' and you just want to exploit them! [laughs] I can understand why people wanted to do that to me. I'm in the position now where I want to do the same."