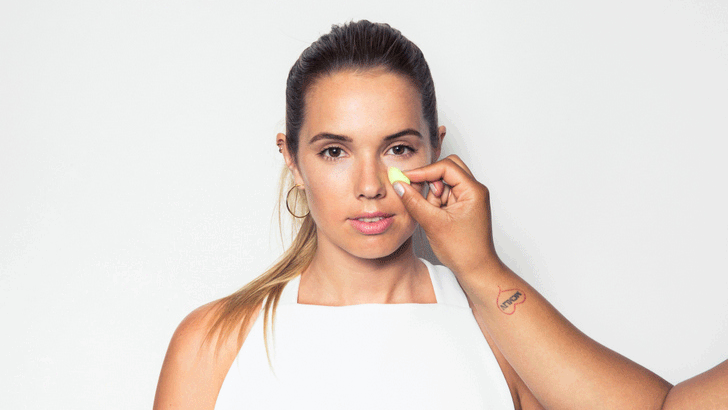 Makeup
It might look like a bra insert (or insole), but the Silisponge delivers some serious results.
In the latter half of 2016, the beauty industry nearly lost their minds when Molly Cosmetics, based in Hong Kong, unveiled their latest invention called the Silisponge. Priced at a mere $9.90 online, the cheap thrill was a hot topic discuss among beauty vloggers, editors, and makeup artists alike. In fact, since launch it's been restocked numerous times. But, the question remains—does it really work?
Like the rest of us, Director of Makeup Artistry at GLAMSQUAD, Kelli J. Bartlett discovered the new "tool" on Instagram. "I am a total beauty junkie and love checking out social media for the newest [things]. I saw it being used in a video and had to try it," she shares. "Silicone products don't absorb, so the Silisponge can help apply product you don't want 100% transfer of, like glitter! It also helps that you can see where the product is going to land, so you can really target areas."
Unlike the popular (and pretty much iconic) beautyblender, the non-absorbent silicone-based pad was designed to use less overall product than other pro tools out there. "The Silisponge came about because our founder (a makeup artist) was experimenting with different products and had the idea to create a product that is environmentally friendly and can be used for a long time," shares the company's business manager, Sya Yahya.
So, we flat out asked Bartlett—a neutral party—which one is "better" in the long run? "Part of the beauty of a sponge applicator (or beautyblender if you will) is that the excess product is absorbed by the sponge giving a blended look," she says.
"The same is true of natural fiber brushes, they hold a little product back in order to give a natural looking finish. In my opinion, the Silisponge is good for skincare, where want a spatula type of application—think full 'lay down' of product." Her verdict: "The beautyblender helps to blend makeup into a flawless finish, while the Silisponge is a vehicle for application."
Admittedly, Yahya notes that the Silisponge is best for foundation or cream-based versions of your favorite makeup products. "I suggest using the Silisponge for gel or cream based skincare products or primers," adds Barlett. "It is very effective at smoothing and patting those textures into place. If you are using it with foundation, I would suggest working in small sections, using a circular motion to press the product into the skin." She cites while it can be used all over, it's particularly handy for hard-to-reach places like the nose crevice and under-eye area.
One of the major pro that doesn't go unnoticed is that the tool can be cleaned by washing it with soap and water alone. Wash day for all your brushes can be a full-on chore, so kudos to the Molly Cosmetics team for that hack. "You do have to store it away from sharp objects," Yahya emphasizes. He also suggests storing it in the company's recyclable foil bag after use.
While we won't throw all of our tried-and-true makeup brushes out yet, we do think this innovative new tool is worth the investment for beauty aficionados. Plus, anything that can help us get every last ounce of our skincare ~investments~ is worth it in out book.