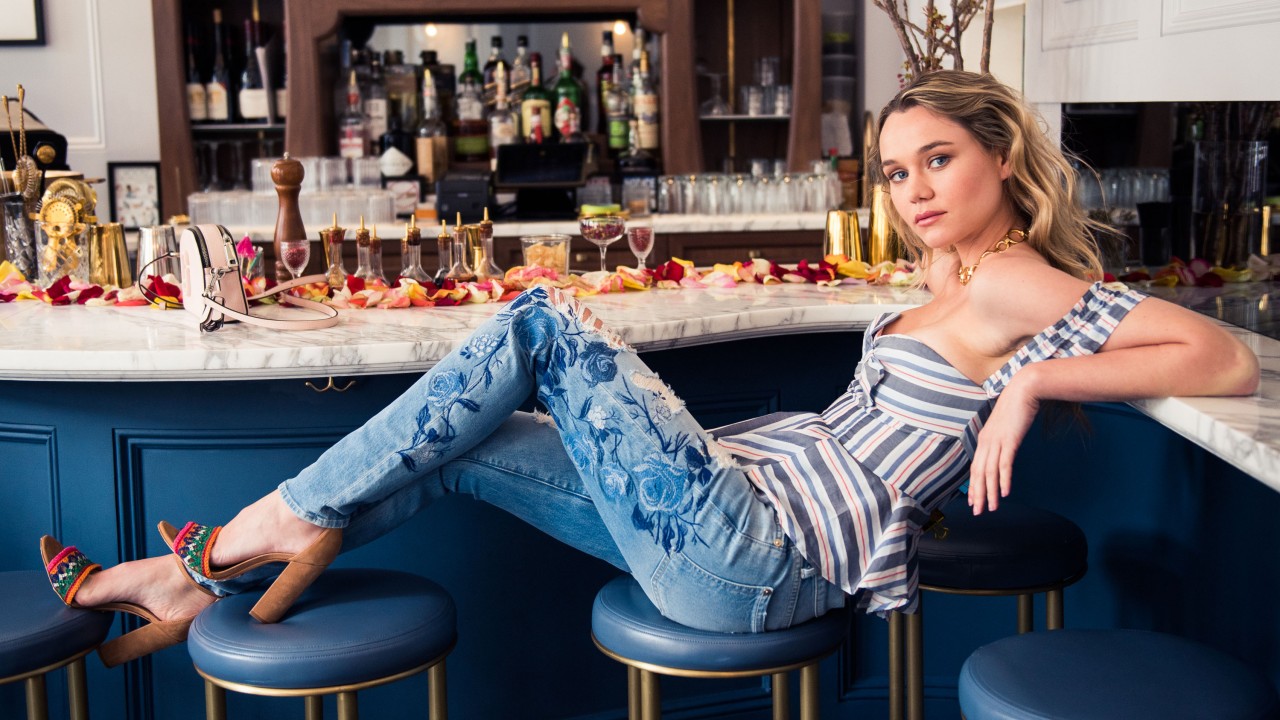 The Perfect Spring Weekend in NYC, According to Immy Waterhouse
3 of our favorite spots that should definitely make your Saturday hit list. In collaboration with Saks Fifth Avenue.
As much as we all collectively scoff at season pushers—like that one guy you see on your way to work wearing shorts and a tee in, like, March—there's something about the season when it's in full swing that's downright contagious. Of course, when you bring a Londoner into the mix—like, say, Immy Waterhouse—things only become exponentially more electric. While London is arguably one of our favorite cities on the planet, there's no denying its perennially gray skies can make for a bit of a shock upon touching down in spring-y, sunny New York (in the very best way possible). It's the kind of thing that makes you want to play hooky on a Wednesday afternoon to go drink mini cans of rosé in the park. C'mon—we know we're not alone in this.
And so, with Immy in town for just one day, we kind of did just that—to be honest, we considered it nothing short of our duty to take her on a little tour of a few of our new favorite spots in the city. It doesn't hurt, either, that we just happened to have the wardrobe—c/o Saks Fifth Avenue, of course—to match.
---
11 AM: Mid-Morning Plant Shopping at The Sill
84 Hester St
Why we love it: Plant shopping in the city can feel overwhelming—that's exactly why The Sill will deliver everything you need (*and* pot the plant for you) right to your door.
What to wear there: Lacking in the green thumb department? That's cool—nod to the whole palm-print thing by way of a pair of printed platforms (Immy's are Schutz).
 
Nothing screams "made for IG spring morning" like a stop at Chinatown's The Sill, wishing desperately we had been blessed with anything other than the opposite of a green thumb. Immy was instantly on the same wavelength as us upon walking into their shop, although she's currently without greens in her current space for an entirely different reason altogether. "The plants at The Sill were really cute. My favorite were these little hanging ones. Ideally, I would have them hanging all around my home. I actually just moved out of my flat, so sadly, plants aren't top priority at the moment."
As for her look? "I think the ruffle top was really cool. It was kind of modern Victorian. I would wear it to a dinner party with a nice pair of high-waisted jeans or trousers," Immy told us. "I do like a big sleeve, it's kind of pirate-chic. It's a strong look.
 Although, you have to be careful waving it around flames. You wouldn't want to wear that to a campfire." Girl's got a point.
11:50 AM: Wandering Around NYC
1 PM: Lunch at While We Were Young
183 W 10th St
Why we love it: "They hand out a mini pack of gummy bears with the bill there. The guy who owns it said that his late father used to do that when he owned a restaurant. He's carrying on the tradition," Waterhouse recapped as we were on our way out.
What to wear there: We love the idea of leaning into the girly space with something date-night-ish (like this top) made daytime cool with a pair of distressed jeans. As Immy said, "That was very va-va-voom, wasn't it? I like the off-the-shoulder thing. It's cute. The jeans were cool, too. It's quite ladylike, which is different than my style, felt a bit Sex and the City. While wearing, I was like, 'Oh, hello!'"
Despite the millennial pink decor, this Greenwich Village spot has remained relatively under-the-radar. Immy told us, "It was my first time at While We Were Young. It was so nice; the food was heaven. It had a real charm to it." So what'd she order? "I got the kale salad and the salmon, but the whole team shared bits and bobs and it was all really delicious."
4 PM: Chillhouse
149 Essex St.
Why we love it: Where do we start? The massages, or matcha lattes?
What to wear there: Who wants to be caught in something fussy or clingy after a deep-tissue massage? Take a cue from the name and wear something, well, chill.
 
We can't think of any better way to cap off an afternoon than spending it at Cyndi Ramirez's spot, Chillhouse. Immy, a first-timer, agreed. "I love Chillhouse. It's such a good idea! I got a massage. I had a really yummy man massage me. [laughs] The coffee was also great." She continued, "We don't really have stuff like that in London! It's somewhere you can go and do work. Maybe it's a good thing it's not in London, or I'd be there every day—Immy Chillhouse!" she laughed.
It probably helped that her final look felt the most "her"—and was incredibly comfortable to boot. "[The look I wore to Chillhouse] probably felt the most 'me.' It was just floppy and casual. You can stretch in it and run around, be free in it. I really like the material of the top. The stripy trousers were cool, and the shoes. That whole outfit did it for me. It was a modern take on '70s," she explained before heading into her massage.