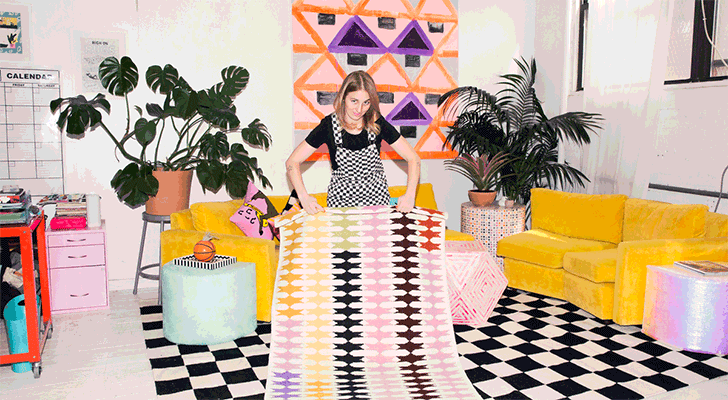 Interiors
Aelfie Oudghiri's label, Aelfie, is the perfect budget-friendly alternative for vintage lovers.
Alec Kugler
If you've ever lost a couple hours of your life inside a Tumblr hole of drool-worthy interior spaces only to come up for air and wonder, How the hell do they find these amazing pieces?—you're not alone. We've all dreamt of the casual stumble across an original Herman Miller Lounger in the back of a dusty garage, or a gorgeous kilim rug peeking out from a stall at the flea market. Dreams they may be, but one woman in Brooklyn has managed to craft an entire career out of just such a lucky break.
Aelfie Oudghiri, aka the creator and designer behind her eponymous brand, Aelfie, has the type of unconventional background that you'd doubt still existed in a post-Jack Kerouac world. Her studies and travels have traversed the globe everywhere from Budapest to Paris to Bushwick, eventually landing in her sun-drenched Greenpoint studio in the neighborhood's refurbished Pencil Factory. Unsurprisingly, the space is stacked with piles upon piles of rugs, vintage and her own designs, with several fuzzy poufs conveniently loitering within arm's reach. Paintings and knick-knacks (including a Beavis and Butthead matryoshka doll) adorn the small studio, each with their own curious story of how they eventually came to reside in Brooklyn.
Spending time with Oudghiri means you'll leave with both a thorough education of the artistry and history of rugs, as well as a sense of her dedication to preserving their style of craftsmanship via her own company. She's deftly merged her passion for textiles with a whimsical modernity, and her pieces—several of which are named after her friends and family—are ideal for the contemporary urbanite. While the former medical student admits that her Ivy League education initially steered her in a much different direction, we'll luckily be coveting her growing label for years to come.
Click through the photos below for a peek inside the Aelfie studio and how a chance encounter at a dinner party might just be enough to launch your new career.
---
1 / 18
"My husband and I met at a hip-hop nightclub in Paris, and at the time I was in medical school in Budapest and he was working for The World Bank in Morocco doing energy-related projects. We fell in love, and I didn't really want to move to Morocco, and he didn't really want to move to Budapest. So we sort of settled on New York, and he convinced me [to] apply to Columbia."