Beauty
What Fashion Moms Packed in Their Hospital Bags
Because for some things, it's best to turn to the experts.
By now we have a pretty good handle on adulting. Whether it's hosting a ladies lunch, starting an art collection, or buying our friends unqiue wedding gifts, we've got it covered. But, we'll admit, there is the rare occasion that leaves us a little confused. For example, as our friends start getting pregnant, they're looking for advice on what to pack in their hospital bags for the day of delivery. We take pride in our research skills, but this time, there were almost too many resources to choose from. Which is why we decided to go straight to the sources, aka our favorite fashion moms.
---
Founder & Creative Director, TyLynn Nguyen
 
On what she packed the day of…
"The day of my labor I was shooting a campaign! I felt contractions all day and tried to ignore them, [but] by dinner time I was in full counting mode. We decided to go out to dinner at Soho House to pass some time—but we knew it was happening. I packed an outfit or two for his big sis, Lotus, first, then I packed a Mabo Kids white bonnet, pants, and top for baby Czar to go home in. I packed a Hatch gal hospital set—super-comfy pants for me, a tee for me, and a little something for baby. It was cute. I also brought My CHANEL robe, a belly band for after delivery so I could support my back, and a Wolford stretchy dress to throw on."
Which item was most useful…
"The belly band helped me to stand comfortably right after giving birth. It has also helped me to get my shape back. I loved it because it was comfortable and adjustable as I got smaller. My biggest reason for using it was to support my back. I ran track in college and hurt my back several times from triple-jumping and long-jumping. It's heaven to have that back support after birth!"
On whether she missed anything…
"No. After the first kid, you don't forget as much. I had everything I needed, plus some. You would have thought we were going on a week vacation!"
What bag she used…
"My husband has this beautifully aged vintage leather Gucci bag he insisted on using for his first boy. Sometimes you just have to let dads have their moments with their sons, and this was one of them. It's a beautiful bag, though. Very masculine yet chic."
When she had her bag packed and ready to go…
"I had my hospital bag ready to go two months before. I wasn't sure if I would be early or late. I had heard so many stories of second babies coming both early and late, so I was ready for anything!"
Jewelry Designer, KDIA
 
On what she packed…
"Hospital toiletries are the worst, so of course I brought my own. For my body, I used the Weleda Calendula Baby Body Wash—I didn't want anything too fragrant, as it can irritate the baby. I also brought along coconut oil as a moisturizer. For my face, I stuck to the basics—La Prairie Foam Cleanser, Dior Hydra Life eye cream, and La Mer Renewal Oil.
"I did bring a few makeup items, and I actually used them—hear me out! I remember looking so washed-out in the photos after my first son's birth, so for my second time around I wanted to look beautiful but also natural. I chose to bring my lightest foundation, Dior[skin] Nude Air in 40. You only need three to four drops. Then Koh Gen Do Maifshani creme blush in apricot, and my favorite Clé De Peau lip balm.
"Hair care is important—you'll take at least three showers while you're in the hospital. I took a little travel-size bottle of Davines Nounou—it works well for color-treated hair like mine. I also brought along a bottle of the Shu Uemura Protective Oil. Can't forget my trusted Mason Pearson comb and a bunch of hair ties. Don't forget the hair ties!
"I also packed a few tech items. A Beats pill for playing soothing music, digital camera, and chargers, of course.
"When it comes to clothing, comfort is key. I had a maternity dress from A Pea in the Pod with a matching robe that I wore most of the day (I had three sets). These were so soft and comfy, not like the stiff ones the hospital provided. I also brought a pair of slippers and a few pairs of thick socks. And don't forget a going-home outfit—I think I wore sweatpants and a t-shirt.
"Also, clothes for the baby. Monica + Andy makes the most wonderful organic newborn clothes and blankets. He wore that for his whole stay. I also brought all of his own toiletries and diapers for him. Seventh Generation diapers, water wipes, and Aveeno Baby products."
Which item was most useful…
"Lip balm! I'm not sure why, but my lips were so incredibly dry after giving birth—this was a lifesaver."
Something she wished she had packed but didn't…
"I should've brought the baby book so that I could put his fresh little foot prints in there. I just wasn't thinking about that."
What bag she used…
"My husband bought me this beautiful Goyard bag, and I still use it now for all of baby's things."
When she had her bag packed and ready to go…
"I wanted to be prepared, so I packed three weeks early, although my baby was a week late."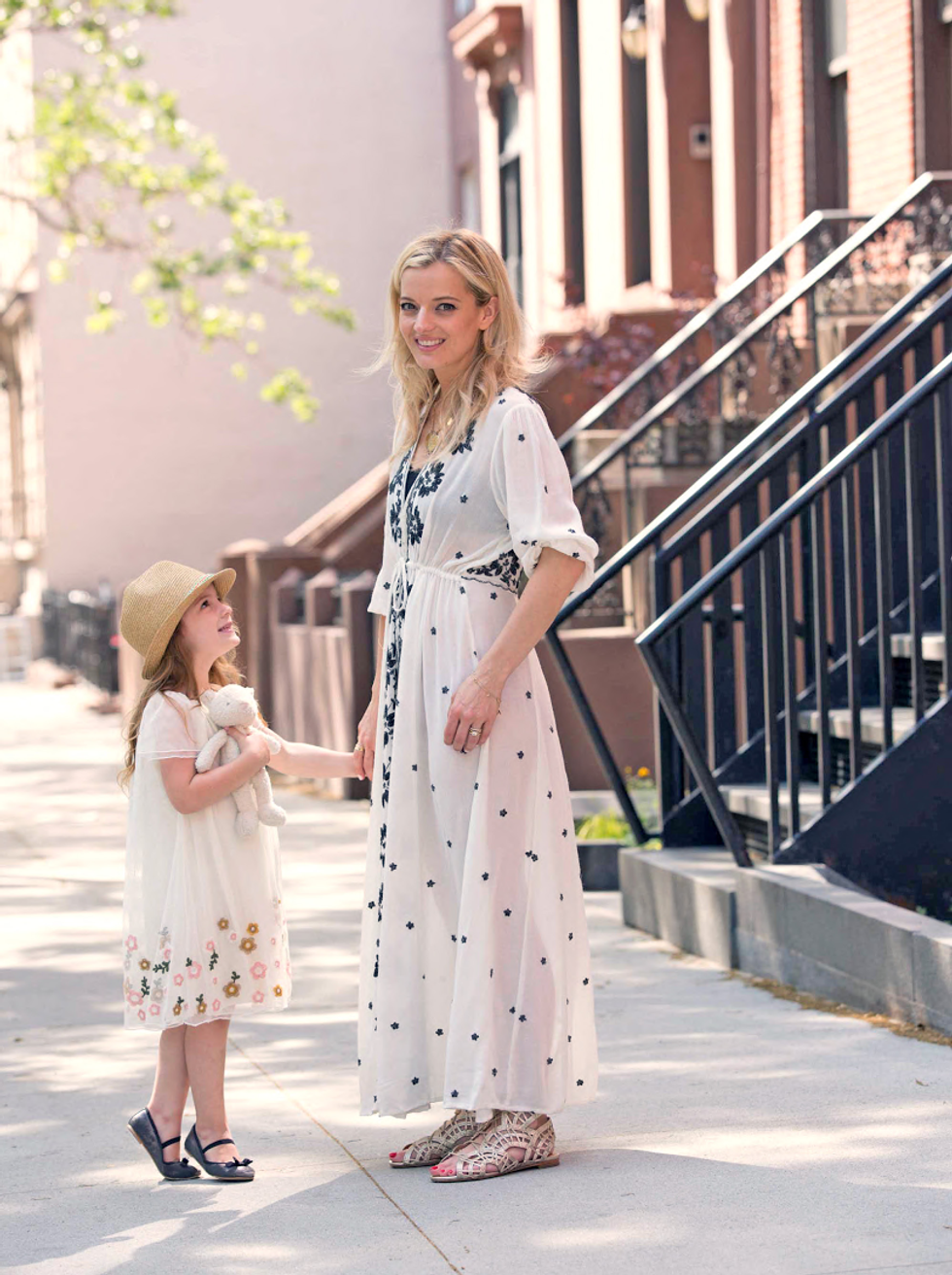 Fashion Director, BRIDES
 
On what she packed…
"I love pajamas, so I packed two sets—Araks and Sleepers. Button-downs are great for breastfeeding as they provide easy access, and drawstring pants are fab, too. Ugg Slippers (super cozy and nonslip), dressing gown, Cath Kidston bath hat, big knickers—I think I got mine from GAP. Comfort is key. [A] Vince long, grey cashmere cardigan, sweater dress by T by Alexander Wang (cozy yet chic), Converse, and striped top by T by Alexander Wang—the cut is also slightly longer length, which is great. Maternity jeans by Citizens of Humanity—I lived in these jeans during (and after) pregnancy. The Principle Maternity GF Jean is the perfect cut and, again, so comfy. Cashmere socks by Falke—would you believe your feet can get cold in labor? Banjo & Matilda cashmere track pants; basically anything cashmere was coming with me. It was late October, and I always get super cold. [Also a] Cosabella maternity bra.
"Makeup and toiletries, I really edited everything down and opted for travel-size products where I could. Dermalogica cleanser/moisturizer, Simple face wipes, Bloom & Blossom Anti Stretch Mark Cream, CHANEL waterproof mascara, Laura Mercier tinted moisturizer, Mason Pearson travel-size hair brush, travel-size Diptyque Olene Perfume, NARS Laguna Bronzer and Kabuki brush, toothbrush [and] toothpaste, Oribe Smooth Style Serum, [and] travel-size Aesop Geranium Leaf body wash. All squeezed into a Cath Kidston extra-large floral toiletries bag.
Which item was most useful…
"My dressing gown and slippers. You move around the hospital floor more than you think, and my dressing gown/PJ combo was my best friend."
Something she wished she had packed but didn't…
"My Apple iPad—I totally forgot it, even though it was loaded up with films. Argh!"
What bag she used…
"I used a large camo tote from L.L. Bean that my husband could easily grab."
When she had her bag packed and ready to go…
"A month before with my first baby (Honor, six) and two days before with the second (Imogen, nine months)!"
GMM of Apparel, Moda Operandi
 
On what she *is* packing…
"Robe + Gift Set (a one-stop shop), Olivia Von Halle pajamas, and a Valentina Kova cashmere cardigan. Moisturizers: anything with the smell of rose or lavender is calming and makes me feel at home, so Dr. Hauschka Rose Day Cream and Weleda Lavender Relaxing Body Oil. For going home with the baby: Baby CZ Blanket and a Bonpoint outfit. I will also have a special playlist that my friends will make me at my shower."
Which item she expects to be the most useful…
"My husband is definitely going to be the most useful. Most comfortable, on the other hand, goes to these ATM yoga pants."
What bag she is going to use…
"I think I'll use my Gucci weekender bag. It has a vintage vibe, and I've traveled with it for 10 years—why stop now?"
When she is going to have her bag packed and ready to go…
"A month before! I'm due soon after NYFW, so I want to be prepared, just in case!"
Margherita Maccapani Missoni Amos
Designer
 
On what she packed…
"My grandma's hospital nightgowns—embroidered white cotton, buttoned down all the way. Red slippers, T-shirts, leggings, boyfriend shirts, and slip-on shoes. Gummies, perfume-free shampoo, shower gel, body lotion, and facial skincare products."
Which item was most useful…
"Gummies."
Something she wished she had packed, but didn't…
"Hair dryer."
What bag she used…
"A Louis Vuitton monogrammed trolley."
When she had her bag packed and ready to go…
"The first time, a month before my due date. The second time, when my water broke."
Founder & Creative Director, Sophia Webster
 
On what she packed…
"Comfy clothes: PJs, nightie, and tracksuit. My favorites were Chelsea Piers NYC ones. I took lots of cozy clothes to the hospital. I thought maybe I had packed too much, but then I was in labor for three days, which ended with an emergency c-section, and had to stay in for a further three days. So, from my experience, it's better to pack more. I spent my first day of labor at home in my Kigu unicorn onesie—it's the comfiest thing I own.
"Hotel slippers: Don't take your fave slippers to the hospital. I took a pair of hotel slippers that I had saved from The Mandarin Oriental in Hong Kong. Perfect for walking around the ward, and then throw them away when it's time to go home.
"Water spray: It's uncomfortable enough being nine months pregnant, but hospitals can get really hot, especially in the summer months.
"Fan: I am so glad I took my own fan, as I had Bibi late summer and the maternity ward was really stuffy.
"Snacks and drinks: Oat bars and fruit to keep my energy up.
"iPad: Make sure you have downloaded all your favorite tunes.
"Aden + Anais muslins and swaddle blanket: They are such lovely quality. I swaddled Bibi from birth. I think it kept her all snuggly and tight, and she has been a good sleeper ever since.
"Scratch mittens and socks: Bibi scratched her face so much, so scratch mittens were essential, but socks over their little hands works just as well.
"Scrunchy: I took my fave Johnny Loves Rosie yellow-and-blue polka-dot scrunchy and hairbrush.
"Coconut oil: I used only coconut oil on Bibi for the first few months. She has super-sensitive skin, but this was great.
"Polarn O. Pyret Newborn Babygrow: Best quality, cute prints, and they last for a really long time.
"Cozy blanket: I had a Baby Gap flamingo-print one.
"TENs machine: For early contractions, it does help disguise the pain.
"Maternity nursing bras: Emma-Jane [ones are] so comfy and have a clean, sporty look in bright colours.
"Papayagold Paw Paw balm: Coral tint. I love this stuff. My lips went really dry, so this is really soothing and has a little bit of color for your lips and cheeks without having to bother with makeup.