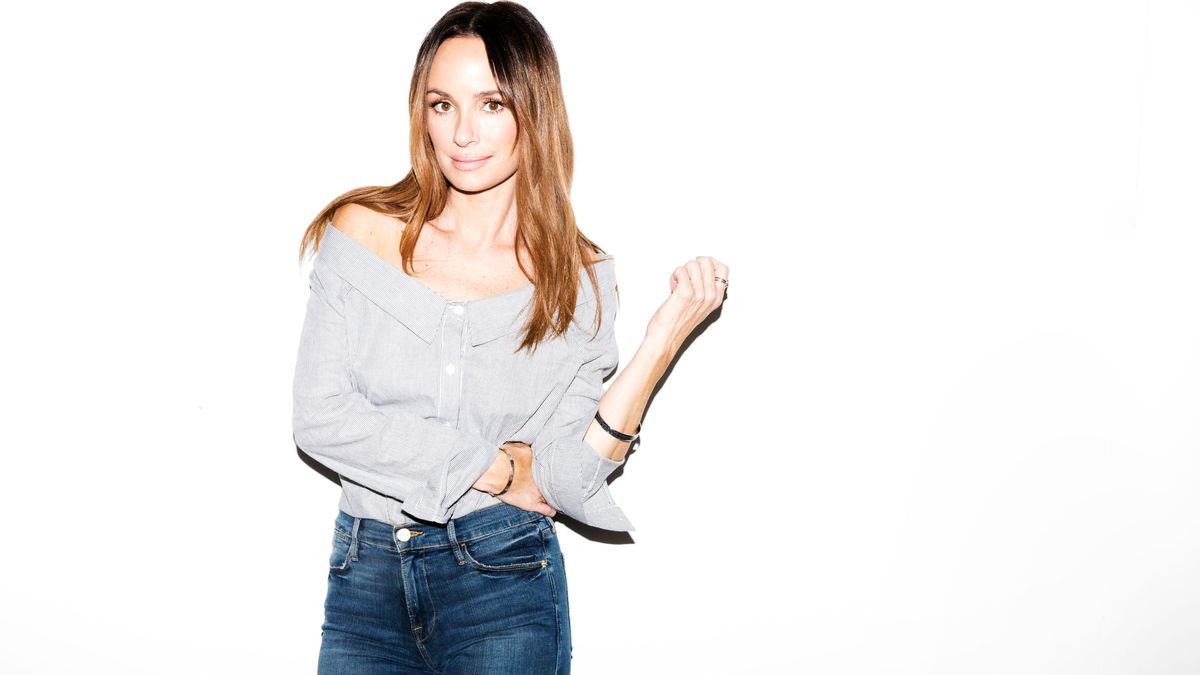 Skin
E! Host Catt Sadler told us all about removing heavy makeup and how she gets TV-ready skin.
Nikko LaMere
Sarah Evelyn Bram
TV hosts, actresses, movie stars...they all tend to look amazing on the big (or small) screen. They'll tell you it's because of the hours they spend in the makeup chair, but we're pretty sure it has something to do with how naturally perfect they are. Take Catt Sadler, one of the hosts of E!'s newest show, Daily Pop. Whether she's talking about the Kardashians or the Oscars, she manages to look incredible every single time.
The secret? Turns out it isn't what happens in the studio, but instead what happens at home when the cameras are off. Catt has a lot of makeup applied every day, so her nighttime beauty routine does double duty to take off all that makeup and nourish her skin. When we visited her in L.A., she not only let us into her home, but also on her beauty secrets, which involve lots of oils, sun protection, and a little beauty faux pas that sets her apart from Sofia Vergara.
---
Sometimes she has to pick up her kids with false lashes on:
"I'm usually shooting for four hours every single day with TV makeup in full throttle. I pick up my kids from school, and I'm like, 'Sorry, I'm really not just doing this to pick up my kids from school!' [laughs] I have the fake lashes on and everything. I have to tone it down to go straight from work to baseball games. I'm always like, 'I swear I'm not trying this hard, it's just part of the job!'"
Her beauty routine starts with a simple makeup wipe:
"I start with makeup wipes before I even get into the whole cleansing process. I'm not particularly picky about what wipes, just wipes to get the first layer off, since there is a lot of makeup. I usually use a cleanser with an exfoliator in it. Murad does make one that I use a lot. I do alternate cleansers, and I like the one that is a very gentle exfoliator. It's something that you can use every day!"
She never forgets to use toner:
"After I wash and cleanse, I almost always use a toner, often a spray toner. I use the Murad Vitamin C spray toner , and I use it on cotton balls because I feel like my face can't get clean enough, because I have a lot of makeup on!"
Her advice is to use sunscreen now and skip the regret later:
"I am a living, breathing example of an Indiana girl who had foil by her face, like 'Please, fry my face. How tan can I get?' I never used SPF until I was in my mid-30s. I didn't pay attention to it, and I'm 42 now, and I'm not afraid to say that. That is my thing now. People are always like, 'What advice would you give girls?' I'm like, 'What the hell was I doing? Why was I in a tanning bed? Why was I putting baby oil on my face?' Now, I am super, super, super crazy obsessive about sunscreen. I am trying to undo all of the damage with anything that works.
"I've been using the Murad Rapid Lightening Regiment for three years. I also just discovered Dermalogica's SPF of 50. You can add it to any [moisturizer], and I will mix that into anything I am using for the day. Every foundation or whatever, it makes me feel better. If I step out, anytime, and I don't have sunglasses on or I don't have sunscreen on, I will just… 'Boom' age spot."
Oils are your friends; use them:
"The Sunday Riley Night Oil, the smell of that is—I don't know if it actually tightens my pores and does all that it says it's going to do, but I friggin' love that stuff! I am obsessed. I literally put it up my nose, I put it in my ears, I put it all over my face."
One day there may just be a Catt Sadler Oil on the market:
"I love all the oils on the market. I am honestly thinking of developing one myself. I don't know what it is, but I feel like it's really been good to my skin in the last six months that I've been doing it. I think the oils in general work really good."
Sleeping in your makeup is OKAY (sometimes):
"Sometimes I keep wipes near my bed, and I'll at least do a bit of wipe or whatever. I was interviewing Sofia Vergara once, and I was like, 'Have you ever slept in your makeup?' She said only once in her life did she ever sleep in her makeup! I probably do twice a month! [laughs] If I sleep in my makeup, the next morning I'll wake up, wash my face right away, and put on the Charlotte Tilbury clay mask. It's not super intense and not just super hydrating, but for some reason it makes me feel like my face is cleaner. It's pretty gentle, so you can use it a lot!"
Shop the Story: