Linda Fargo's New Shop at Bergdorf's Is a Lesson in Personal Style
Her favorite pieces include a pot necklace and a bar of chocolate. It's safe to say we love her.
Designers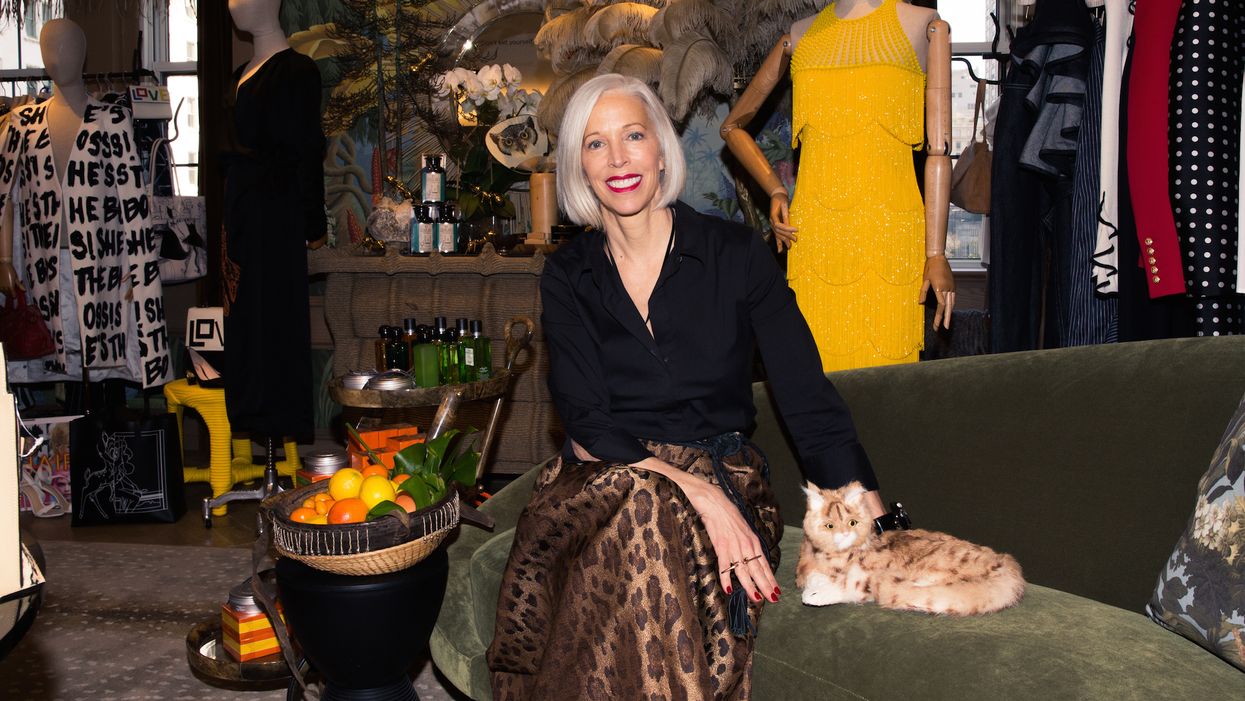 "Really? Really?! I mean...everything is my favorite," is what Linda Fargo (the Linda Fargo!) told me when I asked what her top pick was while poking around her just-opened Linda's Shop on the fourth floor of Bergdorf Goodman. And honestly, you see her everywhere. From the mannequin that's made up to look just like her to the surrealist touches (a faux cat sits under that olive-green sofa—it's a leftover from Linda's Grey Gardens-themed birthday party, in which she served gourmet mac and cheese out of foil TV dinner trays; oh, what we would have done to have been on that invite list!), to the leopard-print Dolce & Gabbana to the neon feathered Naeem Khan skirt, her style is evident all over the shop.
Linda, as you might imagine, is someone whose closet we've been dying to get into for years. But her shop, completely curated by the Icon herself and featuring dressing room wallpaper made from years of front-row fashion week invites, is as close as we've ever gotten. And if anything, this mini glimpse into the magpie brain of one of the most fabulous New Yorkers ever made me want to dive into her *actual* closet that much more. But even if just for a second, while she complimented my necklaces (!!!) and whispered conspiratorially about the gorgeousness of a hefty brass pot leaf pendant (!!!!) while leading me around by my elbow, it did feel like I was in her home. In other words, it was one of the most thrilling mornings of my life.
If you're in New York, I highly recommend a trip to Bergdorf Goodman's fourth floor to see the space in real life, and if you can't make it anytime soon (the shop isn't going anywhere, but still...), click through the below to see some of her favorite pieces and hear about her stunning signature style.
---
1/50
"One of the messages I would like to convey with Linda's at Bergdorf Goodman is the idea of 'why not' in dressing. I think people have gotten far too safe. I don't think people take enough joy–first of all, with themselves, to delight themselves. When you walk around [the space], it's almost so exciting, or it's so fun, or it's so decorated that it brings almost a naughty smile to your face, and why not? Buy it. Make yourself happy. We're here once."