Career
Calliope owner and BRVTVS designer Caroline Ventura let us sit in on her 9-to-whenever. In collaboration with Emporio Armani.
Alec Kugler
Emily Ramshaw
It's no secret that working for yourself—while incredibly freeing in all of its sans-boss glory—is a grind. And no one knows that better than Caroline Ventura, the goldsmith and shop owner behind jewelry line BRVTVS and West Village boutique Calliope. When you live and work in one space, it can be tricky to navigate that whole work-life balance thing (which in turn can be another item on a to-do list). Of course, there's no more enticing reason to give yourself a little breathing room than that exact time when the seasons swing from dreary and miserable to balmy and bright—also known as spring. Ventura showed us how she does just that around this time of year.
---
How nicer weather instantly ups Caroline's productivity:
"I'm from California originally, and I do a complete 180 once the weather gets warm. I am instantly more productive, instantly more inspired. I tend to be cozy and quiet in the winter. When the weather changes, I'm outside all of the time, and I want to keep going, going, going and doing, doing, doing."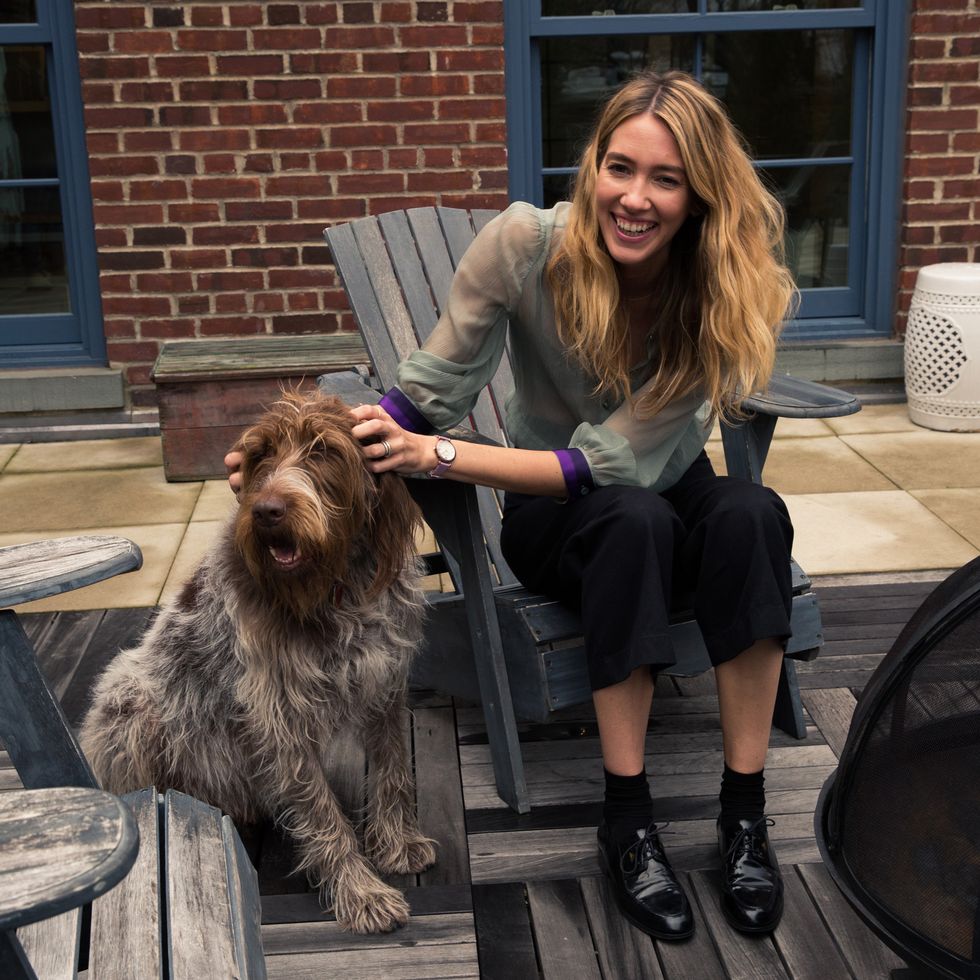 Her foolproof way to sneak in a little "me time" as her start to each morning:
"I tend to wake up earlier when the weather is warmer. The first thing I do every day—it doesn't matter what I have on my calendar that day—is take my dog for a walk. He's a good catalyst to get me out of the house and to get my legs moving. I live two blocks from the river, so we usually take a walk down the Hudson, stretch our legs for 30 minutes or so, and then I'll come home and start my day."
How she sneaks in time outside once it's nice out:
"I try to be outside as much as possible. Oftentimes that doesn't really work from 9 to 5. My studio is indoors, but I'm really lucky that I have outdoor space in my apartment and outdoor space at our store, too. We have a loading dock with some café tables and chairs. I oftentimes will sit out there with a coffee and do my morning e-mails. Anytime I have any back-office stuff to do, I try to sit outside with my laptop and kind of catch up on my e-mail correspondence."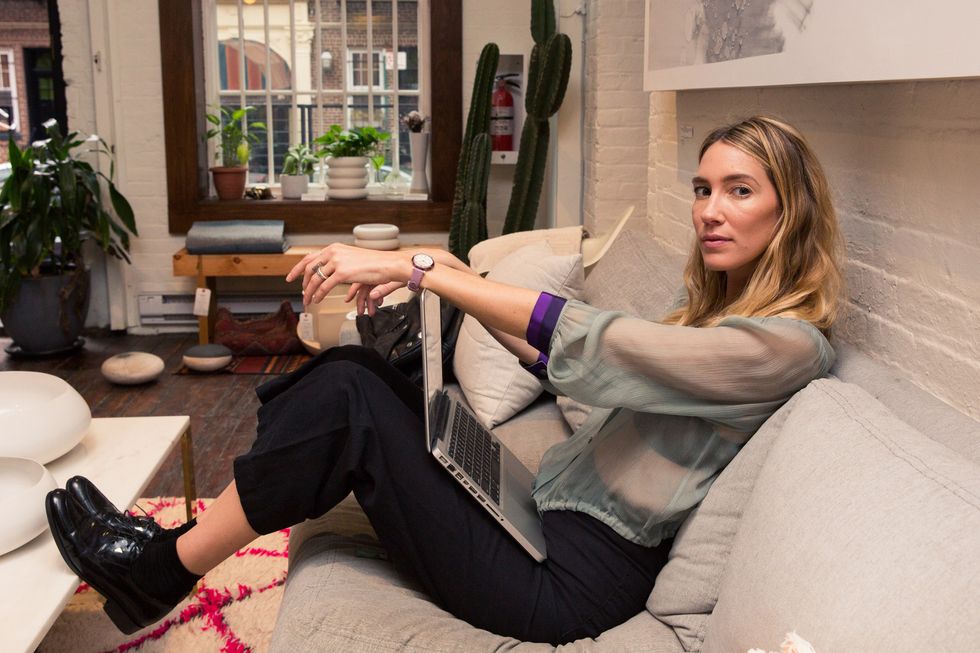 How she keeps the workday from feeling monotonous:
"I tend to compartmentalize. If I have to do x job today, then I will go to y place. You know? When I'm answering e-mails and doing stuff for the store, I usually work out of my home. If I'm designing, I like to go out to the park; I like to sit outside and bring a sketchbook."
Her genius trick to break out of a creative block:
"Oftentimes, to reset my brain, I will just do a quick 30-minute line drawing. I don't pay attention to anything around me and will just sit and draw in my sketchbook. It doesn't have to do with jewelry sketches or anything, I'll just draw for 30 minutes. Since I live so close to the water, it is easy to pop over there, sit on the benches, and sketch. It kind of helps my brain reset and get back into work mode. When I'm staring at the same thing over and over again, my brain gets cloudy and I can't focus."
How she figured out the right schedule for working on her own:
"It's a blessing and a curse. I can take 30 minutes and just do something mindless like drawing, or I can go for a walk when I feel I need a break. At the same time, I'm the only one who is open to myself to do that. In the beginning I would set reminders every few hours [to take a break]. Now I'm pretty in tune to how I feel, especially if I'm in my jewelry studio. My studio uptown has no windows, fluorescent lights… it's not the most inspiring place to be visually.
"When I find myself not being able to focus or getting increasingly frustrated for things that aren't going right, those are cues for me to stop what I'm doing and take a break. It took a long time to be mentally okay with listening to that and allowing myself to stop what I'm doing. It allows me to be more productive in the long run."
Shop the Story: