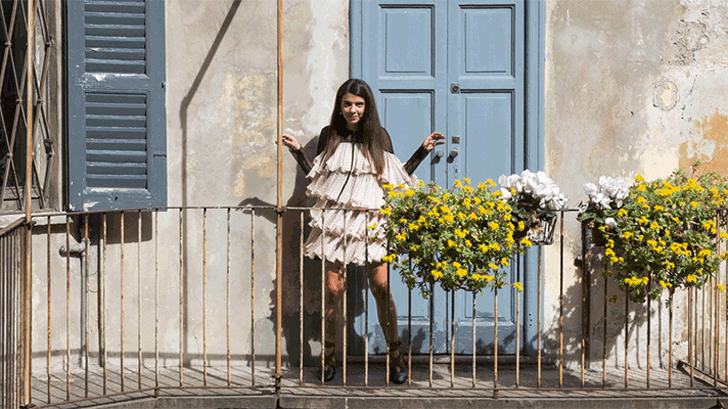 Shopping
And how dressing like her can get you a Gucci meme.
Alec Kugler
Georgia Tal is a maximist. She didn't flat-out tell us that she was, but it's written all over her closet. As the fashion editor of Vogue Accessories Italia, it should go without saying that she has a penchant for more, more and, well, more.
Georgia's love of everything not only solidified her spot as a street style star, but it also landed her a collaboration with Gucci. Since she's a stylist who gets tons of pieces before a shoot, Georgia decided to pile every fun article of clothing on top of her roommate, who would cover her face in all of the photos. The result? A series that looks very Pussy Riot in a Prada campaign, with a side of studded Gucci platform sandals.
When Gucci saw the account, the fashion house invited Georgia to make an image for their watch meme campaign. "We continued doing those stupid pictures around the house, like trashy and a bit edgy, just having fun," Georgia told us. "At the end of the day, you don't care about who you are, it is about what you wear nowadays." Here are four things Georgia Tal taught us about how she dresses nowadays, and, who knows? Maybe channeling her style will get Gucci to notice us, too (we can dream, right?).
---
1. Wear skirts (mostly of the mini variety).
Georgia's more-is-more approach was applied to everything she owned—except for her skirts, in which case, less was best. She's been wearing miniskirts for years, she told us, and they've become part of her uniform. "If it's the right look, it just shows off your legs! I love miniskirts." Amen.
2. Shoes are worth it (the pain, the price, and the pleasure).
Georgia's shoes were all very fun because nothing was off-limits. One of her first big purchases were her Prada loafers. "I got them the day they came out in stores. They were way higher, but commercialwise they had to make them lower. I bought them anyways, and they hurt so much after five years. I can't do a proper walk without destroying my feet, but I love them." So what did we learn? If you love a pair of shoes, no matter what, they're *worth it*.
3. Structured button-downs ground every look.
The final touch to Georgia's uniform was a classic and structured button-down shirt, which kept her miniskirt look polished. But nothing was too buttoned-up; there were still plenty of fun patterns and frills. Think business casual—minus the casual.
4. Everything you love should be worn at once (literally).
Georgia's Checking Invoices Instagram is where you see all the fun pieces she gets for shoots. From J.W.Anderson to Miu Miu, from Prada's feathered tops to Gucci's studded and embroidered...everything, it's a compilation of the stuff we wish we had. We know you're *technically* only supposed to wear one statement piece at a time, but if wearing them all at once is good enough for Gucci, it's good enough for us as well!