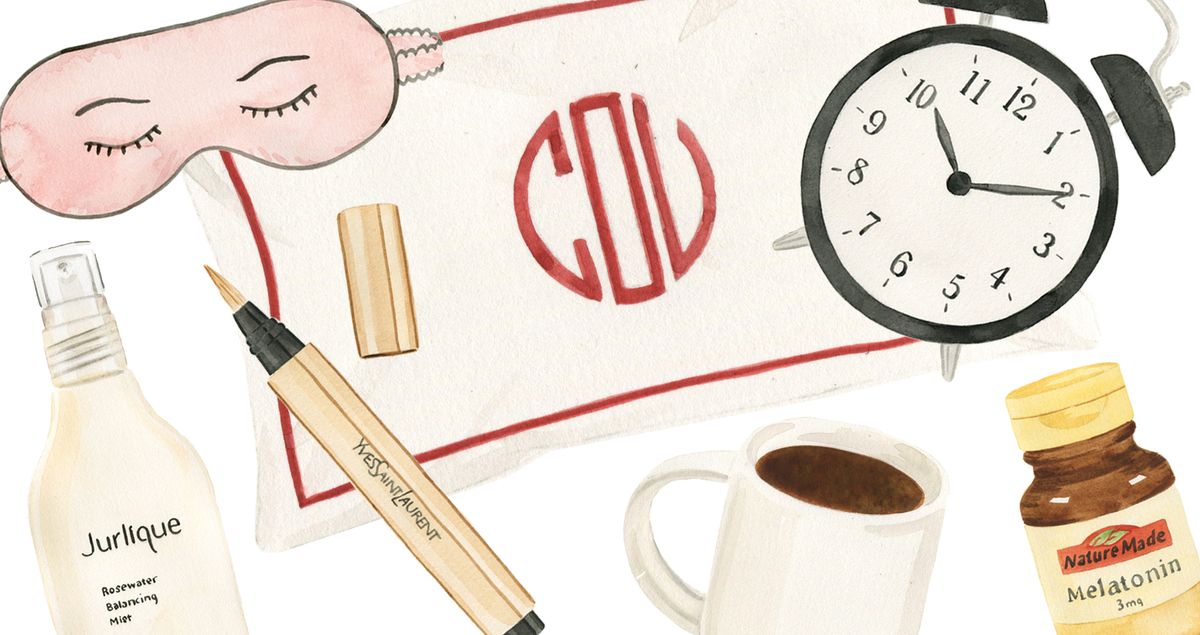 Makeup
How to Fake an 8-Hour Sleep
Because during fashion week, the struggle is real.
Illustrations
Meghann Stephenson
If you check your Instagram and Twitter at the same pace that we do during fashion week (it's actually an entire month, guys), you'll understand what we mean when we say we want to scream out in X-eyed emojis and just slow it all down. The thing is, we kinda (like, really) love the Proenza Schouler-improved street style that floods our feeds, but IRL, this crazy pace is the norm for the slew of fashion peeps that make their way to sartorial capitals and their respective runway extravaganzas every season.
---
Let's break it down, shall we? Fashion week goes a little something like this: with stocked handbags—we're talking invitations, a leather-bound Smythson notebook or two, and some seriously crucial snacks—our Saint Laurent boots are hightailing it from one show to the next, and then to the after-party, and sometimes (seriously, though, only sometimes) the after-after-party. The problem only comes at 7:30 the next morning, when we have to get up and do it all over again (all while still looking fresh-faced and glowing). Riiiiight...
So, in order to ward off that impeding head throb and those sunken under-eye bags, we grilled a few fashion week veterans on how they re-energize, stay sane, and look dewy and well-rested for a full month of back-to-back-to-back. The struggle is real.
Melanie Huynh
Stylist: Altuzarra, Elie Saab, Iceberg, Alexandre Vauthier
"During fashion week, I use Radiance-Plus Golden Glow Booster mixed in my Clarins moisturizing cream or Sisley Sun Glow gel [to] look fresh and healthy. Every morning I make sure to take a lot of supplements like seaweed pills, chlorella, and spirulina and load up on fresh vegetable drinks from Juice It or Detox Delight to give me power throughout all day. I also love using REN Instant Firming Beauty Shot and REN Bio Retinol Anti-Aging Concentrate morning and night.
"Even if I go to bed late after fittings and casting, I do an hour of Pilates or squeeze in a morning ballet class to give me energy and relieve stress."
Lottie
Makeup Artist: Taylor Swift, Solange Knowles, Nicole Richie
"It's kind of always the same for me every season. I usually get between 3-6 hours sleep during shows, so I chant to myself, 'I'll sleep next month.' I also swear by Caudalie Beauty Elixir for a fresh wake-up and refresh of energy throughout the day. I also love Bliss Spa oxygen eye masks at night!"
Alice Lane
Makeup Artist: Jennifer Lawrence, Kate Bosworth
"This fashion week is the cold yucky one. I will be wrapped up warm like [a] burrito—lots of layers and lots of hot baths. I always like to visit Great Jones Street Spa to relax and have a massage. I will also force a Juice Press Ginger Fire Ball down my throat every day so I stay healthy and don't catch a cold from touching 100 pairs of lips!"
Talia Shobrook
Makeup artist for Laura Mercier
"Meditation & being able to tune out is key to staying relaxed, even if it's only for five minutes in the back of the cab on the way to the show. When fashion week craziness begins, I stock up on green juices and coconut water and drink them throughout the day, as they keep me hydrated and energized. In order to give my skin a really hydrated base, I mix Laura Mercier Repair Oil Free Day Lotion Broad Spectrum SPF 15 Sunscreen, which has a reflective finish and gives the impression of more luminous skin than you have, with Laura Mercier Infusion de Rose Nourishing Oil. To really fake a well-rested look, I turn to my secret weapon: Laura Mercier Multi-Vitamin Serum, which I apply morning and night. It just gives skin a mega-boost of vitamins."
Vika Gazinskaya
Designer
"I never get more than 4 hours [of] sleep a day. My secret is simple: If you LOVE your work, that's the best thing [that] motivates you to keep going."