WWWRN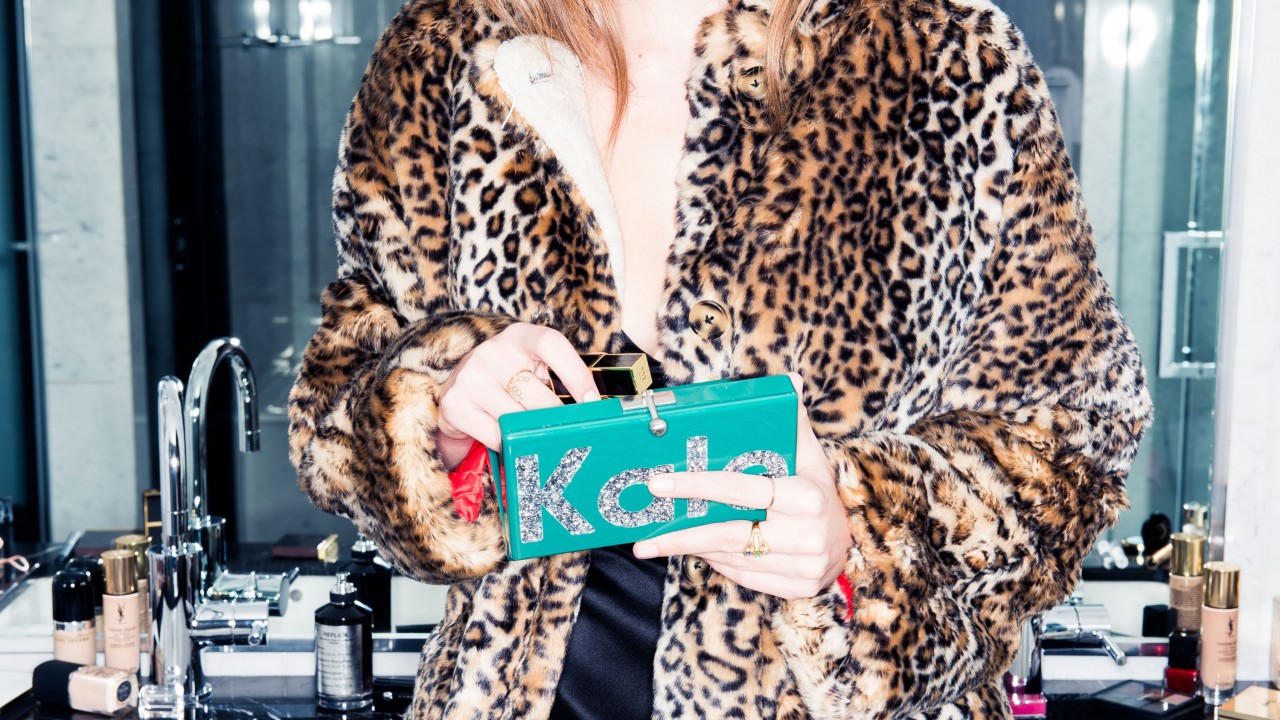 7 Editors' Night Out Routines
It's lit, et cetera.
Fridays are always pretty great—but those first few Fridays once it's spring? Come on. There's nothing better. There are bare legs, general giddiness, and a very high chance that chilled rosé is flowing in abundance. What else can you ask for? Here's how we'll be paying our respects during this sacred time.
---
Meagan Wilson
Editorial Manager
1. Rosie Assoulin blouse: I acknowledge that the whole off-the-shoulder thing may be dead in the ground, but I have to make an exception for this, largely because it's the most perfect garment I've ever seen. Doesn't it just look like spring? Plus, it's technically only off *one* shoulder, so there's that.
2. Marc Jacobs Beauty Highliner Gel Eye Crayon Eyeliner in Blacquer 42: While I'm pretty unwavering in my dedication to liquid liner, I've been loving Marc Jacobs gel formula crayon. I use it to fill in my waterline just underneath my top lashes—it makes them look a billion times thicker, and unlike every other gel crayon on the market, the pigment actually stays put, too.
3. Jacquemus sandals: I've always been obsessed with this brand, but following the brand's IG (and regularly stalking the designer, Simon's amazing adventures in rural France, complete with idyllic beaches and goats) has taken my obsession to the next level. Enter these geometric suede sandals, which I clearly need.
---
 Laurel Pantin
Editorial Director
1. Pascale Monvoisin Necklace: My summer going-out look is all Studio 54 meets St Tropez—serious tan, serious clavicle, and lots of necklaces and bangles. I just treated myself to a Pascale Monvoisin cowrie shell necklace, and it dangles to the *perfect* spot mid-chest, and the little baby-sized semi-precious inlaid stone makes it that much more interesting.
2. Marc Jacobs Beauty Highliner Gel Eye Crayon Eyeliner in Earthquake 41: In my infinite childishness, I can't get the hang of wearing black eyeliner. It's just too intense for me and always ends up smeared around in a distinctly un-sexy sort of way. Instead, I prefer a dark, creamy brown, which gives me a terrific smoky-bronze eye to pair with my vintage Missoni caftan and new shell necklace.
3. DVF Dress: And when I'm not in said caftan or Pucci bikini, I'll be wearing this DVF dress. Is it just me, or is Jonathan Saunders hitting it out of the park over there?
---
 Tara Gonzalez
Assistant Editor
1. Gucci Platform Velvet Pumps: These are velvet and have an embroidered snake on them, making them the sexiest shoes I've ever seen. Also, the pump detaches (!!!), which is the most genius and magical thing ever. After I'm done dancing the entire night, I can take the pump off and walk to the subway in equally sexy (but less likely to make me fall on my face) loafers.
2. Khirma Eliazov Mini Bucket Bag: The one thing I don't have enough of in my closet is bags. I tend to to splurge on articles of clothing instead, which is great...until I go out, stuff all of my belongings into a pocket and then have them fall out onto the beer-covered bar floor. Khirma Eliazov's bags make me feel like the heart-eyed emoji, and I am currently crazy in love with her perfect red bucket bag.
3. Chloé Godet Blouse: Sometimes you really need a drink after work on a Friday. This top is perfect to transition from desk to disco in just two steps. Step one: Wear with a tank top underneath to work. Step two: Take off said tank top after work. Done!
---
 Noah Lehava
Senior Editor: Health and Wellness
---
Jodi Taylor
Assistant Editor
1. Isabel Marant Hoop Earrings: Hi, hi, hi, please come live on my lobes.
2. Off-White Birds In Flight Pajama Robe: I'm ready to dive headfirst into this silk robe movement currently happening, starting with this beautiful piece c/o Virgil Abloh. True story: My mouth literally hung open the first time I saw it hanging in all its glory at Patron of the New in New York.
3. Gucci Open-Toe Mules: My weekend shoe collection is looking pretty, uh, bland at the minute, and I'm making it my goal to change that. Starting with these stunners—they're practically made for sipping tequila sodas (splash of pineapple, please) on a patio, no?
---
 Samantha Sutton
Editor
1. Jennifer Fisher Multi Overlap Hoop Earrings: It doesn't matter what I'm wearing—my outfit isn't complete without a pair of statement earrings. And while those JF Samira Hoops are ev-er-y-where at the moment (because did you see how good they looked on Selena Gomez's Vogue cover?!), these are just as cool and so much more my style.
2. Tory Burch Gemini Link Printed Shoulder Bag: I am loving everything Tory Burch is doing as of late, and while I'm crazy for a bralette in this same print, I have a feeling I'll get a lot more use out of this crossbody bag. It's so...spring! And probably the pop of color my dark wardrobe needs.
3. Steve Madden Slinky Sandals: Oh. my. f*cking. gosh. Steven Madden's slides from the '90s are back, people. And considering my night-out plans typically consist of going to a local bar with my boyfriend for a drink (or three), they're the perfect pick to just slip on and go. Plus, nostalgia just makes me happy, okay?
---
Emily Ramshaw
Senior Editor: Features
1. Dear Frances Slides: The prettiest, easiest shoes—a vibe that's essentially reflective of what I want out of a Friday night these days.
2. Thierry Colson Dress: Is this too beachy to wear out on a Friday night? I don't care. I love it.
3. Foundrae Necklace: Foundrae's gold jewelry is made for summer. It's simple without being basic, and is exactly what I envision myself wearing once I get a bit of a tan.
Shot on site at 6 Columbus, a Sixty Hotel. On Solveig: Dress, Jonathan Simkhai; Coat, Sandy Liang; Clutch, Edie Parker; Rings, AZLEE, Baker & Black; Hair, Angela Soto; Make-up, Andriani.
Part of the series:
WWWRN