Designers
Alber Elbaz Has the Recipe for Success
And he actually told it to us.
Ben Ritter
"We were asked earlier what the ingredients were, and I said, 'love and friendship,'" Alber Elbaz tells us, referring to his brand-new fragrance collaboration with Frédéric Malle. And in fact, after spending time with the pair, we think that joke might actually be fact. Where there's smoke, there's fire.
After circling each other socially for years, the legendary designer and fragrance icon finally met over lunch last winter (Malle called the meeting a "blind date"), and the chemistry was instant. "It just felt very natural...we realized we're both very superstitious, and we also didn't like the 'recipe for success'—you know, that path you're supposed to take," said Malle. Superstitious ended up being the name of the fragrance they created, which was released last night at Barneys. (When pressed on what their superstitions are, Elbaz cried, "Hundreds!" and Malle responded, "Stay seated!"—implying we'd be there for a while.)
Anyway, Elbaz asked Malle to create "the scent of a dress." With a brief as bizarre as that (Elbaz's words, not ours), Elbaz felt Malle was the only person genius enough to take it on. From there, the whole process was intuitive.
---
"You don't make a perfume like you make a salad."
"If the starting point is 'let's make it commercial,' you know that you're not going to make it a success," says Elbaz. "The whole idea is to make yourself happy and make yourself satisfied. When we had the perfume almost done, many people tried it—every place we went, we were asking the waiter to try, the chef, whoever! And it was interesting that almost everybody prefered the one option, and Frédéric and myself and a few other women that we really really respect, we chose the other. We went with the one that we liked."
Where some creative collaborations could make two people absolutely detest one another, they not only finish each other's sentences, but bat compliments back and forth: "You're generous," "No, you're generous!" "You're elegant!" "Well, you're a genius!" (Not exactly like that, verbatim, but you get the picture.)
But when it comes to this recipe for success, they deviate. Here's what we learned.
How they met and started their collaboration:
FM: "We had met very briefly, but we didn't know each other. We have a very good friend in common, and I ask[ed] him for Alber's phone number, and we had this sort of blind date! We had lunch at a restaurant in Paris, and it felt very natural. This was in January of last year. It just felt very natural...we realized we're both very superstitious, and we also didn't like the 'recipe for success,' you know, that path you're supposed to take. It rarely works and makes your life boring and not very comfortable. [Last summer,] Alber called me and he said, 'Listen, I'm getting a Légion D'Honneur,'—he's an officer, and all of his friends from the fashion industry were going to come, and he said, 'For the first time in years, I'm not showing anything, but I would love to show the scent of a dress.' I thought that was very beautiful. Alber is someone you want to be generous to, and I didn't want to say no—but then I hung up, and I thought, 'Did I say I would do a perfume in a month?' But I loved the idea.
"We wanted to show a fragrance in the making. One of the wonderful things about working together is we're generous enough and comfortable enough to throw ideas at each other without fearing that you're giving away something that's too good. Generally, the whole industry only shows things that are completely finished, and we wanted to show a perfume in progress. So we didn't show the packaging, but we showed the eye that Alber designed and a perfume which was on its way but not finished."
"But I don't have a recipe for success; I have a recipe for knowing what I like."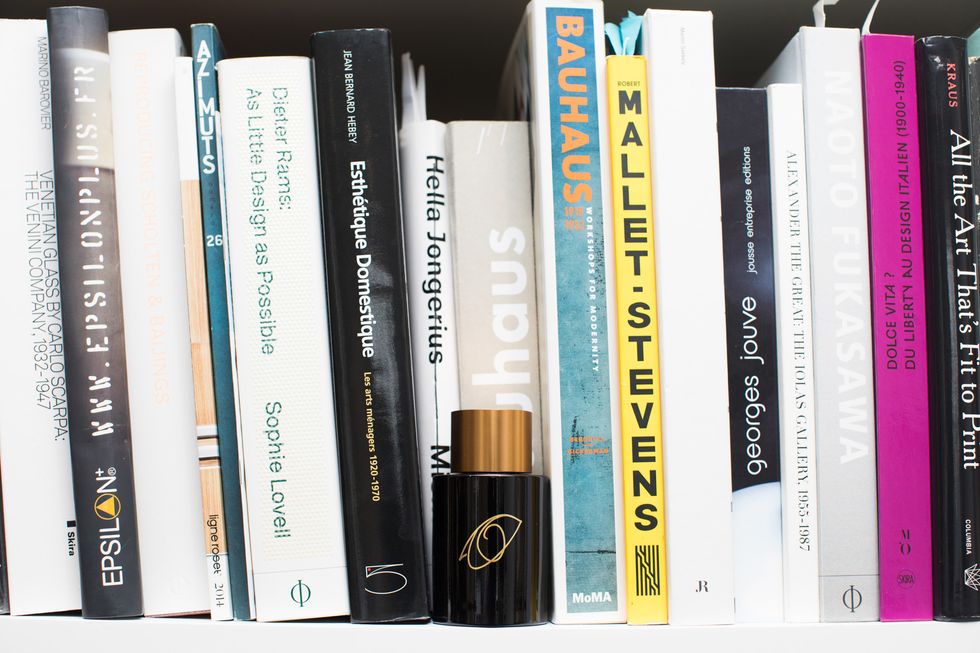 Is small the new big, and why you need to trust your instinct:
AE: "We're living in a world where every time you read an article about luxury today, they always talk about, 'is small the new big?' And I think this is a perfect example of 'is small the new big.' How do you do a project with just two people, without a big operation, without all the support? It allowed us to be very rapid. The fact that we didn't work by the book, but that we used intuition and instinct, that helped the rapidity and simplicity of the process.
"We didn't have the marketing group, and the focus group, and 'that's what we should do, and that's what sold last year.' The fact that it sold last year doesn't mean it will sell next year. [For me,] it's just pure feeling, and intuition, and instinct that I believe we're lacking in our world today because we're afraid to make mistakes.
"But since everything was so quick, and since I came with a brief so bizarre that only a genius like Frédéric can take a scent of a dress, and what does it mean? And how do you introduce memories of someone that loved you, or a moment you were loved—and how do you translate that into a scent? I'm not an athlete, but my coach at the gym once told me that I have the brain of an athlete—not the body of one, but the brain of one—so it's always about that rapidity of making things. That's why we took a perfume that Frédéric worked for a long time to make. It's not like he went to his laboratory and put together a few ingredients—"
FM: "—You don't make a perfume like you make a salad."
AE: "—It was really amazing [fragrance] that Frédéric worked on for a year and a half I think, and [my contribution was] 'Can we make it less perfect? Can we have the smell almost like we would have an hour after you put it on?' And then meeting people in the laboratory and seeing the people behind closed doors. Everybody thinks our job is just red carpets and fashion shows, but there are a bunch of people who bring a sandwich to work, and they take the bus. They're the ones that make our industry work. So the same thing in the perfume industry is the laboratory of men and women, beautiful, talented, sensitive people—they can translate a word into a scent."
"I think 'why' is a very important word these days, not to just ask 'what' is it that we do, but 'why' and 'when.'"
And the elusive recipe:
FM: "I felt very humbled the other day because I went to my banker, and she told me, 'Oh! So you can work for Estee Lauder for x amount of time, and then you can start another business, and [that must be] the recipe for success!' [Gasps] And I felt so stupid—I don't have the recipe! I work with artists, I have a love for perfume, a love for working with artists and listening to them. Sometimes either pushing perfumers to go as far as possible or listening and trying to translate what I hear and see into an object and perfume. But I don't have a recipe for success, I have a recipe for knowing what I like."
AE: "You know, I have a recipe for success, Frédéric, you know what it is? It's to collaborate with people—to be able to dialogue with people, to let go, to give direction, to let them perform, to push them forward or backward, but never aggressively. To work with the brain, the mind, the soul, the heart—but it's basically really working with people. We can't be good at everything. But if we're good with people, we can be good at everything. It's not like we're sitting around a table saying, 'Oh, I think people will like this!' No, but you try to think, 'why.' I think 'why' is a very important word these days, not to just ask 'what' is it that we do, but 'why' and 'when.' The why is the most important thing for me."