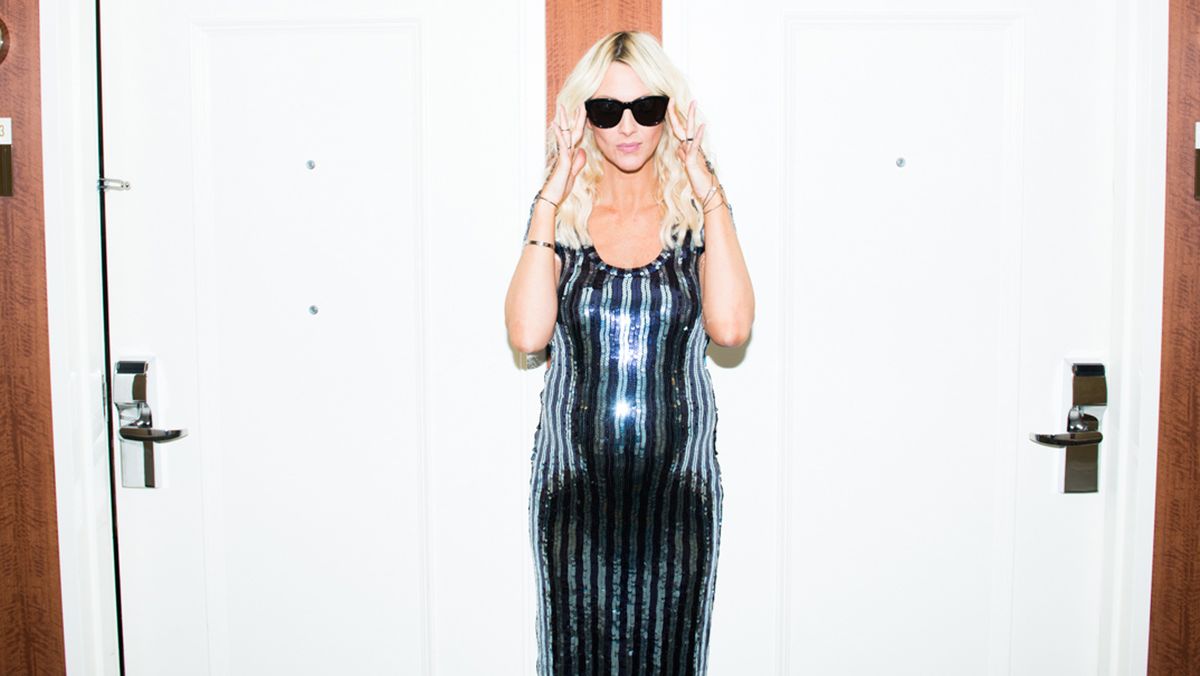 Fashion
Four stylish moms share their top dos and don'ts.
Ever wonder how the term "power suit" got its meaning? It comes from this idea that wearing a sharp-looking tailored outfit can help you both feel and project a sense of confidence in the same way a cute workout outfit that hugs and accentuates your curves in all the right places can motivate you to run that extra mile on the treadmill. Scientists call this phenomenon "enclothed cognition." It's the notion that what you wear actually impacts your emotions and how you perceive yourself.
Never have I found this concept to be so true as during pregnancy—a time when a woman's self-image is tested like no other moment in her life as her body undergoes *unprecedented* changes. If there's one thing I've realized in my seven months of back aches and heartburn and feeling bloated 24/7, it's that finding the right clothes has helped me embrace how my body is transforming, which in turn has made me a happier pregnant woman.
But navigating the process is tough for first-timers like me. Where should you shop? How much money should you spend? Does it have to have the "maternity" label to fit well?
I asked four young new mamas who also happen to have amazing style to share their own advice when it comes to building that perfect pregnancy wardrobe. Because if looking good can actually make you feel good, why not buy into it?
---
Favorite places to shop online or in-store?
Nell Diamond, Founder & CEO at Hill House Home: "I did a lot of trial and error, buying and returning things online that looked like they may fit. ASOS and Topshop both have huge selections of maternity things online! Hatch was a true lifesaver for me. I was pregnant all through the very hot NYC summer, so their soft, flowy dresses were my go-to, often paired with a denim jacket to add structure. I loved their collaboration with BANDIER for pregnancy-friendly workout gear, too. In the last two months of my pregnancy, I discovered Nine In The Mirror and wished I had seen it earlier! They scour designers to find pregnancy-friendly clothing from non-maternity brands. I got a Maje dress that I probably wore twice a week (and actually wore to the hospital while in labor...)."
Haley Weidenbaum, Interior Designer for Homepolish; Founder of Home with Haley: "Shopbop, because of their amazing return policy and my lack of energy to go store to store; Target maternity because it was quick and easy, and Gap maternity for the same reason and also everything was so comfortable. I realized that a lot of my lounge maternity clothes from Gap were very useful during the first weeks postpartum. All you want to wear is something loose and soft, and those Gap cotton dresses did the trick!"
Sari Azout, Entrepreneur at Level Ventures and Rokk3r Labs: "Dôen, Hatch, Kit and Ace, and Everlane were my go-to shopping destinations."
Favorite items you bought while pregnant?
Hannah Soboroff Shargal, Business Development Director for The RealReal: "Shearling Birkenstocks. These were probably my best pregnancy purchase, especially towards the end, when my feet were swollen. I didn't wear pants much, but when I needed a jean, J Brand Mama J Jeans were my go-tos. David Lerner Leggings; I practically lived in these! Great for working out, walks, and were my favorite towards the end of pregnancy, when nothing was fitting or comfortable. IRO t-shirt dresses aren't maternity, but I sized up. They're comfortable and could be dressed up or down. James Perse dresses also aren't maternity, but I felt really good in them. I often paired them with a jean or leather jacket and sandals or sneakers. Also, Donni Charm scarves. So comfy and generous in size. Definitely one of my favorite purchases because they also make great nursing covers now that baby is here!"
SA: "I wore Gucci slip-ons and No.6 clogs all throughout my pregnancy. They were so easy to put on, and that made such a difference, especially in my third trimester. I also wore this Hatch jumpsuit every day of my last trimester! I also loved Dôen flowy dresses, a Frame Denim poncho, AG white maternity jeans, Marine Layer striped long-sleeve tee, James Perse basic tees, and Kit and Ace cardigan sweaters."
What are some "rules" that can help you feel better about getting dressed?
ND: "Be nice to yourself. You are magic. And repeat outfits. I honestly wore some dresses up to four days a week toward the end. I didn't have the energy or the wallet to keep buying new stuff! When it works, it works! Also, take pictures. I was so bad at this. And now, of course, five months later, I wish I had photos!"
SA: "Layer cardigans, capes, or kimonos to accentuate your cute baby bump and hide anything you feel uncomfortable about. The more it looks like a comfy blanket, the better! Pair big earrings and red lipstick with a laid-back kimono/pajama look for a comfortable night out. Don't wear anything uncomfortable or try to force yourself into your old jeans. Feeling comfortable is the most important thing! But that doesn't have to mean compromising your style."
Anything else you wish you had known while you were pregnant?
HSS: "Figure out what works best for your growing belly, and go from there. Being petite with a big belly, I found that tighter and more form-fitting clothing was way more flattering on me than flowy or loose clothing."
HW: "Comfort is key, and if you're comfortable, then most likely you look good, too. I received so much attention walking down the street while pregnant, and I know they were looking at the belly and not the outfit, so just feel confident knowing people care much more about the fact you are growing [a] human in your stomach than if a shirt color matches your shoe color. And my final thought: Cherish your pregnant body, and continue embracing your body thereafter. The transformation our bodies go through from prenatal to postnatal is nothing short of miraculous."
SA: "You are not as big as you think you are, and your belly is a lot prettier than you think it is. Looking back at photos of my first pregnancy, I wish I had showed off the bump a little more instead of trying to hide it. Also, it gets harder to get dressed towards the end—that's why you need to invest in a go-to look you feel comfortable in. Don't lose your edge—you should still feel like yourself!"