WWWRN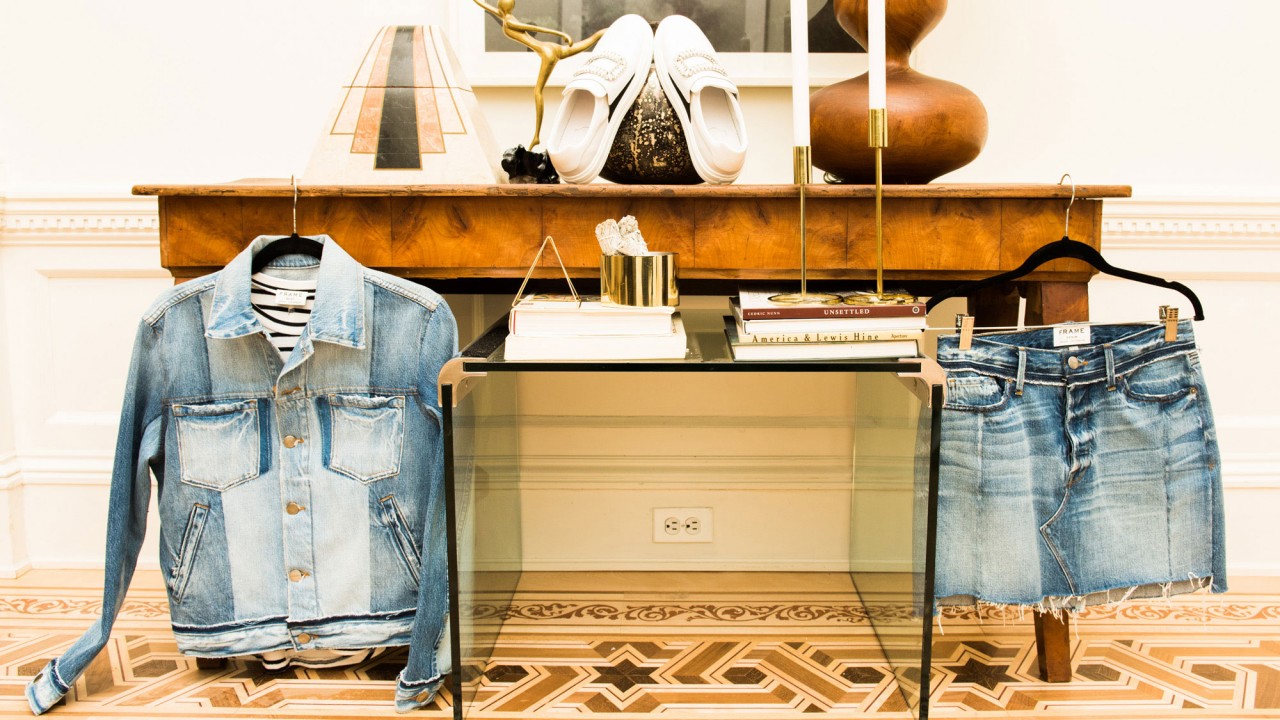 All the Denim Our Editors Are Buying This Spring
We can't get enough.
We're in the thick of ~transitional dressing~, which is deeply un-fun, honestly. One day it's warm, the next it's freezing, the next it's pouring, and just like *that* it's 100 degrees for the next 90 days, and the whole city smells like garbage. Such is the glory of spring in New York City!
The one constant throughout this period for us is denim. Jeans, shorts, jackets, shirts, hats, pants...you name it, we want it all in beautiful, versatile, heavenly denim. Here are the pieces we're adding to our wardrobes.
---
Emily Ramshaw
Senior Editor: Features
1. Rachel Comey Jeans: I'm currently obsessed with the idea of finding a great pair of white jeans for summertime, and I met a woman the other day who was wearing these by Rachel Comey. They're exactly what I had in mind: high-rise, loose-fitting, and still somewhat sophisticated.
2. Ashley Rowe Coat: Ashley Rowe is a designer I knew in Toronto. She's since moved to Marfa, where she's living every artist's dream, but she's still making incredibly innovative, one-size-fits-all denim, including this duster coat.
3. Suno Jumpsuit: I've been looking for a pair of overalls that don't make me look like a preschooler forever, and this Suno pair might just be it. Plus, this is from Suno's last-ever season (tear), and it's on sale. Buying right now.
---
 Tara Gonzalez
Assistant Editor
1. Lorod Zip Through Jeans: For the longest time, I didn't wear jeans because I always felt that they were missing something. After buying my first pair of Miaou Jeans with the most perfect metal belt, I've been searching for more jeans with edgy accents. Enter these Lorod jeans… That zipper!!!
2. Sandy Liang Marin Dress: I think I have included something from Sandy Liang in almost all of my editor's picks this past month. It's not on purpose! It's just because everything she makes always feels so new and like something I would wear for all eternity. This little white denim dress is everything, and I love the studded details throughout.
3. Acne Tegel Oversized Overalls: I've never thought about spiky green hair or light purple ponytails until I saw Rihanna's March Paper magazine spread. Instead of destroying my hair, I think I'll just try to buy everything she wore (my wallet disagrees). I'll start with this denim jumper from Acne that I could wear by itself or throw on over so many fun shirts.
---
 Noah Lehava
Senior Editor: Health and Wellness
1. Off-White Denim Shorts: My struggle with denim shorts is that they always loooooove to roll up into underwear—not a good look, let me tell you. But something tells me this won't be the case with Virgil's pair, which are the perfect length and have pretty genius distressing.
2. SJYP Frayed Skirt: I love that this skirt has everything about denim that I'm obsessed with: frays, buttons, and unexpected patches. Plus, the pencil silhouette is flattering as H.
3. Vetements Reworked Skinnies: I've been taking apart and putting back together my denim since I was a teenager, but Vetements does it better.
---
 Laurel Pantin
Editorial Director
1. Asos Boilersuit: There are few things I love more than mechanic-style boiler suits. This one from Asos is pretty near perfect, especially for the fact that it's under $100.
2. AMO Jeans: When it comes to jeans, I stick to one look: cropped, flared, and frayed. Levi's doesn't make my all-time favorite style anymore (bring back the Kick Flare!), so I've gone elsewhere for my fix. These are just what I like.
3. American Eagle Denim Shirt: This is super random, but American Eagle makes the softest chambray ever. I love this denim shirt, especially for the fact that it's kitten soft and the perfect weight.
1. Gucci Embroidered Denim Skirt: I have five words: dogs. on. a. denim. skirt. It's so quirky, and fun, and, fine, a little weird, that I'm half like, "Whaaaa???" and half like, "GIMME DAT."
2. Tibi Spring Twill Claudia Dress: This is definitely the type of warm-weather dress you don't mean to wear way too often, but you just sort of…do. For example, while it's the perfect, classic piece for an outdoor family barbecue, it's also something I can see myself (quickly!) throwing on when I'm running late for work.
3. Ulla Johnson Cropped Frayed Ombré Jacket: Most denim jackets give off a casual vibe, but this one is pretty and feminine, thanks to its cropped shape. I can definitely picture throwing it on over a breezy sundress or pairing it with culottes, a crew-neck tee, and block heels (why, yes, I have given this a lot of thought).
---
Hannah Baxter
Editorial Intern
1. Sézane 1967 Jeans: As a self-proclaimed jeans hoarder (seriously, my dresser is overflowing), I'm always on the lookout for new styles to add to my collection. This high-waisted pair from Sézane promises to highlight your best assets *cough cough* while simultaneously delivering the perfect French-girl cool silhouette. What more do you need?
2. Circus Hotel Lurex and Denim Shorts: I rarely stray from my trusty vintage cutoffs, but when I do, I want something unexpected with a bit more glamour. I mean sparkles. All the sparkles you have. Enter this perfectly frayed style from Circus Hotel with accents of glittery yarn. Add to cart immediately.
3. Carhartt WIP Denim Coat: I have a soft spot for clothes that look like you can and should roll around in the dirt doing manual labor. Growing up on a farm makes you get super creative fashionwise, FYI. No matter where you live, Carhartt WIP has the ideal oversized denim coat for transitional dressing in this will-we-or-won't-we spring weather.
Part of the series:
WWWRN