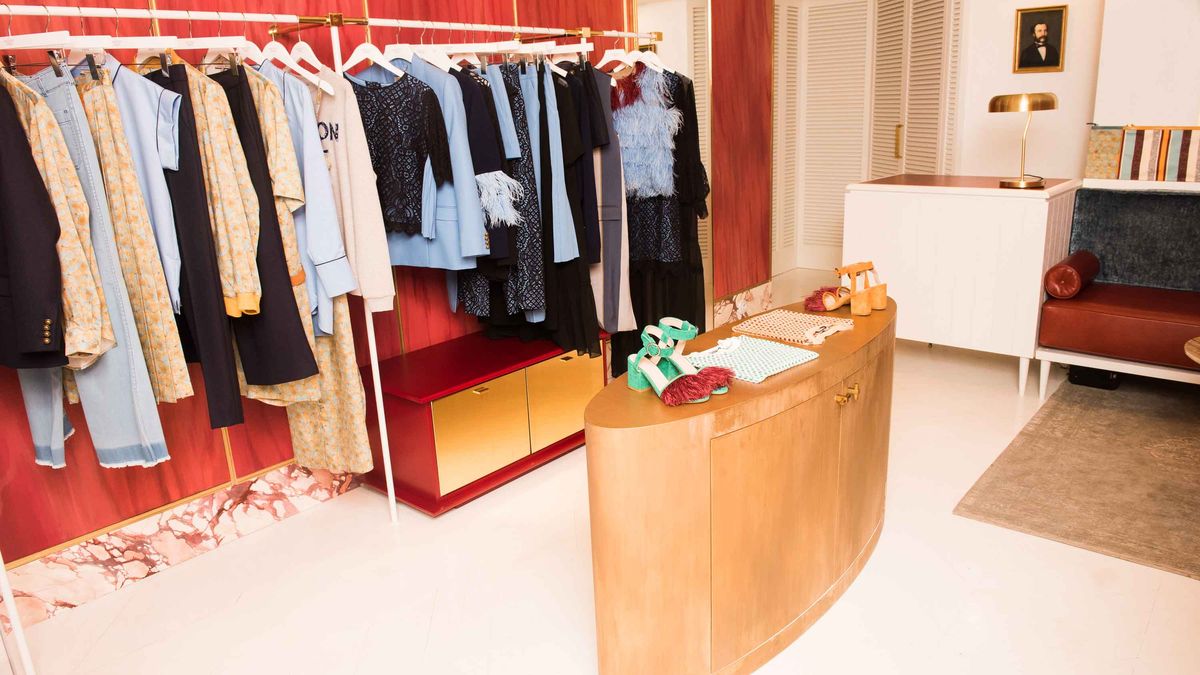 Interiors
This Boutique Is Paris's Best-Kept Secret
It's full of perfectly unusual French-girl necessities (think lurex and feather accents!)—and, bonus, they ship internationally.
We imagine walking onto the set of a French new-wave film would feel very similar to walking into the Saint Honoré boutique Maison Père. It's hard not to picture Anna Karina walking through the red art deco space and throwing on a pastel-colored knit adorned with feathers. The store is so French, we left singing Édith Piaf (and we don't speak French). 
Paris Stylists frequent the boutique, and it's no wonder why: there's inspiration in every corner, from the perfect marble coffee table to the clothing on the racks, to the owner and designer, Camille Omerin, who lives close by (and rides a scooter around the neighborhood at night).
Having dreamt of working in fashion since she was ten, Camille interned at Fendi, Chloé, and CHANEL before deciding to design herself—and voilà, Maison Père was born.
Click through the photos below for another reason to travel and shop in Paris (as if you needed one), and learn about Camille's vintage inspiration, her favorite piece from the collection, and how her fashion icon is actually from modern-day New York.
---
1/11
"I always knew that I wanted to start my own brand. Although I have a business background, [I] could envision the aesthetic I wanted the brand to embody. I was lucky to surround myself by so many talented designers through various internships that I was able to receive a really hands-on learning experience. I started the company at 24 years old, after having worked in the RTW development department at Chloé. At some point I just felt ready."