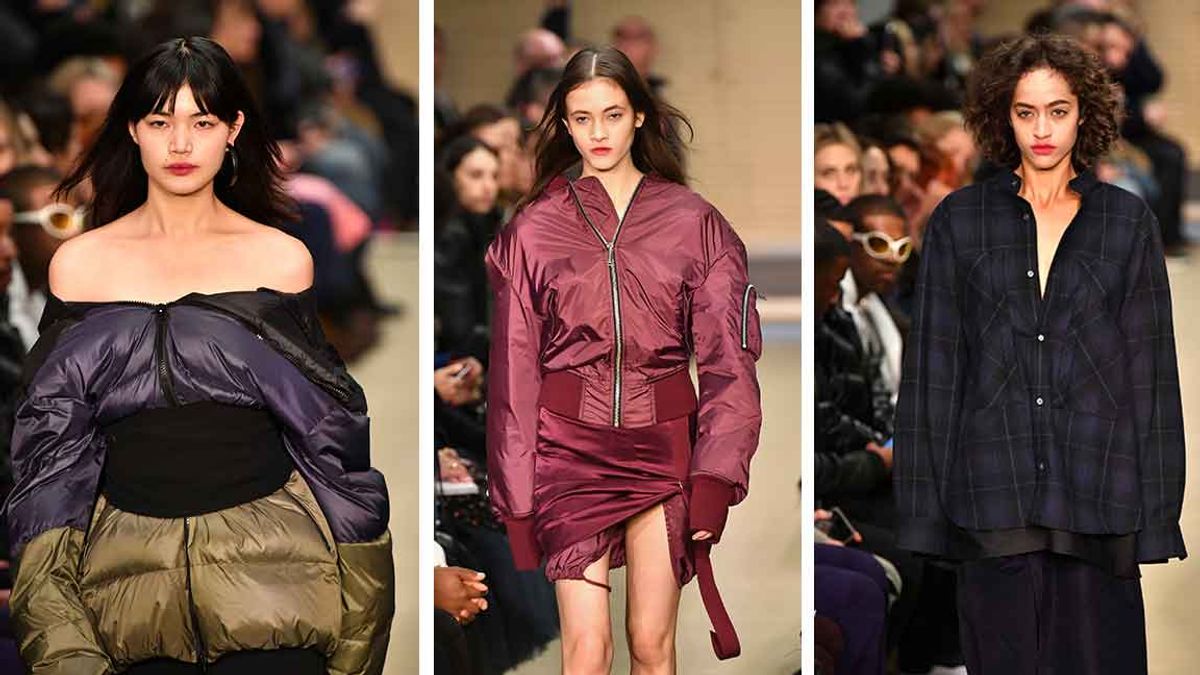 Makeup
The Lazy-Girl Beauty Hack That's Getting Us Through Spring
We're calling it "lived-in lipstick," and it looks so good.
In the words of the queen herself (we're talking about Beyoncé, obviously), "perfection is so meh." Consider that permission to cut yourself a little bit of beauty slack—especially when it comes to lip color. Let's all take a collective sigh of relief and usher in the era of the "lived-in" lipstick look.
First spotted on runways (seen here at Public School's fall 2017 show), this easy-to-achieve effect allows you to toss your lip pencil aside (at least for now!) and embrace the art of being undone. "The lived-in lip is essentially a wash of color on the lips; a bitten or stain-like effect that's very fresh and not too precise," explains LORAC PRO artist Dean Fournier. Here's how to get the look.
---
Don't Take It Too Seriously
"The concept of the lived-in lip is more of a perfectly imperfect take on lipstick," further explains celebrity makeup artist Anthony H. Nguyen, who works with Katy Perry, Die Antwoord, Brooke Candy, and Frances Bean Cobain. "There's color there, but it should look comfortable and effortlessly placed. The look isn't super defined nor perfect, to give off the look that the lipstick is literally 'lived in.'"
Prep First
"I find this look is very romantic," shares Fournier. "Your lips will have this plush look that isn't too perfect and therefore very kissable." To start, he preps lips with a swipe of lip balm [Editor's Pick: Glossier Coconut Balm Dotcom] for extra hydration and a smooth surface. Next, simply run your finger over the lipstick to warm it up and blot onto your lip, starting in the center of your lip.
"Build the color as you like—If you over-blot, no worries! Simply take a q-tip with a little remover and clean around the edges," he continues. "Remember, the lived-in lip shouldn't look perfect, and edges should not be sharp; the key is that the lipstick should seem to just fade away at your lip line (run a clean finger along the edges to do this if needed)." Finally, press your lips together a few times, and you're good to go!
Pick Impactful Shades
"I would stick to colors that are bold or rich," shares celebrity makeup artist Melissa Murdick, who works with Selena Gomez. "Nudes and pale colors won't translate as well and just end up looking sloppy instead of cool. Anything from a bright red to a deep rose to a dark burgundy, for example, is a much better choice!"
Use Matte or Satin Finishes
To get the look right, Fournier advises against using glossy or frosty formulas—the result will be less than lackluster. He suggests Alter Ego Matte Lipstick or Satin Lipstick and PRO Matte Lip Color to easily blend and blot without sacrificing too much pigment. "The good news is that this lip look is very low-maintenance," he shares. "All you need to do is blot a little more color (with finger or directly from tube) and press your lips together a few times to freshen it up."
Keep a Mirror Handy
Minimum effort doesn't mean looking lackadaisical. "Throughout the day, check to make sure there's no bleeding around the lip line," Murdick reminds us. "If there is, clean it up with a little concealer. If the color in the center of the mouth starts to wear off, you can dab on a bit more straight from the tube or using a finger."
Make It Your New Daily Go-To
"I definitely think this could be a daily look because it is more on the natural side of makeup, and it doesn't take much time at all to do!" shares Nguyen. "I bet some people already do this look on accident—it just so happened to turn into a specific look with a trending title!"
Photos: Getty