Fashion
Stephanie Mark's guide to the Bowery, her favorite under-the-radar street style star, and more. In collaboration with Michael Kors.
ICYMI, the very impetus for our website was, in fact, streetstyle. And with the movement serving as a career-catapulting (in the case of many a designer, stylist, editor), trend-dictating launchpad for the entire industry, it makes sense that in the decade plus since street style first became a *thing* online, its reign continues. That said, it's in our nature to take things one step further—we can't help it, really—and dissect the behind-the-scenes of, well, the scene. Like what's actually inside that insanely covetable gold Michael Kors bag with the floral embellished strap on the arm of the girl outside of La Colombe (please tell us she, too, impossible poise and all, carries around a million littered receipts)? What podcasts does that cool girl on the subway with the Christine Centenera-y choppy waves listen to? Creepy? Maybe. On your mind also? Almost definitely.
With this in mind, we thought it was only appropriate to document a handful of our own Cov editors doing their thing on the street—and quiz them on their own personal style, the street style fixtures that get their screenshot fingers itching, and where you'll find them in between the litany of shoots, meetings, and appointments that bookmark their lives in the city.
---
We don't need to tell you that as the co-founder of Cov, Stephanie Mark is busy. And when she's not running around from meeting to meeting, you can probably find her in and around New York's Bowery nabe, taking classes at modelFIT, or meeting friends for pizza and drinks at The Bowery Hotel's Gemma. It helps, of course, that streetwear is having its...we hesitate to call it a moment, as it seems to be here to stay, but you know what we mean—as sneakers are officially de rigeur and you can roll up basically anywhere in a pair. Steph's trick to making it work? A killer coat and a cool bag (one big enough to carry her Macbook, of course), like the Michael Kors Mercer tote (complete with swappable shoulder strap) seen here. Here's everything else essential to her everyday.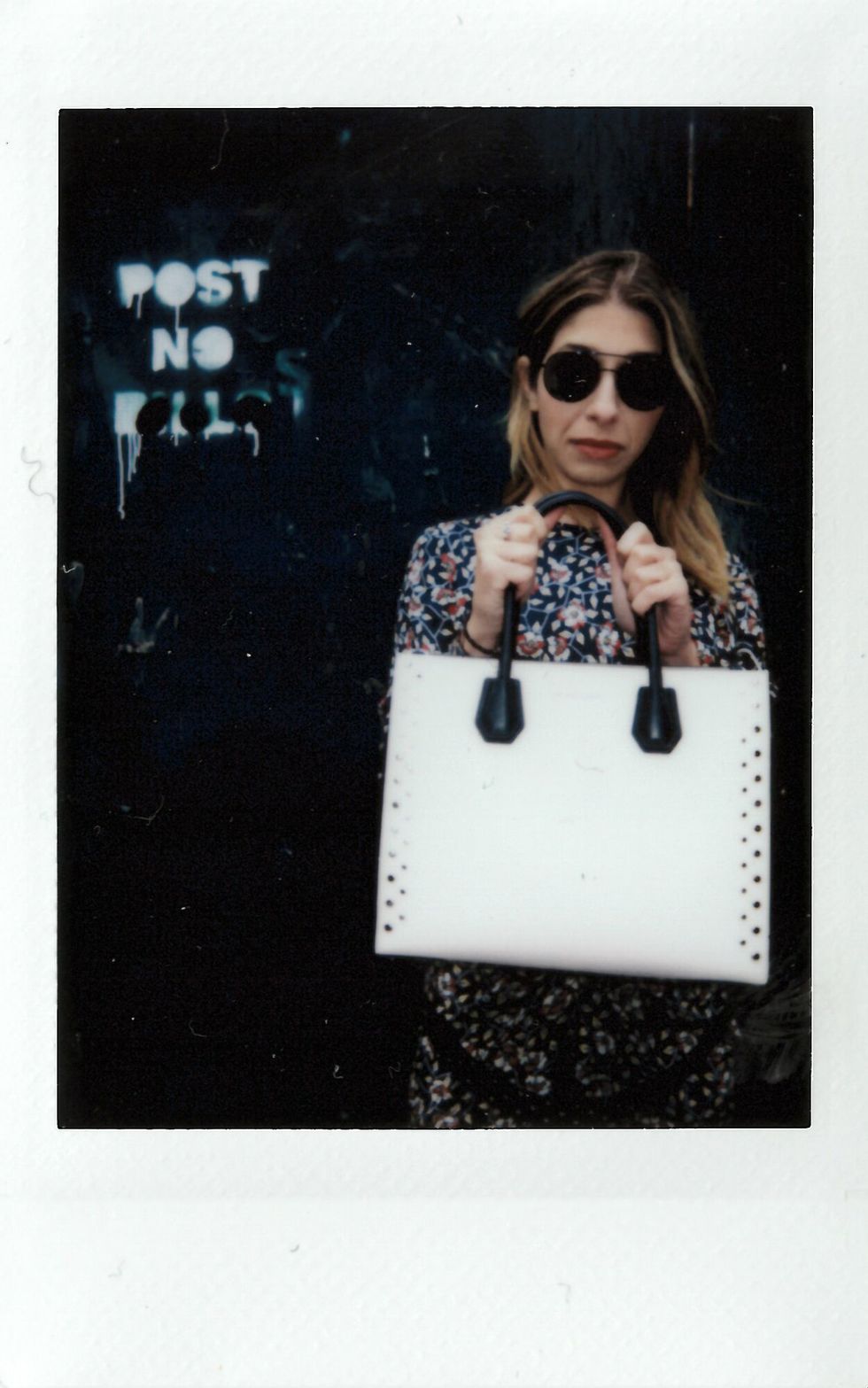 How she describes her personal style:
"Right now, I'm all about streetwear. I don't last all day in heels, so it's perfect for me. When transitioning between seasons, for me, it's all about coats and accessories. I'll wear the same things I do in the winter, but with lighter coats until it's fully bare-legs and no-jacket weather. Accessories let me transition really easily. When edging into spring, it's great to be able to wear something like a white bag, even if you still have to wear a heavier coat. It just feels spring-y!"
What she looks for in her bag of choice:
"Since I'm always running around, most of the time from morning until late, I always look for two things in a bag: is it big enough to carry a laptop, and does it have a long shoulder strap? Being able to swap out different straps made it a no-brainer."
If you snooped through her bag, what you'd find:
"Most of the time, my bag is less than tidy, so there are always lots of... surprises inside. Typically, for a workday, you would find: laptop, phone charger, workout top, Tic Tacs, wallet, lip balm (a tinted one by Korres as of late), and sunglasses."
Her favorite street style photogs:
"Of course Tommy [Ton] and Phil [Oh], plus Daniel Kim."
She almost always screenshots street style on the following names:
"Taylor Tomasi Hill, always, plus Megan Reynolds from Matches, and Rachael Wang."
 
What's on her current playlist:
"When it comes to music, I'm a bit of an old soul, but I'm really trying to be hip with the times. I just started using Apple Music, and my current playlists are Essential Kanye, Classic Rock, and Lady Gaga's Joanne album."
Her favorite thing about spring in New York:
"Walking around all day! Plus, people in NYC are generally happier and more cheery when it's nice outside."
Her 5 favorite spots on the Bowery: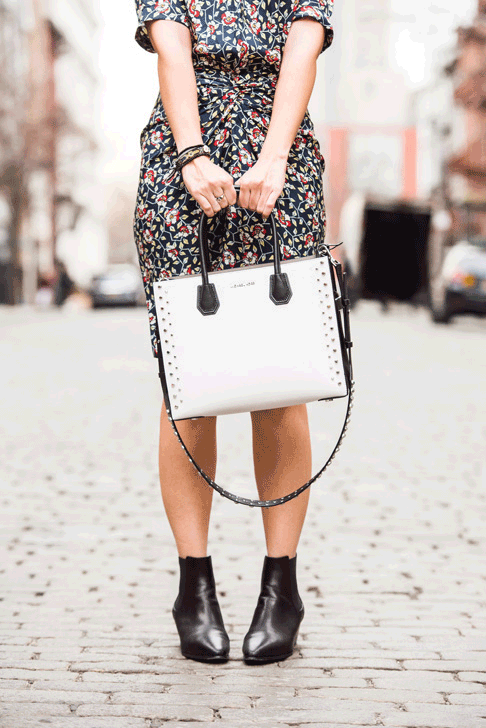 1. modelFit: "It changed my life and my body. It helps that it's a 10-minute walk from my house."
2. Dashwood Books: "The perfect bookshop for finding hidden gems and discovery."
3. Coffee Project: "A great coffee spot around the corner from my house."
4. Bowery Market: "I LOVED when this opened last summer. It was a great place to grab an iced coffee and people-watch."
5. Gemma: "For me, it's an oldie but a goodie. I feel like the restaurant is an extension of my own home."