Julia Goldani Telles Wants to Play Air Hockey with Coco Chanel
Imagining what the legendary designer's life would be like in 2017.
Celebrity
When we met Julia Goldani Telles, we knew she was born to be a star—an instant hit. Growing up in Brazil, her parents enrolled her in ballet at a young age, and she had a swift trajectory from baby ballet all the way to New York to attend the Professional Children's School. While she initially came to the school for dance, the curriculum allows its students to work and study their craft at the same time, and an injury at 17 forced her to take a year off. Needing a place to put all her energy (she was used to dancing 7 hours a day!) someone suggested she try acting, and as it turns out, she was even more of a natural at that! Within two months she had an agent, and her acting career was off to the races. You might recognize her from The Affair? Or maybe the cult-hit Bunheads?
We brought Julia to the Mysterious Book Shop in NYC's Tribeca to team her up with another instant hit, CHANEL's new Gabrielle bag. While she modeled (apparently another thing she has an innate ability for), we quizzed her on how *she* thinks Gabrielle (aka Coco) Chanel would live today and how we can all steal a bit of that glamour.
---
Q: If Gabrielle Chanel were alive today, how would she wear the Gabrielle bag?
A: "Gabrielle would pair the bag with a classic tweed suit, but would offset it with something more current, like a t-shirt, or mix vintage pieces into it."
Q: What would her coffee order be?
A: "Black!"
Q: Who would her best friend be?
A: "Michelle Obama."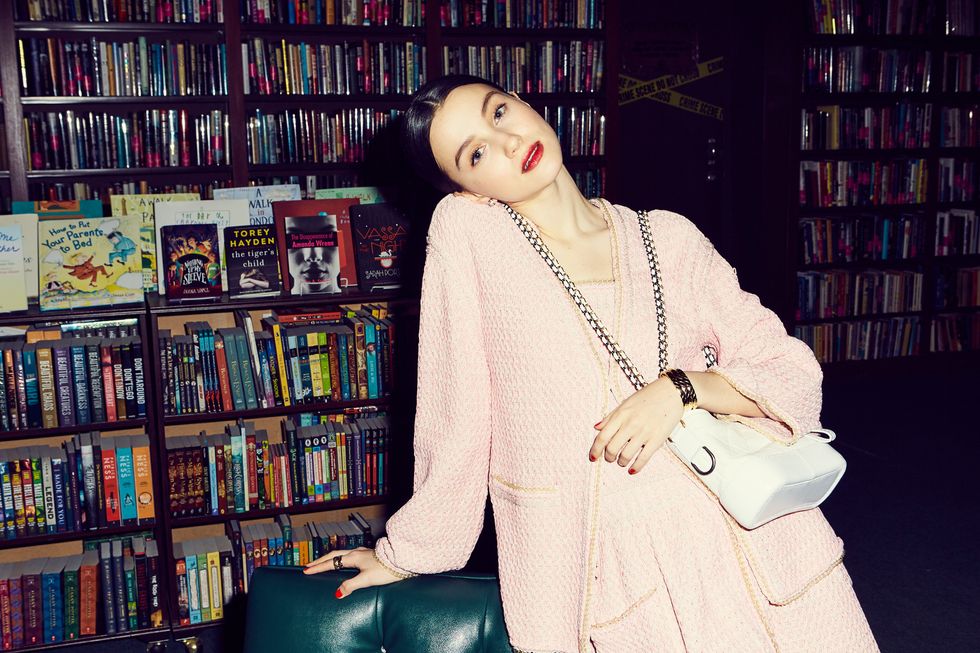 Q: What would Coco's ideal day in NYC look like?
A: "Her day would involve hanging with Pharrell, making political statements with her fashion, and also being sure to talk about things that are relevant to the times and current political moment.
"The day would start with a luxurious breakfast in a well-decorated apartment. A workout (in a CHANEL tracksuit, naturally) would follow, and she would look flawless doing it. She would later hop on the subway and head downtown, where she would walk around for inspiration, visiting the boutiques in Soho and various art galleries and bookstores. In the afternoon she would take in a movie, and then meet her friends at a super secret club for dinner."
Q: How would you love to spend the day with her?
A: "The day would start by going to an arcade in full CHANEL, and we would play Dance Dance Revolution, air hockey, trampoline, and sing karaoke with hits from both eras. We would then go to Color Me Mine in Little Italy to make each other mugs. Hers would say 'To Julia, Love Coco' and vice versa. Afterwards we would have wine to cap off the day, where she would advise me, and I would ask her all about her life. We would then part ways."
Available at select CHANEL Boutiques nationwide. For more information, please call (800) 550 0005.
Makeup: Nina Park
Hair: Owen Gould