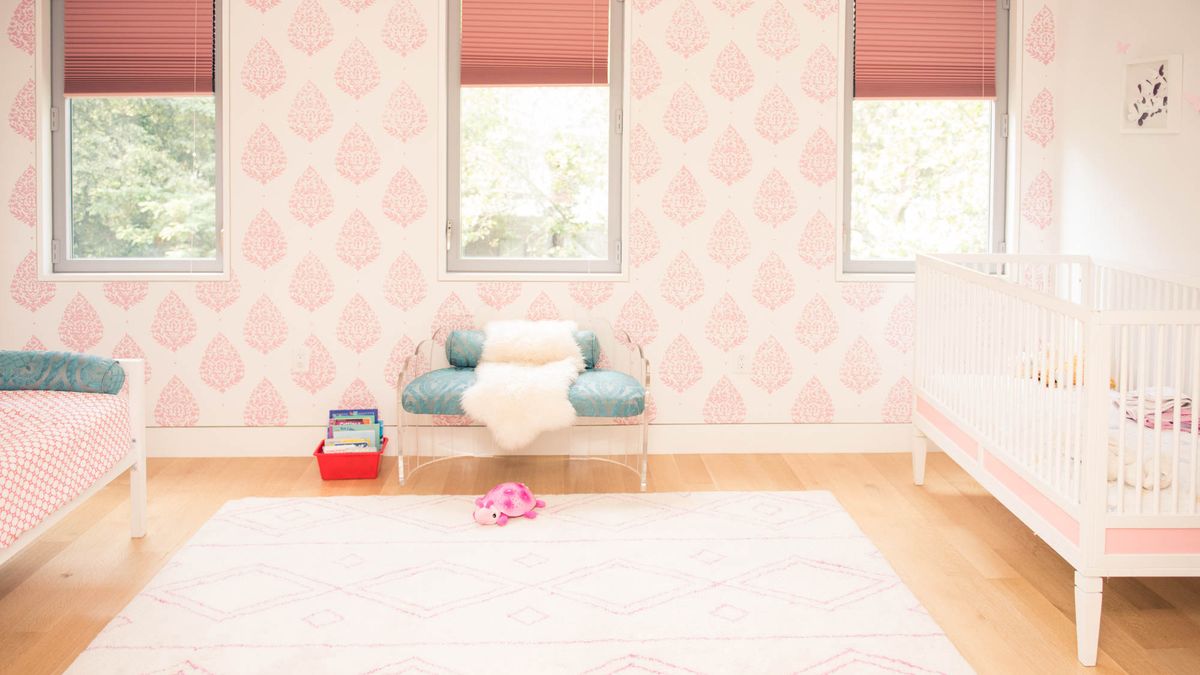 Decor
It's a thing, and it's the best.
By most measures, I am a responsible adult. I have an accountant, a French press, an SPF moisturizer, and a child of my own. But if you look at my online shopping cart, you might think a 10-year-old stole my laptop.
It's sacrilege—I've spent nearly a decade writing about design under some of the best editors in the country. I ran the websites for ELLE DECOR, House Beautiful, and Veranda, interviewed more interior designers than I can shake a paint deck at, and developed the references that come with the territory. Moody Axel Vervoordt purple? David Hicks geometrics? Admire them, love them. But what really makes me tick?
We'll start in the moment, shall we? Emily and Meritt just released their new collection with PBteen. These women are rock stars (and, duh, Cov-alums) and just turned out a collection that I saw and literally gasped at; reader, I am not lying when I tell you my heart beats faster just thinking about it. There's a hand-tufted wool rug that looks like a splayed-out beach umbrella; an iron gold-leafed floor lamp that looks like a palm tree; a 5 ½-foot-tall armoire that appears to be crafted from metal studs cast in cotton candy.
Dig deeper in the website, and you might click over to their sister brand, Pottery Barn Kids, where you'll run into Margherita Missoni's collection (another Cov alum, because Pottery Barn obviously has great taste). Her hook-and-line sun pillow looks like a lost Murakami, and the petal desk chair calls to mind both Slim Aarons and Alice in Wonderland.
I've had similar can't-catch-my-breath experiences at The Land of Nod (their rug selection has made me weep) and in the kids aisle of Target—especially with their latest A-game that brought out baby lines from Joy Cho and Nate Berkus. They also launched a stellar collection called Pillowfort that's become internet famous for their stuffed animal "hunting trophies" including a pom-pom'ed llama head I want literally a dozen of.
Sure, all these pieces are all fun and beautiful, but why is my reaction so visceral? Why am I a 30-year-old woman who is drawn to kids' furniture like crack? Am I trying to recreate my childhood? Am I emotionally stunted?
I call Nate Berkus, whom I've worked with plenty over the years and knows firsthand about my natural gravitation towards animal prints, ruffles, and color explosions.
---
"I actually think you're dealing with a healthy mix of arrested development, fantasy, and whimsy," he tells me, which is nice to hear, considering his pom-pom bin looks amazing on my desk, and I'd hate to have to move it to my son's room.
"The truth is that even really serious design projects need an element of whimsy to balance that weight," he adds.
"An element" being his key phrase, of course, but I'll take it. "Our designs really resonate with customers who are optimistic and love fashion," Emily and Merrit say when I ask them to diagnose me, "and those who appreciate things that feel familiar and fun." Check, check, check, check. They are doing nothing to discourage me from purchasing the bow-back chair from their last collection.
The truth is this: Designers of kids decor are professionals. They're not designing in a vacuum; they're creating products with the world as their mood board, pulling from past eras and mediums just like the designers at the fanciest, most grown-up brands out there are. Emily and Meritt's palm leaf pieces are an obvious nod to Dorothy Draper's '30s-era Brazilliance wallpaper; there would probably be no Margherita Missoni petal chair without Eero Saarinen's tulip armchair; Land of Nod's Art Collage bedding by Ampersand Studio has roots in the Suprematist movement, among others.
Speaking of The Land of Nod, they even tapped the archive of the iconic Modernist artist Charley Harper for pieces like a poster that wouldn't be out of place in a kid-free loft.
These designers know their shit—and they know how to have a shit ton of fun with it.
"I always feel like when we start from a place that's more cerebral, we wind up with something more special," says Seana Strawn. She's the director of product development at The Land of Nod, making her responsible for the in-house collection as well as collaborations with designers like Eric Trine and Lulu DK.
"When we're designing, we're looking at the runway, historical figures, icons—everything from the pleats of a Gucci skirt to David Bowie to Georgia O'Keefe to the Bauhaus movement," she tells me. And now I can't stop daydreaming about bedding that combines all these muses—what can I say? I'm a maximalist.
And know what? I've been called worse. Am I trying to recreate my childhood via pastels and animal motifs? Aiming to escape the daily grind with tassels and candy stripes? Sure. But so far it hasn't gotten in my way of actual, as the kids say, #adulting.
And? These brands tend to sell at a lower price point than their grown-up counterparts, which means more cash for preschool, organic produce, and pencil skirts. So if you'll excuse me, I'm about to deal with some tax stuff. From a floral chair.
Amy Preiser is a lifestyle journalist and branded content strategist. Based in the L.A. area, she writes for The L.A. Times, Martha Stewart Weddings, House Beautiful, and Sunset, among others.