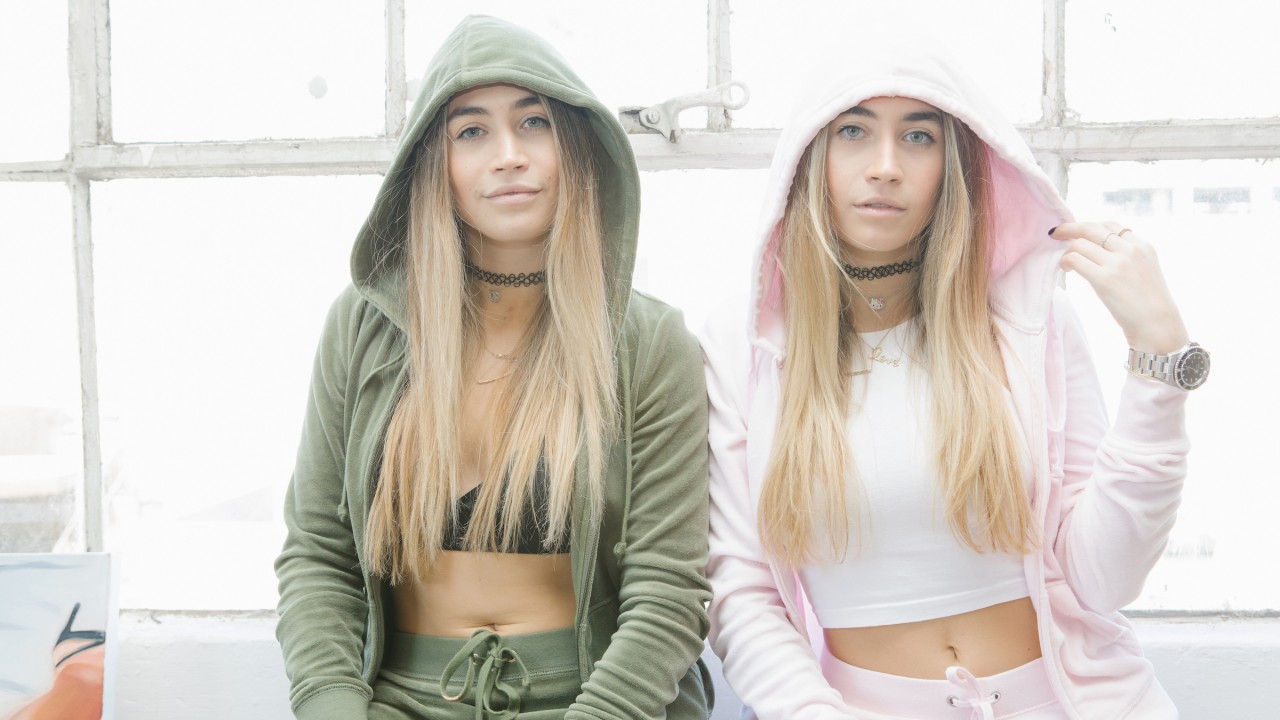 The Twin Sisters Creating NSFW Oil Paintings
The Kaplan Twins talk *that* Kim K. sex tape, celebrity nudity, and sleeping with plush toys.
The thought of having a twin is so fun. A best friend from birth that you can hang with (and annoy) 24/7? Dream. Come. True. Extra points if said twin is identical, someone you can borrow (er, steal) clothes from, and who shares similar passions. Not sure if you've caught on yet, but we're essentially describing the crazy-talented L.A.-based twins, Allie and Lexi Kaplan. Typically grouped together under the name The Kaplan Twins, these two are taking the art industry by storm, by way of NSFW celebrity oil paintings that all started with them first painting Paris Hilton's sex tape. Add the fact that the twins have the best sense of humor,  and had a project where they "slept" with plush toys and then sold them to followers, and you can see why we were dying to know more.
On how they first got into painting:
Allie Kaplan: "We've been painting our entire lives. When we were seven, I remember taking art classes for school and in high school we did AP art."
Lexi Kaplan: "I remember even painting as babies and our grandparents would hang things on their walls and we'd color at restaurants—we were always into it. We just decided to go to school for it at a certain point."
On where the idea to paint Kim Kardashian's and Paris Hilton's sex tapes came from:
LK: "We're really fascinated by celebrity culture. We were just thinking, Kim and the Kardashians are everywhere (it's honestly hard to keep track of them) so, we were thinking about how it all started…"
AK: "Just the way the media manipulates everything and how celebrity culture is in our faces every day—we were talking and thinking, did it really start from a sex tape? Is that really how this started? So [then we thought] maybe it'd be interesting and funny to make a series of traditional oil paintings, of something that's very non-traditional—something that's controversial and mainstream celebrity culture."
LK: "They really are iconic moments in culture because if you think about the career that [Kim's] created based on that single moment."
On how they deal with people referring to their art as porn:
LK: "In the beginning [we received a lot of backlash]—a lot of our Instagram posts would be removed."
AK: "People would say it was porn, or whatever. I mean, it is, but it's a painting of porn, so it's not really."
LK: "It gets complicated. It's so interesting how these are paintings, they're not photos, so where do you draw the line? What's the difference? A lot of people get confused and they like to criticize and say, 'This is really out there, this is disturbing, this is gross.' We have each other, we're a team, so that's helpful to get through it. At this point we've created a brand for ourselves, and we know what kind of work we make and people who follow our work know the type of work we make also, so at this point the porn comments have died down a little bit."
On if their famous muses have ever noticed their work:
AK: "We did [a painting] of Emily Ratajkowksi's naked selfies and a friend of ours said she was aware of the painting, which is kind of cool, so if we could get it to her, that would be amazing. I think she would like it because she's all about feminism, body confidence, and body image."
LK: "We're doing our new series of naked celebrity selfies. I think it was Kanye that said he feels like Kim's naked selfies are, in a way, modern-day renaissance paintings, so we're taking that idea and actually turning that into modern-day renaissance paintings, and putting it back in the formal oil painting context."
On how they decide what to paint next:
AK: "Discussing what we can do that has shock value, but is also super fun and engaging. For us, it's important to generate a conversation, and with art in general, we don't really need to have some profound and detailed conceptual thought to it, it's more about what the public can relate to, what can generate some sort of controversy."
LK: "It's always been about the commentary and it's also a conversation that is constantly generated and that we feed into as a culture—we're feeding into the celebrity and constantly talking about [it]."
On how their plush toy project, "Boy Toys," came to be:
LK: "We found it really interesting that when we would post things on Instagram, we had more engagement if we were also in the photo, so the idea stemmed off that. We were working with a friend at the time in his studio, and we were all discussing ideas for what could be really fun and also get people talking and get them engaged, and we're like, what if we did something with stuffed animals where we slept with them and posted suggestive photos, and see if they'd be able to sell. It turns out they did and then the whole boy toy idea and the specific action heroes that we created just naturally started to develop as we were going around the toy district."
On who they are hoping to collaborate with in the future:
LK: "We would love to collaborate with a lot of fashion brands. Definitely Nike. We always paint in Calvin Klein underwear just because it's really hot in our studio and it's comfortable, so I think doing something with them would be really fun, they're super edgy and cool."