WWWRN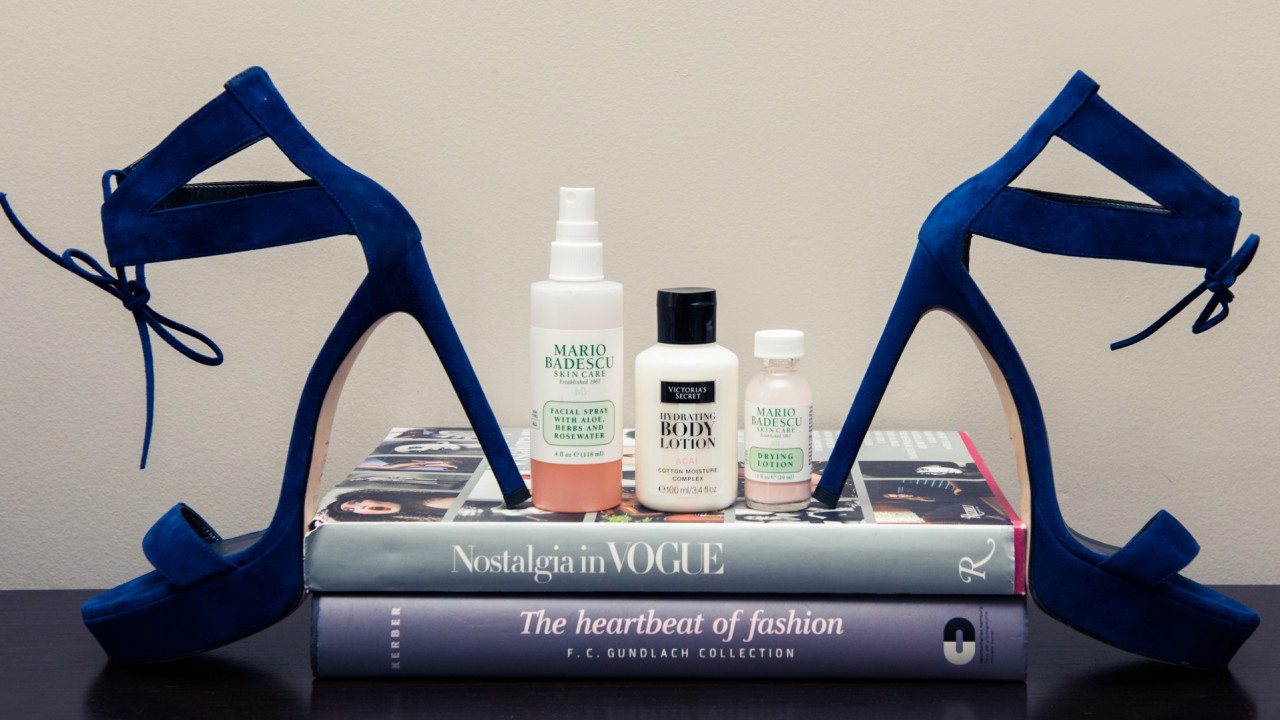 Coveteur Editors Swear By These Morning Routines
It takes *a lot* to get us out the door feeling presentable.
Mornings can be tough—and there are few among us who are truly "morning people." And yet, we manage to get out of bed and make it into the office (or to whatever shoot, meeting, or appointment we risk being late for) every morning. In large part, that's with the help of some very key habits and items, from a particularly potent dose of apple cider vinegar (one editor swears by her early AM shot) to the podcasts that get our brains (slowly) moving. Here, the morning rituals we swear by.
---
 Tara Gonzalez
Assistant Editor
1. Paul Mitchell Sculpting Foam: I have had long hair my whole life. And by long, I mean it-sometimes-gives-me-headaches long (no, really!). Although I am unwavering in cutting off more than four inches at a time, it isn't the easiest to care for. Essentially, taking a shower and drying it in time for work is just not an option. The last time I cut my hair (just three inches), my hairdresser used this foam, and I am not sure what I've been doing my whole life without it. I run it through my wet hair every morning, and when it naturally dries, it gives me nice soft waves that last all day. Plus, it smells like coconut!
2. Miu Miu L'eau Bleue: Oh, spring. You were so close two weeks ago, and now…you feel so far away again. Miu Miu's new scent is basically spring in a bottle, which is why it has been my go-to on these cold days and the perfect thing to smell right when I wake up. It's subtle, fresh, and reminds me that spring is coming, even if it did just blizzard. It doesn't hurt that effortlessly cool Stacy Martin starred in its fragrance campaign and that the bottle is so perfect I don't think I'll ever throw it away.
3. Aquaphor Advanced Healing Ointment: So L'eau Bleue helps me pretend it's spring, but this Aquaphor Ointment helps me deal with the very real fact that it is still technically winter for the next couple of days. Before I do anything or step outside, I put this on everywhere and then stash it in my bag for when I'll inevitably need it to soothe my skin later in the day.
4. You Must Remember This Podcast: When I was having trouble finding a book recently, I started listening to this podcast on the subway during my commute to work, and now I cannot stop. I'm obsessed with film and particularly find the idea of old Hollywood enchanting. You Must Remember This tells the secret or forgotten history of Hollywood's first century. I've learned about things like Kurt Cobain's obsession with the actress Frances Farmer (who his daughter is named after) and a Frank Sinatra album about outer space that no one has heard of, all before 9 AM. My only advice? Maybe don't start listening to the 12-part Charles Manson series at 8 AM on a Monday.
5. MatchaBar Matcha Powder: When I was in college, I drank maybe seven cups of coffee a day. And not just because that's my lucky number. I've recently tried to cut down on my coffee addiction by replacing it with homemade Matcha in the morning, and it actually feels great. Probably because Matcha is high in antioxidants and enhances calm (necessary!), boosts memory and concentration (also necessary!!), all while increasing your metabolism (not necessary, but nonetheless amazing). One Matcha Latte has almost as much caffeine as ten cups of green tea. Basically, coffee is becoming a thing of my past, although now I may just be developing a Matcha addiction (oops).
---
Emily Ramshaw
Senior Editor: Features
1. Ren Evercalm Gentle Cleansing Milk: I used to hold my morning routine pretty close to my heart—it took me an hour, and it never changed. These days, I'm a little less consistent (and less disciplined about getting up on time), but one thing that never changes is my devotion to washing my face. It's the first thing I do when I wake up, and this Ren cleanser is my current favorite. It's as gentle as the name claims and feels great on my still-asleep face.
2. Nespresso: I have a love-hate relationship with my Nespresso machine. For one thing, it hurts my heart when it comes to how much waste it makes with the plastic pods. For another thing, laziness is one of my defining qualities—especially in the morning—and man, does it ever make good, effective coffee quickly.
3. Atelier Ace x Wings & Horns Robe: My boyfriend gave me this robe a few years ago after we stayed at an Ace Hotel and I raved about its coziness, and I'm pretty sure it was because he was grossed out by the old terry-cloth one I wore all over the house. Now I wear this one. And I keep it on until the very last second, when I finally need to put proper clothes on.
4. Pod Save America: If there's one thing I've learned living in this country for the past year and a half, it's that American politics are fucking exhausting. For me, this podcast, hosted by a bunch of Obama's former staff—all young, intelligent, left-leaning, and very knowledgeable about the ~system~—makes it a little less exhausting and makes me feel that much more informed and active. They also inject a little humor into our current situation, which is always welcome.
5. Water: Before coffee, I try to drink a large glass of water. In the morning shuffle, it doesn't always work out that way, but I swear when I do, the whole waking-up process, which honestly takes until the moment I'm inevitably squished between two strangers on the L train, is that much smoother.
---
 Jodi Taylor
Assistant Editor
1. Organic Apple Cider Vinegar: Before my eyes are even fully open, I am in my kitchen preparing my usual morning concoction of one tablespoon of apple cider vinegar mixed with warm water and fresh lemon—it's a great way to kick-start your digestive system. Full disclosure: it doesn't taste as amazing as your avocado toast will.
2. InstaNatural Eye Cream: I've realized (and have been told) that now is the time in my life to start using age-defying products *eye roll*, which is exactly why I am now so incredibly loyal to eye cream. I'm currently hooked on this super hydrating one from InstaNatural.
3. HUM Nutrition Hair Sweet Hair: It's official, I've jumped on the hair vitamin bandwagon. I eat two of these babies every morning, and my fingers are crossed that my hair is well on its way to becoming super strong.
4. Bevstmode Radio Show 58: Music is a must for me in the morning. I've currently got this Bevstmode radio show on repeat—its chill yet upbeat vibe sets the perfect tone for my day.
5. Oil Pulling: I've been hooked on oil pulling for about a year now and have no plans of stopping. I always have a bottle of liquid coconut oil in my shower so that I remember to do it every day—not only does it boost your immune system, but it helps to whiten your teeth and strengthen your gums. Warning: it will clog your drains, so be sure to dispose of it by spitting it into a napkin before tossing.
1. Collagen Peptides: I've only recently started using this protein (after seeing it on Instagram, of course), so I'm not entirely sure if it's doing what it promised yet—aka giving my skin, hair, and nails a major boost. What I can tell you? One scoop tastes pretty good in my morning coffee, and it's a lot easier for me to remember than vitamins in pill form.
2. Charcoal Teeth Whitening Powder: Yes, this stuff is messy (like brush-your-teeth-in-the-kitchen-to-avoid-staining-the-bathroom-sink messy), but my boyfriend and I both give it our approval and, after a few weeks, have slowly started seeing whiter results—the *natural* way.
3. Amika Dry Shampoo: On the days I don't wash my hair (and even the ones that I do), dry shampoo is my secret, voluminous weapon. A lot of smells tend to make me nauseous, but this one isn't overpowering, and it works really well.
4. Downy Wrinkle Releaser: I honestly didn't realize how much I relied on this spray until I ran out...and immediately went into panic mode. Truthfully, I don't have time to break out the iron or steamer every morning (and always forget that shower-steam trick until after the fact), so this has truly saved me from looking like a wrinkled mess. Pro lazy girl tip: use it with your blow-dryer for even better results!
5. theSkimm: You're probably already subscribed to theSkimm, but if you aren't, do it. It's made for people like me, who really want to stay informed but sometimes miss things because...life. Plus, everything is thoroughly explained and broken down in bite-sized form, which makes it the perfect quick read on the way to work.
Part of the series:
WWWRN