Makeup
So luminous, your cheekbones are visible from outer space. In collaboration with Sephora.
Alec Kugler
Meagan Wilson
Makeup
David Razzano, Mustafa Yanaz
We remember when highlighting first became a *thing*. Mostly because we allowed our love of sparkly stuff guide one too many uninhibited shopping sprees; resulting in the collection of a half dozen products that, while pretty, we had no clue what to do with. Um, help?
In this series, we've partnered with Sephora to demonstrate how to cop the perfect highlight for pretty much every occasion. After all, the level of wattage you're after during a big work meeting is very different than, say, a night out. Thanks to our handy glow meter guide, you'll know exactly how much shine to expect (from buttoned-up to blinding). Happy highlighting! 
---
We've thoroughly documented how a decently-sliced sliver of any wedding prep and planning is usually dedicated to looking good. Like, your best ever. And sometimes, that goes, even when it's not your wedding. What, like you're going to let a fancy (ideally destination) backdrop, dedicated photoshoot time and a captive audience go to waste? There are Bumble pictures to be taken!
When you need to look your most dramatically radiant (like there are solar panels on your face!)—as, say, the maid of honor at your childhood best friend's wedding—these are the products to rely on. In fact, they're two of our favorites: the cult-following-never-not-sold-out Becca Shimmering Skin Perfector (if you have the chance to pick one up, take. it.), and Dior's incredibly fancy (it's almost like a piece of jewelry) Diorskin Nude Air Luminizer Powder. Get to it.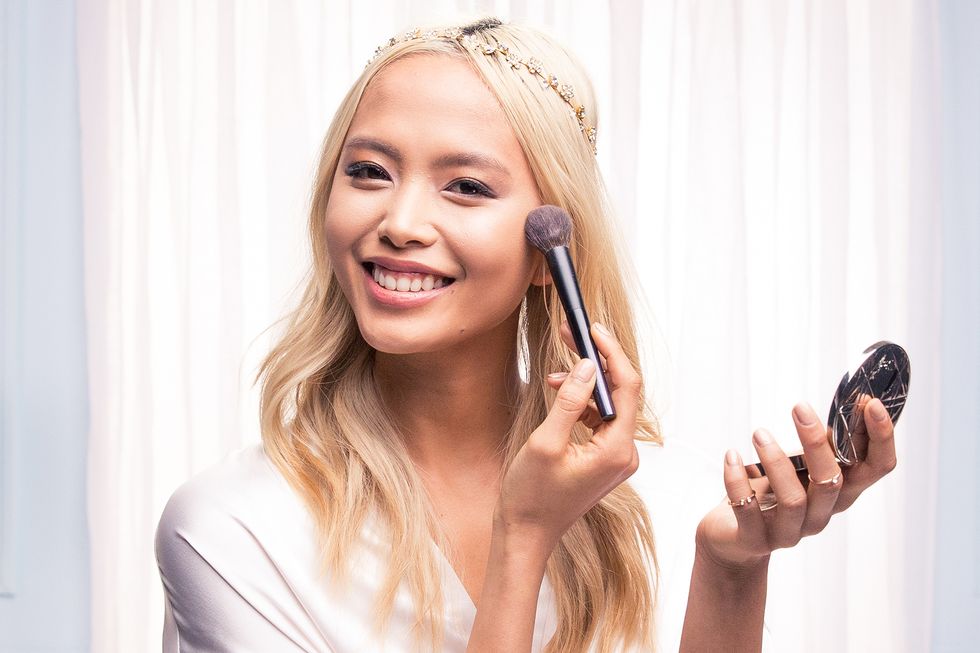 1. Dust the Dior Diorskin Nude Air Luminizer Powder using a powder or cheek brush.
2. Using the same brush, add a subtle holographic touch by applying the Becca Shimmering Skin Perfector to only the high points of the cheek.
3. Using a small, tapered eyeshadow brush, add some of that Becca highlighter to the inner corner of your eye.