New Wave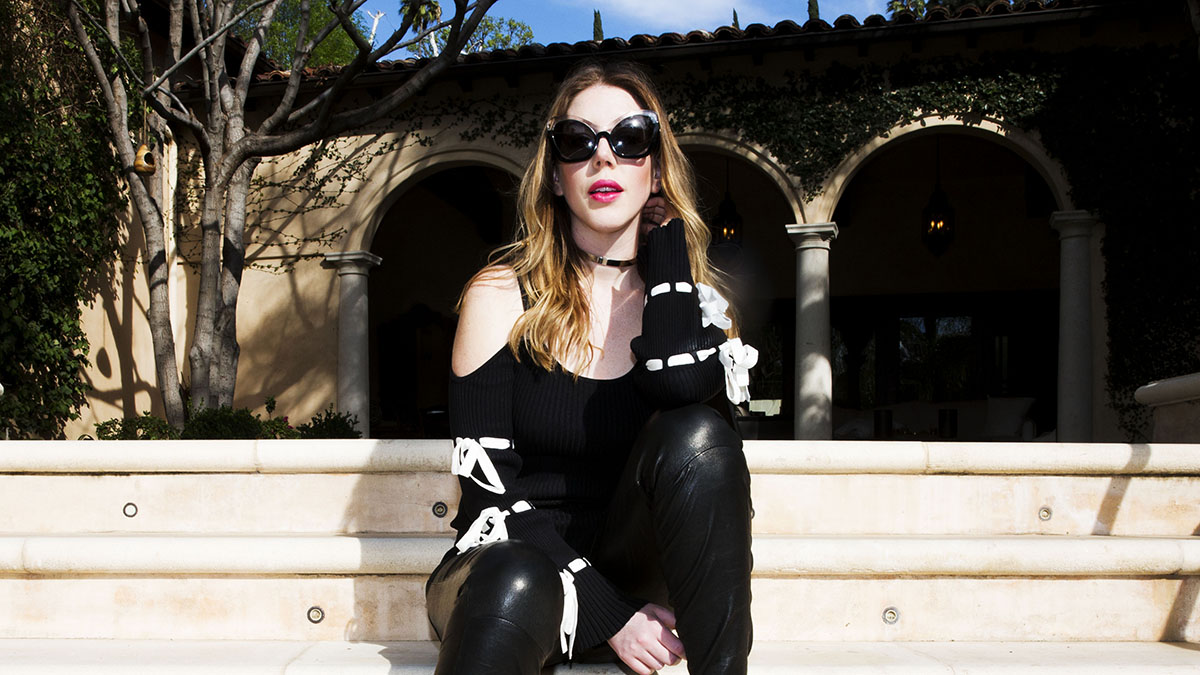 The Netflix Stand-up Special You'll Want to Watch This Weekend
In one hour, comedian Katherine Ryan hilariously tackles pop culture, politics, and personal life.
The next time you're scrolling through Netflix, wondering what to watch next, do yourself a favor and search for Katherine Ryan. The comedian's stand-up special, Katherine Ryan: In Trouble, tackles a healthy mix of pop culture, politics, and her personal life, and will surely have you producing loud, deep-belly laughs in a matter of minutes. Yes, there will be moments that'll make you cringe—Katherine isn't one to hold back (sorry, Taylor Swift), and her blunt style has been likened to Joan Rivers in the past—but like most good comedians, she's somehow found the happy medium between "Did she really say that?!" and "Well, that's kinda true."
If you're wondering how a newbie like Katherine landed this hour-long gig, don't. She isn't "new" at all—she's just been building up her resume in the U.K., and is now ready to takeover stateside. Read on for how she got into the biz, why she loves bad performances, and allow her to explain that one Donald Trump joke. 
How she comes up with her jokes:
"I talk to my audience the same way you text with your best friend, which is evil sometimes, and only meant for her because she understands you and knows you're not being evil. From a very young age, I was captivated by pop culture, the world of celebrities, and the meta-narrative, if you will, of reality TV, so I like to talk about that stuff. Then, I mix in a little bit of my own life, my relationships and my child. I think that you have to be curious and critical of the world around you, but you also have to be vulnerable and talk about yourself. At the end of the day, my material doesn't attack anybody more than I attack myself."
On being provocative:
"I don't mind being a little bit provocative because I'm asking questions. I think comedy is a conversation. That's the type of comedy I like to watch, so that's the type I like to do—comedy that makes you feel a little bit uncomfortable and, hopefully, inspired. I always hope to be getting better and evolving. All of my favorite women throughout history have been ones who shook things up and were provocative, so if I can be that kind of woman too, that's cool." 
On her joke that 'Trump is the president America deserves':
"When I say America, I certainly don't mean the very woke, Liberal, left-wing—you guys don't deserve him. I think it's that very localized, ignorant, alt-right that wants to blame all their problems on someone else. I also said that stuff before he was elected, because I felt really safe that he wasn't going to be elected. It's not so funny now. Does America deserve Donald Trump? Absolutely not! I think what the right wing forgets is that the left wing wanted America to be great again, too. Even other countries—of course we want America to be great again! It's the largest economy in the world, it informs a lot of what we do politically, and we're reactive to the decisions and the policies that America enacts. We don't want this working class to be marginalized and to not be able to feed their kids. Now, it's a very real situation. The whole world is on edge. I think if Donald Trump starts to do good and be balanced and measured, the left will embrace him, because everyone is adaptable at the end of the day. We just want good. He doesn't have to be this scary guy. He could listen to Ivanka, make some smart moves, and then everyone will love him. And that's all he ever wanted. Although, it doesn't really look like that's going to happen…" 
On bombing during a performance:
"I love bombing, because it means I've been brave and tried new material that I didn't know would be funny or not. I feel very comforted by it, because we are people who have different tastes. If we all like the same thing, it would be really strange. If people really dislike what I do, there's a lovely balance in the world and it doesn't hurt my feelings."
On women being funny:
"I don't argue with people who say that women aren't funny, because I don't care about those people. They're an endangered species—like, old men who are just going to die. I know that women are funny. The young, developing population of this world knows that women are funny. I've always been really peaceful and positive about the fact that it's changing. I understand that standing on stage with a microphone and being the only person in the room that's allowed to talk is a very alpha thing to do, but to me, that doesn't make it a masculine thing to do. It's 2017, and we can be alpha too."