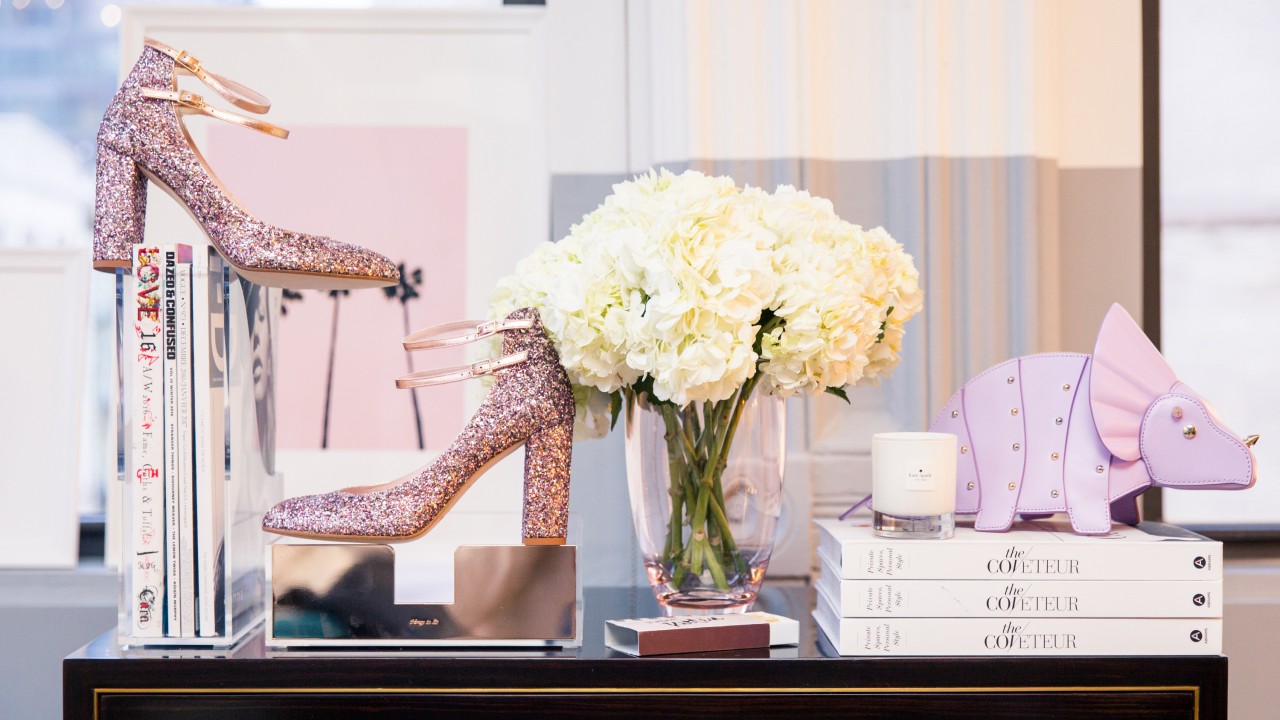 How to Make Any Office Space Somewhere You Actually *Want* to Work
In which we make the work space of our dreams a reality (plus how you can, too). In collaboration with kate spade new york.
Make no mistake: even if you consider yourself the most seasoned Pinterest-fueled decor obsessive, decorating an office is HARD. You have to conceive a space that's at once professional (relatively, at least—keeping in mind that we're a digital media brand in 2017, our content spanning a wide variety of, er, interests), makes a good first impression, and keeps everyone feeling inspired and productive. In other words, when it came to decking out our WeWork, we had our work cut out for us.
Luckily, brands have become attuned to the idea that not every office space needs to look like, well, Office Space. Kate spade new york especially kills it in this department. You've probably seen their on-point office supplies and work space tchotchkes—we mean, why have a boring ol' black stapler when yours could instead be acrylic and gold? Which is why, when they offered to take some of the pressure off us (and turn our space into the pitch-perfect office of our dreams!), we were pinching ourselves. Here are the final results—and the lessons we learned along the way.
---
Our co-founder Stephanie's office is home to all of the challenges outlined above—plus late-night brainstorms, solo email Whack-a-Mole, and many an impromptu photo shoot. Here's how we made it work.
1. Start with Larger Pieces
To nail that balance between professional and creatively inspiring, we started by making sure the larger furniture pieces didn't feel stiff and overtly corporate but weren't too whimsical, either. That called for a glossy dark credenza with gold pulls, a bright desk hand-painted with spots, and welcoming, albeit clean and simple chairs for visitors to cozy up to.
2. Add Visual Punches
3. Finally, Think Luxury
While we wanted things to feel fun and not too stiff, Steph also wanted something that brought a little luxury to the space. That came in the form of clear acrylic and gold office accessories: a magazine holder, tray (kate spade new york describes theirs as a necessary luxury, which is disturbingly accurate), pen cup, stapler. Basically, give your typically boring office necessities a fancier feel.
---
Given our open office seating plan, making your desk space feel personal can be tricky. Here's how we got around that.
1. Create Boundaries
Use medium-sized pieces that create visual breaks between your desk space and your neighbor's. Here, we used a lamp, some framed pictures (again, s/o Society 6), and an inbox desk tray.
2. Add Personality
Further to the whole "creating your OWN space" thing: add touches that make it feel unique to you. A favorite magazine (like a gold-tinged issue of Vogue Paris to match), a mood board, fresh flowers in a pretty kate spade new york vase...whatever.
3. Organization Is Key
It *is* work, after all. Keep your respective stuff together and neatly placed where you can see it—this organizer will help give you a place to house your clutter that actually looks cute.
---
As you probably already know, first impressions are everything—here's how to make them really, really count (or at least distract them with a bomb curation of magazines).
1. Keep 'Em Comfortable
We want anyone hanging out waiting for a meeting to feel comfortable and at relative ease. Enter a pair of neutral linen chairs; they might actually be too comfortable to get up from. The same effect is echoed by a trio of subtle candles burning in the background.
2. Keep 'Em Entertained
Your magazine addiction that won't quite die comes in handy here. As does releasing a coffee table book of your own. Ahem!
3. Throw In a Conversation Piece
Cool decor items that double as an icebreaker will come in more useful than you'll ever know. That could come in the form of an interesting flower arrangement, beautiful vase, printed carpet, or a cameo by a unicorn bag.