Skin
Everything You Need to Know about the Face Mask You Probably Haven't Tried Yet
Be prepared to welcome this newcomer to your beauty cabinet.
Alec Kugler
Half the battle with face masks is finding the time to do them, amiright? It's rare to have time to sit down and enjoy a meal, let alone wait for a face mask to penetrate, then have the energy to go rinse it off and follow with our skincare regimen. Which is exactly how we fell into our current infatuation with splash masks. Yes, you apply them exactly like they sound: by splashing them onto your face post-cleansing. Talk about a time saver. Plus, they can be applied in the shower or at your sink; my personal preference is at my sink about once a week, seeing as how my shower routine is long enough as is (blame my oil pulling). I tried two different types of masks (the how-to is all below) and was happy with the results I got from each, so much so that they're both now regulars in my beauty routine.
---
---
BLITHE SOOTHING & HEALING GREEN TEA SPLASH MASK
We'll thank the Glow Recipe founders for putting this baby on our radar. We love green tea everything, so we gravitated towards this one in particular, although Blithe has a variety of patting splash masks available. Said to be soothing and healing, it felt as though it successfully did both those things and left my skin feeling extremely smooth and hydrated.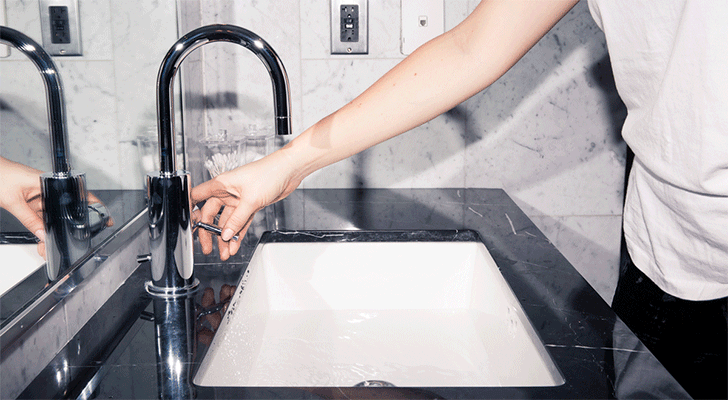 Step one: Fill your sink with lukewarm water and pour in a capful of the mask, mixing together with your finger.
Step two: Splash the mask liberally onto your face for 15-20 seconds (a good three to four splashes) and then pat until your face is damp. You can continue afterwards with your usual skincare routine, or *very lightly* pat with a towel if your face is still slightly dripping.
---
BOSCIA TSUBAKI SPLASH MASK
---
You may remember this little guy from my Desert Island Beauty pick a few weeks back. At that point, I sort of blindly threw it on my face, and now I'm here to break it down for you guys. I have dry skin, and this one claims to be intensely hydrating—I could use a whole lotta that. There two different ways to do this splash mask, both demonstrated below.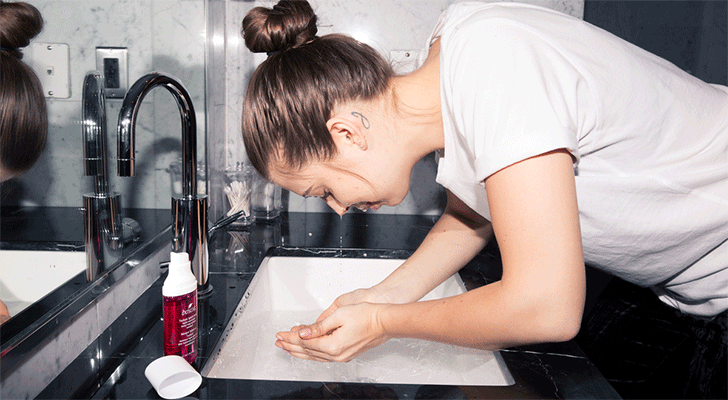 Version one: Fill your sink with lukewarm water and mix in one to three pumps of the mask. Then generously splash onto your face, finishing off by patting the mask into your face until it is only slightly damp.
Version two: Pump one to three squirts into your hand and pat onto cleansed, wet skin with your fingertips. Do not dry with a towel.