This Designer Is About to Blow Up, and for a Very Good Reason
We suggest you order one of her custom leather jackets, well, right now.
Career
We've all been there before: spending weeks and weeks in search of the *perfect* leather jacket (let's be real, sometimes it can take months, even years)—the kind that fits like a second skin. Oftentimes the search ends with us waving a white flag—which is exactly where Rosa Halpern of Namesake comes in. In only six weeks time, Halpern will create for you a fully customized leather jacket (online or from her Toronto-based studio). You choose the leather, the hardware, the lining—oh, and you even get your name embossed on the inside of the jacket. How ~G~ is that? And if that isn't great enough on its own, get this: Halpern's brand is structured and built around strong female figures such as Frida Kahlo, Rosa Parks, Yoko Ono, and more. That final detail was enough for us to officially fall head-over-heels in love with Namesake. 
---
How she ended up in fashion:
"From the youngest age I can remember, I was always drawing and doodling dresses. Rather than [go] to a fashion school like Parsons or FIT, I went to the Art Institute of Chicago, which has a more conceptual approach to fashion. They're more interested in avant-garde and teaching you how to think like a designer, not so much the actual clothes, and I did that because I didn't want to get pigeon-holed into just making one type of clothing. [That] was my fear."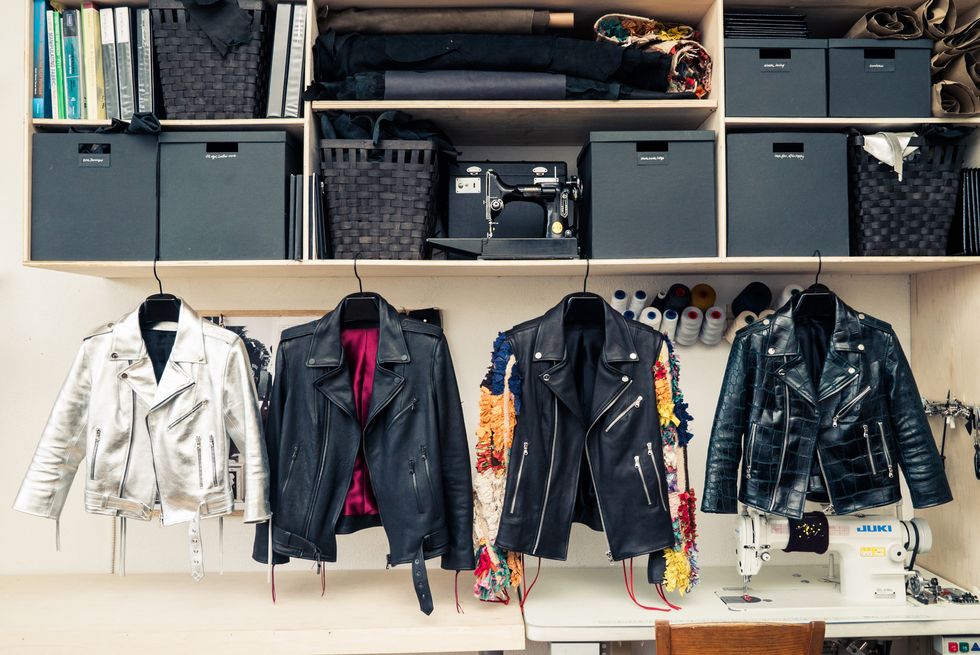 How working for Theyskens Theory was the beginning of Namesake:
"[My third internship was] with Theory and then Theyskens Theory—[working with] Olivier Theysken was really where I got my really in-depth apprenticeship. I really loved how he ran the studio—it was a hands-on experience and really amazing. He was really into leather and [took] interesting approaches to it, too. I got offered a position there to be an assistant designer, and then I was still finishing up my last year of school, I got a text from my old boss and she said that the company had been dissolved. It was [heartbreaking]. I ended up moving back to Toronto [and] started working as a store manager and assistant buyer for a boutique, and when I was at that store, a friend of mine asked me to make her a leather jacket just for fun. I did it, and then five of her friends wanted a jacket, and their friends wanted jackets—thus the birth of Namesake."
The strength and meaning behind her brand:
"I am named after Rosa Parks and Rosa Luxemburg, two really strong, bad-ass women and some pretty big shoes to fill. I definitely associate with strong female icons. I liked the idea of paying homage to the women I was named after, which is why I came up with the other part of Namesake—that each of the jackets are named after a different woman in history who's left a powerful mark on the world. So Emmeline Pankhurst, Yoko Ono, Isadora Duncan, Frida Kahlo are just a few of them. The idea is that when you put on a leather jacket, it has an amazing transformative quality, and you get to be whatever woman you want to be. You get to be a little bit fiercer, a little braver, a little stronger than you might feel otherwise, and that, I think, is our inner heroes or namesakes taking form within us."
How the process works:
"On my website there is a virtual customizer where you get to go through and pick your leather, pick your hardware, pick your lining; you get to pick options like a belt, no belt, fur collar, lacing up the back, zippers up the back—details like that. Most of my customers are looking for something I think a bit more in-depth in terms of customization, and so in that case, I take fittings at my studio in Toronto, or I've also done a pop-up studio in New York, which is something I'll continue doing. I have seven base styles that they get to choose from, and then they get to pick their leather—I have over 25 different kinds of leather. I have canvases of every single jacket style and size, and I'll actually fit the canvas to the person. We'll work together to do a totally custom jacket, which normally takes place over three to four fittings, [and] it's a four- to six-week lead time. It gets finished with their initials custom-monogrammed in silver foil or 14-carat gold foil in the back neck."
She's been lucky with her mentors:
"I have been lucky to learn a lot about the business side of fashion from the owners of arguably the two best stores in Toronto, Serpentine and 119 Corbo. In addition to being my lifelong bodyguards, the boys of Serpentine, Paul Mailing and Stephen George, have taught me so much about how to buy, or in my case create, for my customer, while staying true to my own vision. Linda Perisa of 119 Corbo has definitely also taken on the role of mentor to me—I do a line of leather basics for her in-house label. She is someone who is fierce in her vision and settles for only the best. At Namesake we don't settle, and I have to thank Linda for reminding me of this every day."
Why she wants you to remember life's not a race:
"The best piece of advice that I've ever received is the reminder that this isn't a race. I think that especially in the fashion world, which is so fast-paced, there's this feeling that we're all constantly racing towards some kind of finish line. But there is no finish line. I think slowing down and taking your time to perfect your trade, and taking your time to surround yourself with good people is really important. There's different ways to get to the end goal, and the way that I do it might be very different than the way you do it, and that's okay. I shouldn't be comparing myself to the rate and the speed of other people, I should just be worried about my own place."