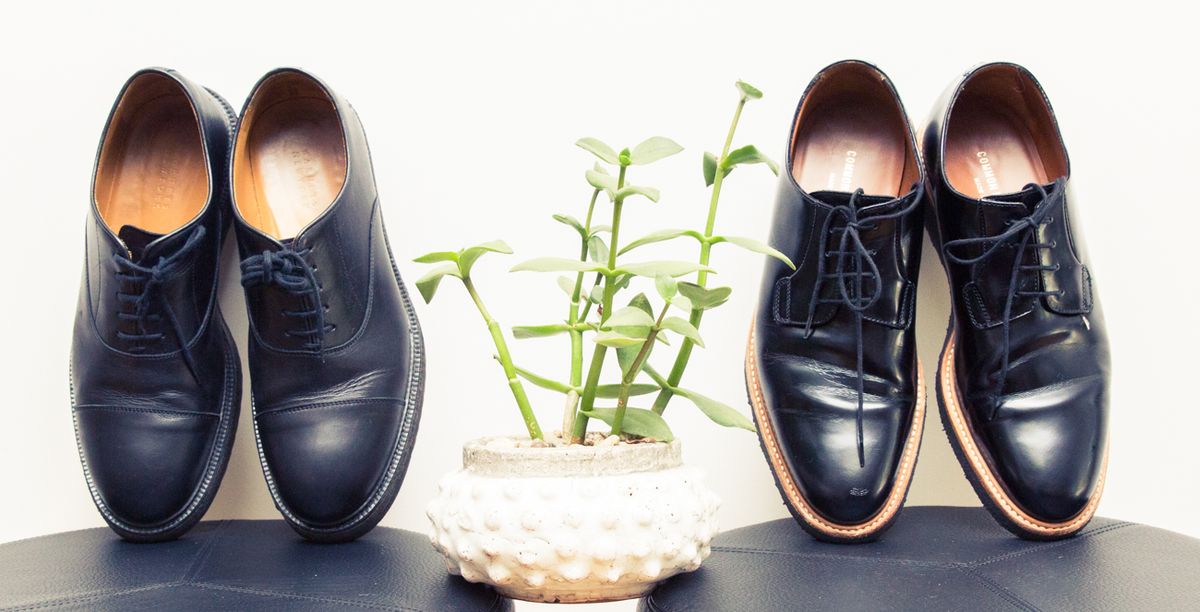 Career
And here's how Beautycon Media's CEO, Moj Mahdara, saw it coming before anyone else.
Renée Rodenkirchen
Renée Rodenkirchen
If you're still barely getting the hang of Snapchat, you might need a little context before you can see why our interview with Moj Mahdara left us bubbling over with inspiration and tempted to start a handful of (new) companies of our own. As the CEO of Beautycon Media—which started as a festival for influencers and creatives in the beauty space and has expanded into a fully fledged media brand—Mahdara heads up the company. Which means defining all things lifestyle for anyone under the age of 22-ish, and dealing in content (social and editorial), commerce (a curated subscription box), and festivals (around the world, that instantly sell out tickets in the tens of thousands). And for anyone who's quick to downplay the largely youth-driven state of digital media, Mahdara's equally quick to point out that "even a mediocre content creator with 50,000, 100,000 subscribers [on YouTube] is probably making $100,000 a year. If anyone wants to become a forward-thinking business owner, they're going to have to move out of thinking, 'Oh, they're just silly YouTubers.'" Intrigued yet? Thought so.
---
HOW BEING A FIRST-GENERATION AMERICAN SET HER ON HER CAREER PATH AT AN EARLY AGE:
"I'm a first-generation Irani-American. When you grow up in an immigrant household, your family is trying very hard to stay connected to their motherland. You look at your relatives, and they're just so different from everyone else that you see around you. Any first-generation American is obsessed with becoming an American—I would be lying if I didn't say that MTV had a massive impact on my fantasy of what I could be [when I was older]. I think I originally wanted to be a VJ, you know? [laughs]"
HOW SEAN PARKER & NAPSTER SPARKED HER AHA MOMENT IN COLLEGE:
"I became enamored with Sean Parker, Napster, and Kazaa as I was graduating high school and into my first year of college. Music had always been something I was in love with. I was very much the kid that was grounded for going to concerts—my parents absolutely did not support that type of recreational behavior. I did a college radio show, which gave me access to a lot of music, and because of Napster I began to understand that everything was eventually going to come to you by way of [digital]. There was a moment where I was like, 'Oh, dial-up is kind of temporary, and we're eventually going to all have quote-unquote high-speed internet.' I just longed for culture."
HOW SHE GOT HER FOOT IN THE DOOR (BY WAY OF CONVINCING A THREE-BILLION-DOLLAR COMPANY TO LET HER RUN THEIR ENTERTAINMENT STRATEGY AT AGE 25!):
"It's a long story, but: I met the founder of Airstream, Dickey Riegel. He was a friend of my colleague, and was like, 'Ugh, I have this company, Airstream, and I don't know what to do with it'. I sort of butted my head in and said, 'You could do collaborations with brands like Quiksilver.' I knew that everyone in Hollywood was mildly obsessed with Airstreams—so I used that to go to Quiksilver and basically pitch this idea of a Quiksilver Airstream. And it worked! They sold 900 of their units, and I sort of made myself known through that.
"I mean, when I think about it now, I think it's hilarious. At the time I was 24, 25, meeting with the [then] CEO of Quiksilver. He was a USC grad running a three-billion-dollar company, and I'm telling him that I'm the best consultant he can possibly hire to help him with his entertainment strategy. He just kind of went for it! I told him that I knew everyone in Hollywood, had access to bands and artists, and could be an amazing strategic consultant to them. It turned into a seven-year-long relationship."
WHAT DREW HER TO BEAUTYCON (& BEING AHEAD OF THE BILLION-DOLLAR INFLUENCER MARKET BEFORE ANYONE ELSE):
"After I sold my last company around the end of 2010, I started to just invest in startups, like HelloGiggles, Harry's, and got to advise companies like Warby Parker. I was really enamored by content creators and how they were helping acquisitions—basically how brands were using these influencers to distribute marketing messages. I was like, 'Wow, that's really interesting—that's not an ad-unit, and it seems way more organic than SEO or paid Twitter search, right?'
"I started to really think about it a lot, and even did a TED Talk and wrote a Wired article about how ultimately, someone like Michelle Phan would be just as valuable, if not more than, a Kim Kardashian. Michelle has now built a billion-dollar brand in a very short amount of time. But in 2012, all of these ideas sounded very advanced, and I think a lot of people thought it was kind of silly. With Beautycon, I originally came on as an investor, but within nine months I became their CEO."
HOW SOCIAL MEDIA STARS HAVE CHANGED (LITERALLY) EVERYTHING:
"I think the thing that excited me the most was that, for a long time, beauty had a lot of shame. It was something that wasn't necessarily inclusive; it was for an elite class of people—that's who wore Dior and Chanel, and that's who sort of had access to fashion shows and events. But YouTube, Snapchat, and Instagram have created this massive onslaught of new social stars, and so many of those social stars are minorities, which I'm very excited about.
"Prior to the YouTube generation and Generation Z, I don't know who a girl would look at and think, 'She's just like me' or 'I have a community, I have someone to talk to.' Everything you look at in traditional media is so quote-unquote perfect and unattainable to most of the world; for the most part, you are never going to look like fill-in-the-blank."
HER VISION FOR BEAUTYCON:
"What I really wanted to get the company into was being a fully integrated media company that had elements of commerce and that was experiential in real life. Everyone has something about them that's beautiful, and you just want to be the brand that helps them get there. I think what we're doing is creating a lot of entertaining content, amazing real-life experiences, and working really hard on creating a consumer product that delivers experiences to your doorstep that are highly curated."
HER ANSWER TO ANYONE WHO UNDERMINES SOCIAL-MEDIA-SLASH-YOUTH-CULTURE:
"You're dealing with a generation of young people who are self-reflective and self-aware. It's a generation of young entrepreneurs, people in the past who wouldn't necessarily have the ability to create the kind of economies that they are now for themselves.
"If you think about some of the biggest names in blogging, Instagram, YouTube, Snapchat, these are people who, had these platforms not existed, would be working a makeup counter at Sephora. And now, for the most part, even a mediocre content creator with 50,000 or 100,000 subscribers [on YouTube] is probably making $100,000 a year on these platforms, right? If anyone wants to become a forward-thinking business owner, they're going to have to move out of thinking, 'Oh, they're just silly YouTubers.'"
ON KYLIE JENNER'S IMPACT:
"I mean, is Kylie Jenner a silly Instagrammer or Snapchatter, or is she building a multi-hundred-million-dollar cosmetics brand out of thin air? I can't even think of another consumer cosmetics brand that's done what she's done overnight. And this is someone who, for all intents and purposes, has no background in this, you know? I'm not going to write her off; there's a ton of people who are born to famous celebrity parents, but not every single one of them knows how to use digital platforms, create sick products, and create this cosmetic blockbuster that's selling out overnight."
WHERE BEAUTY BRANDS CAN DO BETTER ON SOCIAL:
"For the most part, most brands are doing a good job. Brands like L'Oreal are doing an exceptional job across the board. The biggest misstep is abandoning something just because you tried it and it didn't work the first time. It doesn't mean it won't work ever [laughs]. And I think a lot of people are like, 'We tried, we invested this much money into an influencer campaign,' or 'We tried to work with this YouTuber, that content creator, this collaboration.' I think they benefited off of traditional PR and media, or even traditional digital like web banners, for so long, that it's difficult for them to really process. It took everyone a decade just to move to web banners, and almost six or seven years to move into social media, specifically Facebook. So to say to them, 'Hey, it's all about Snapchat Discover!'... It's a lot to keep up with, but I think that the mistakes they make are that they're impatient. They don't try as many experiments as they should, they should be working with younger agency partners and bringing in their pool of resources, is what I would say."
WHAT HER AVERAGE WORKDAY LOOKS LIKE:
"I wake up almost every day between 6:15 and 7:00 AM. I typically read for the first 20 to 30 minutes of my day, and try not to read emails. I'll make a cup of black tea, I check my calendar to see what's confirmed, and just get ready for my day. My day mostly comprises of somewhere between six to eight meetings a day, unfortunately. It's a horrible habit, and I wish I could go back to four meetings a day and four hours of work, but it's a lot of meetings right now because our company's growing and there's a lot of new people on board. I probably spend about a third of my time on creative and marketing, and the rest of my time on operations and business stuff. I'm really passionate about what we're doing and trying hard to not be [a] micromanager, so it's a balance."
WHAT SHE LOOKS FOR IN JOB INTERVIEWS & POTENTIAL EMPLOYEES:
"I don't look at pedigree anymore, in terms of where you went to school; I look at past work. Where you worked, how long you worked there. Then, I have about 20 questions I ask that are really focused on me getting a sense of someone's personality, how they handle stress, how they handle change. As an early startup, you're looking for people that can do two things really, really well. And if they can't do two things well, they do one thing well, they should be willing to learn."
THE BIGGEST CHALLENGES OF THE JOB:
"You're trying to grow, but you don't want to go too fast. At the same time, you're trying to take advantage of opportunity... It's a balancing act. So much of what you do at this stage of a company is about your instincts. It's literally about that deep gut check that you have deep within yourself: Is this the jump that will kill us, or is this the jump that will make us great? In general I tend to leap, but I think there are times when you have to rest and take space. It's the dance we're all after, you know?"
HER ADVICE FOR ASPIRING ENTREPRENEURS:
"You have to really take on that you are going to live without basic amenities for some time. Entrepreneur is a very sexy word in this day and age, but you either are or are not one. You have to check in with yourself. How comfortable are you with having absolutely no idea how something's going to work out? [laughs] Always surround yourself with people that are smarter than you, because if you're the smartest person in the room, you're shit out of luck. You need to be in the company of people who are quite brilliant, who can really help marshal resources and scale. Know when it's working, know when it's not working, and don't be afraid to call it off when it's not working."