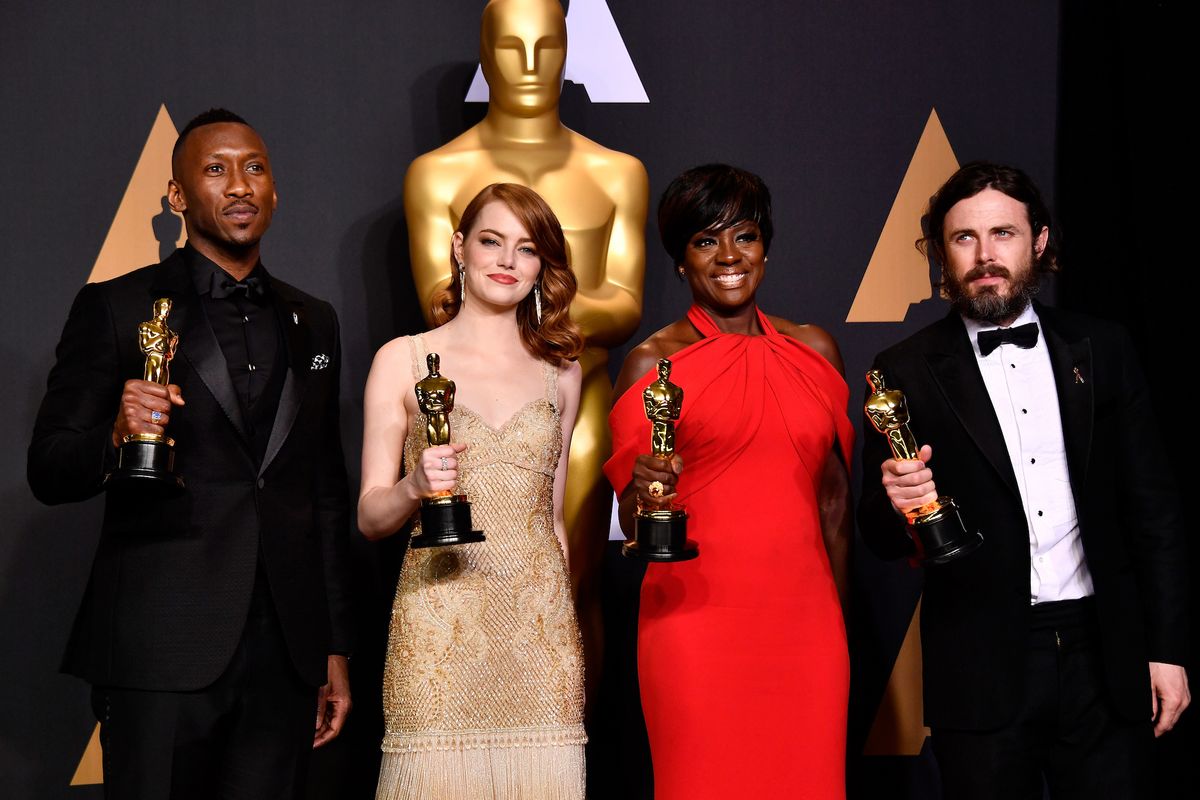 Celebrity
This year's ceremony was unabashedly political.
To kick off the 2017 Academy Awards Ceremony, host Jimmy Kimmel wasted no time diving into the current political climate, welcoming TV audiences to the Feb. 26 show from "225 countries that now hate us."
"One actress has stood the test of time for her many uninspiring and overrated performances," Kimmel said while introducing Meryl Streep, referring to Trump's tweets calling the 20-time Oscar nominee "overrated." Kimmell added, "[She's] phoned it in for more than 50 films." (A few hours later, the host kept the gag going, tweeting to Trump, "U up? #Merylsayshi.")
But amidst jokes and one-liners from the host (like when he introduced Academy president Cheryl Boone Isaacs as "a president who believes in both arts and sciences"), serious sentiments and statements from winners and presenters peppered the evening.
Racial inequality and diversity were addressed in a year which celebrated Hidden Figures, a film about the women of color, unsung heroes who helped send Americans to space in Jim Crow-era Virginia. The film's stars, Janelle Monae, Octavia Spencer, and Taraji P. Henson, then welcomed real-life NASA research mathematician Katherine Johnson (played by Henson) to the stage, where she received a standing ovation.
The award for Best Documentary then went to O.J. Made in America, which set the life and trial of O.J. Simpson against a backdrop of volatile tensions between the LAPD and communities of color in Los Angeles. Film director Ezra Edelman dedicated his Oscar to Nicole Brown and Ron Goldman along with "the victims of police violence, police brutality, racially motivated violence, and criminal injustice."
And the Best Screenplay winner, Moonlight's Tarell Alvin McCraney, accepted his award with a dedication: "This goes out to all those black and brown boys and girls and non-gender conforming who don't see themselves, we are trying to show you you and us. So thank you, thank you, this is for you."
Some actresses used the "what are you wearing" focus to showcase a political stance, such as Emma Stone, who wore a Planned Parenthood pin, and Ruth Negga, who showed support for the ACLU with a blue ribbon.
"Sometimes the most supportive thing is to oppose," last year's Best Supporting Actor winner Mark Rylance said while presenting the award for Best Supporting Actress. "It's really good in society," he said, adding, "Opposing without hatred [is] something women seem to be better at than men."
He then handed the award to Viola Davis, who gave a must-watch beautiful, inspired, and moving acceptance speech about artists being committed to telling stories about what it means "to live a life."
But it was rights for immigrants that dominated much of the political commentary at this year's Oscars.
Foreign Language Oscar winner, Iranian film director Asghar Farhadi, gained a lot of attention when he protested the ceremony in response to Trump's travel ban. When his film The Salesman won, space engineer Anousheh Ansari — the first Iranian and muslim woman to go to space — read this statement by mister Farhadi:
"I'm sorry I'm not with you tonight. My absence is out of respect for the people of my country and those of other six nations who have been disrespected by the inhumane law that bans entry of immigrants to the U.S.

"Dividing the world into the 'us and enemies' categories creates fear. These wars prevent democracy and human rights in countries which have themselves been victims of aggression."
Earlier in the evening,  Alessandro Bertolazzi, one of three artists accepting the Oscar for best makeup and hairstyling for Suicide Squad said, "I'm an immigrant, I come from Italy. I work around the world, and this is for all the immigrants."
And later, presenter Gael Garcia Bernal added, "As a Mexican, as a Latin American, migrant worker, as a human being I am against any kind of wall that wants to separate us."
Even the commercials that ran throughout the ceremony got political, with The New York Times running an ad in defense of truth, and Zachary Quinto reading from George Orwell's 1984 for Audible.
Then things got kind of nuts. Casey Affleck won Best Actor despite a lot of controversy around his nomination and the film. [Ed note: In case you're not familiar, Affleck has been accused of sexual harassment by two different women. The producer of his 2010 mocumentary I'm Still Here accused him of "uninvited and unwelcome sexual advances," discussing his sex life, having a friend expose himself in front of her, referring to women as "cows," locking her in his hotel room while he entertained other women, and grabbing her "violently" when she refused to stay in a hotel room with him. 
Meanwhile, the female cinematographer on that film woke up one night and found Affleck in her bed, uninvited, wearing just a t-shirt and underwear. He "had his arm around her and was caressing her back and his face was right next to hers..."
Given the backlash and controversy that director Nate Parker faced while promoting his film Birth Of A Nation related to a rape allegation (for which he was acquitted) when he was 19, and the relative silence from the press regarding Affleck's history, it's hard not to see this as a glaring example of the racist double standards prevalent in the film industry.]
Then, Warren Beatty committed what was possibly the biggest Oscar blunder of all time, handing what was clearly the incorrect envelope for Best Picture to Faye Dunaway, who incorrectly announced that La La Land had won. The Best Picture award actually went to Moonlight.
Before all that chaos, however, Beatty did make one last political stance:  "Our goal in politics, as in our goal in art, is to get to the truth." The list of nominees (including Lion, Fences, and Hidden Figures)  "shows the increasing diversity in our community and a respect for freedom and diversity all over the world."