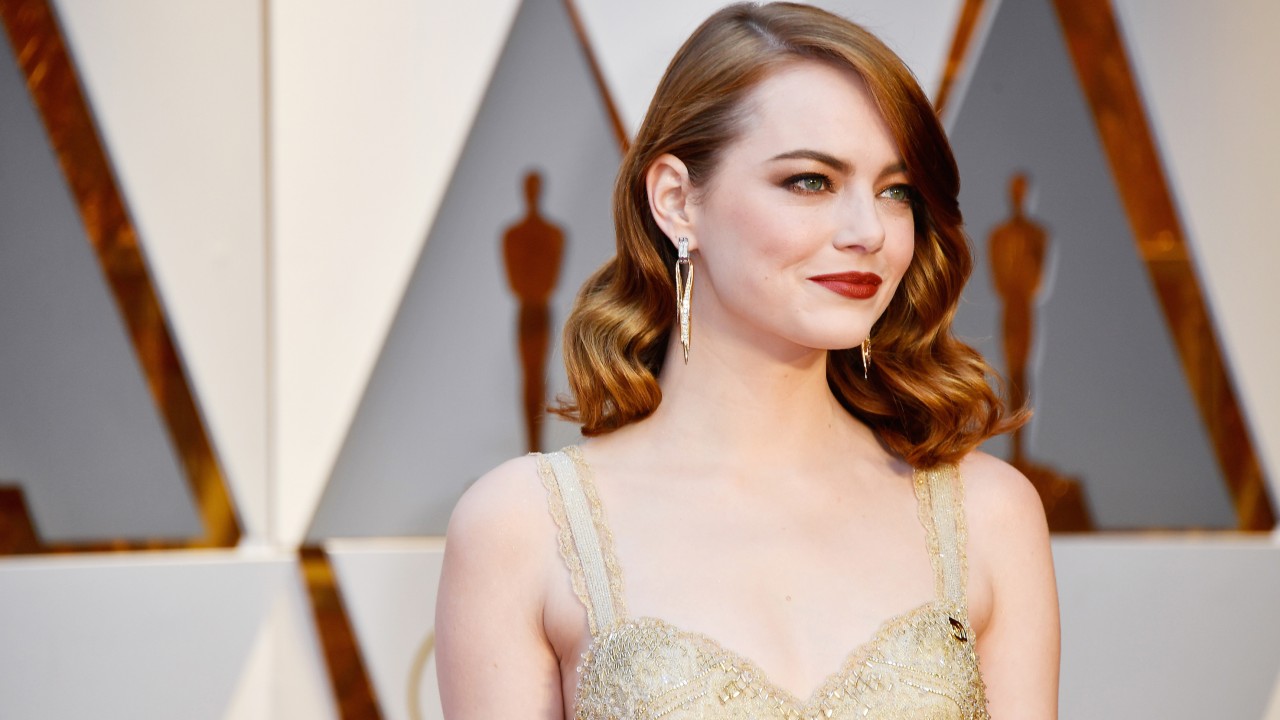 How to Get Emma Stone's Oscars Makeup Look
It involves a whole lot of NARS and some 1930s inspo.
We were waiting with bated breath to catch a glimpse of Emma Stone on the Oscars red carpet, and when she shimmied out in a stunning gold Givenchy couture gown that mimicked the golden Oscar itself, we were nodding with approval—even more so when we noticed the perfectly placed gold Planned Parenthood pin just below her left strap. The actress, who just won her very first Academy Award (for Best Actress in La La Land, because of course) had her look topped off with the most glamorous makeup. We caught up with NARS makeup artist Rachel Goodwin, who has been part of Stone's glam team for 10 years (!), to get all the details on how we can (attempt to) recreate this look for ourselves at home.
"The look was meant to be a mixture of 1930s glamour with a little bit of this Pre-Raphaelite inspiration that I had, which came from some paintings I used to have in my house growing up that my mom loved—they were by Dante Gabriel Rossetti—of these really incredibly superior-looking redheads. We'd seen swatches and patches and beading over the course of time, [and] a few iterations of the dress, and I felt that if we didn't do a color to anchor the look, that it could be too one-note. So we were playing around with colors against it and this rich shade, Mona, just stood out, it had this beautiful way of anchoring the look without looking jarring, but it was dramatic. We wanted there to be a point of view for this look—this is a big night, she's nominated for Best Actress and it's such a memorable moment, we wanted it to be special."
WHAT YOU'LL NEED:
NARS Pore & Shine Control Primer
NARS Smooth Velvet Matte Skin Tint
NARS Radiant Creamy Concealer
NARS Soft Velvet Loose Powder
NARS Bronzing Powder in Laguna
NARS Dual Intensity Blush in Jubilation
NARS Illuminator in Copacabana
NARS Velvet Shadow Stick in Siros
NARS Dual-Intensity Eyeshadow in Himalia
NARS Single Eyeshadow in Bali
NARS Larger Than Life Long-Wear Eyeliner in Via Appia
SKIN: "Apply Pore and Shine Primer all over the face to prep skin. Smooth Velvet Matte Skin Tint on the center of the face and blend outwards to even out your complexion. Dab Radiant Creamy Concealer under your eyes and as needed on any blemishes. Set the skin with Soft Velvet Loose Powder."
CHEEKS: "Sweep Sun Wash Diffusing Bronzer in Seaside (new for spring 2017—for now try Laguna Bronzing Powder) on cheeks, working toward the hairline and brow bone. Continue underneath the jawline and in the hollows of cheeks to create subtle dimension. Apply the Dual Intensity Blush in Jubilation and Copacabana Illuminator to high points of the face to add warmth. Use the Orgasm Liquid blush to add glow and color to the cheeks [also new for spring 2017]."
EYES: "Use Siros Velvet Eye shadow stick all over the lid. Use Dual Intensity Eyeshadow Himalia on the lid. Blend and sweep Bali Single Eyeshadow into the crease. Line with Larger than Life Via Appia Eyeliner."

LIPS: "Line and fill lips with Karekare Velvet Lip liner. Swipe Mona Audacious Lipstick all over the lips."