Series
Opal Tometi on how she used social media to organize a movement, and why there are dangerous realities when it comes to protesting online.
Alec Kugler
It's been just over a month since President Trump's inauguration, and yet it feels as though it's been much, much longer. If you're like us, in the face of executive orders and reports of Russian hackings, the war on the press and the endless, blathering tweets, it's hard to stay optimistic. But talking to Opal Tometi, cofounder of Black Lives Matter and the executive director of Black Alliance for Just Immigration (BAJI), is the intellectual activating equivalent of plugging in and recharging our very depleted batteries. In what was little more than a half-hour conversation, she gave us a whole lot to think about, but here she tells us about how a very powerful hashtag became the organizing centerpiece of the country's most impactful movement, the incipient dangers of digital trolls, and why she's still hopeful. And now we are too.
---
The origins of Black Lives Matter as a call to action:
"My background is in communications. I'd been doing communications coordination for immigrant race groups in Arizona, but my passion has always been human rights generally. When I learned about the acquittal of George Zimmerman for the murder of Trayvon Martin, [it was] through social media, tweets, texts, Facebook posts, and so on. There was a Facebook status of Alicia Garza's that ended in the words 'Black Lives Matter.' My masters degree is in communication studies and rhetoric in particular, and I did my thesis on social movement communications and advocacy campaigns. The phrase 'Black Lives Matter' resonated with me on a very deep level. It seemed simple enough, but it was also a demand and a critique of our system that was very poignant and clear. It went from looking at just the interpersonal instances of racism to the structural—I was very interested in moving from concerns solely about one-off incidents, which are really important."
The conditions that lead to Black Lives Matter's launch:
"Something was happening in our society in that having President Barack Obama as our president, folks thought we are post-racial, we don't have to talk about racism anymore. It's done! And the reality was that it wasn't. The reality was that we had a teenage black boy, Trayvon Martin, who was murdered by a vigilante, and the entire jury couldn't find his murderer guilty because they were so conditioned to not see the value of black life.
"Black Lives Matter at that moment for me was very poignant, it spoke to my heart. I have a younger brother who was fourteen at the time, and I did not want this to be the story that marked him and his generation. I wanted there to be a story about resistance and a story about how we know that our lives do matter, and that we are going to work day in and day out until our lives are affirmed, and until we don't have unarmed black people being killed by vigilantes or police."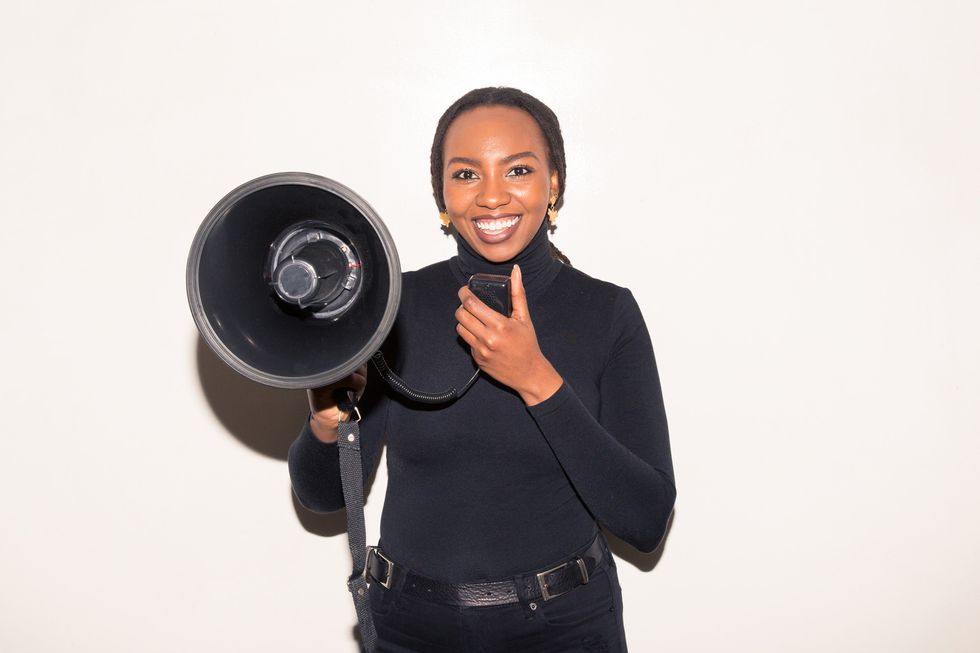 How she used social media as an organizing tool:
"I saw Alicia's Facebook post and I reached out to her and told her I wanted to build a campaign. It was really important for us to be able to connect with organizers that we knew across the country and in our communities. I bought the domain name, created the Facebook page and Twitter handle, and began to use the hashtag broadly. It went viral and we began taking it to the streets. Patrisse Cullors, another cofounder of Black Lives Matter, brought it to Los Angeles, other folks in Atlanta, and here in New York."
How Mike Brown's murder and Ferguson turned BLM into a movement:
"It was really when Mike Brown was murdered in Ferguson, Missouri, and the Ferguson uprising happened, that we began also witnessing it online through social media. Many of us felt a lot of hurt and a lot of pain, but also a lot of rage. People were upset. We saw that people were being teargassed and brutalized for having the audacity to take their pain and hurt into the streets. So we organized the Black Lives Matter Freedom Ride to Ferguson. And in less than two weeks we organized over five hundred black people to come to Ferguson. It was incredible and powerful because we realized that we could use these social media tools to organize our people. It's not because the tools themselves are magical, it's really the heart of people who know that we have to show up for each other and were willing to do that. But we use social media to organize ourselves, to amplify our voices, and to advocate for what our needs are. I see that continuing today. I think Black Lives Matter was probably the most viral campaign using hashtags."
The dangers of using social media as an organizing tool:
"We are going to see a lot more use of social media in our current movement. However, I think we are going to have to be mindful on how we are surveyed, whether it be by the FBI or local law enforcement—we have to think about how we use technology. We can't take it for granted that everything can be done online. We are going to have to be a lot more diligent about our offline strategies and going back to the original methods of organizing—face-to-face interactions and door knocking. We have been hearing more and more instances of tracking because of the data on phones. I'm not only concerned about surveillance by the government, but I am also concerned about vigilantes. There are a lot of people who troll us and harass us online."
How we should be organizing ourselves going forward:
"People should become members of organizations—it's important that we build communities with people who share our values. They provide support and analysis of what's going on, and accountability. They also provide protection!
"It's also important to build campaigns that address the needs of all of us. A lot of the folks I organize with are really excited and energized by the revival of a sanctuary movement and creating sanctuary cities. That's really important, but I have also been surrounded by people who are saying, 'How do we ensure that everybody is safe?' It's not only refugees or immigrants. It's queer folks and African Americans and women. How do we ensure that we are building safe spaces and communities that reflect the needs of all of us? Myself and members of BAJI, local Black Lives Matter chapters, ENLACE, Ella Baker Center, Million Hoodies, Hands Up United, Desis Rising Up and Moving (DRUM), and the Racial Justice Action Center are coming together to design a campaign called Freedom Cities, which is essentially a framework that ensures that all of us are protected and affirmed in our cities. It's visionary. It's looking to expand the notions of sanctuaries."
Why she's still hopeful, even in the face of President Trump and his administration:
"I am deeply concerned about this administration and their tactics. They are brutal. I believe Donald Trump when he uses his rhetoric. He has in his administration people like Steve Bannon and Vice President Mike Pence, and others like Jeff Sessions and Betsy DeVos who are very clear on how they want to use government.
"But I am so hopeful because I've been doing this work for almost fifteen years and I've never seen this type of mobilization across class, gender, and races. It is just incredible! I pay attention to that and to people who are willing to do something about it. For those reasons I remain very hopeful. We have a lot of work ahead of us, but I trust that everyday people are going to transform our society. I'm going to do all that I can."