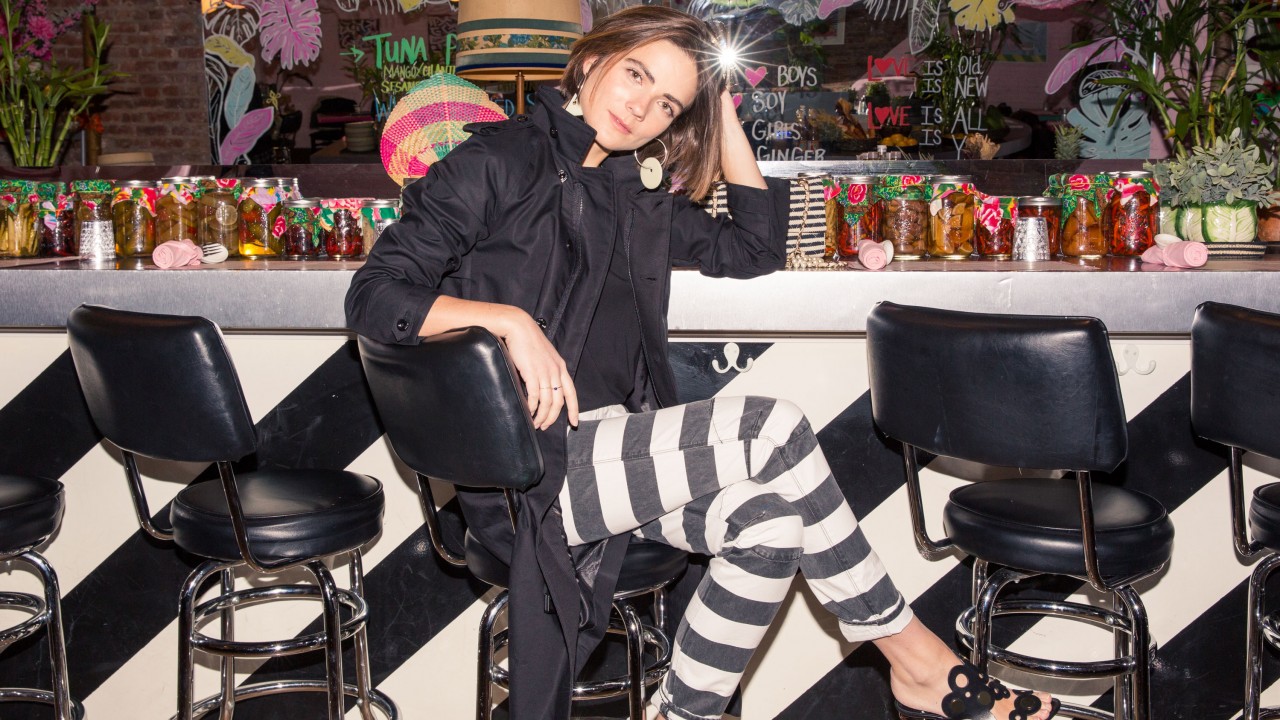 How Statement Denim Became the Most Versatile Item in My Wardrobe
How I finally got out of my blue denim comfort zone (& what Pharrell has to do with it). In collaboration with G-Star Raw.
Here's the deal: I wear jeans six days out of seven—sometimes, seven out of seven. They're usually blue or black and, well, basic. As someone who works in fashion, I should probably be putting maybe just that much more effort into what I'm wearing. And I'll admit it: blue jeans day in and day out, as classic as they are, becomes a bit of a sad state of affairs when you consider the fact that in three or four years, my look has changed very little. What can I say? These are lazy girl problems. And as boring as I know this to be, I also know that generally, it works. It's also ridiculously easy.
So, when news broke that none other than Pharrell Williams was designing a G-Star RAW Elwood X25 collection consisting of 25 printed pairs of his favorite unisex style (tapered, relaxed), my denim-seeking ears pricked up. And so, without further ado, may I welcome you to my self-imposed, not-so-basic denim challenge, wherein I push myself out of a years-long style rut and wear prints and colors never before seen on my legs. Here are the occasions when I actually made it happen.
---
Days at Cov HQ in Soho tend to center around two things: my laptop screen and meetings. So. Many. Meetings. I honestly think that I developed my original denim dependence because, in situations where I'm glued to my desk or stuck in a conference room, comfort is king.
The Office Outfit
Chinoiserie printed denim
Monochrome long-sleeve knit and bomber combo
Low stacked mules (that are slightly zanier than the printed pants)
A tote bag in which I can cart around my entire life
Tuesday
Out-of-office meeting
As often as I'm in the office, I'm out of the office—on set at shoots, interviewing for new stories, meeting PRs, and attending events—which means, as much as it extends my getting-ready process in the morning, I try to put that much more thought into what I'm wearing. Polish is the attempt here.
The Out-of-Office Outfit
Pinstripe printed denim
A knit fitted turtleneck
A statement coat that I picked up in India
Stacked heels in a coordinating color
A bag small enough to avoid bringing anything but the necessities
The most rewarding part about advancing out of my style-destructing basic denim rut was that my boyfriend actually made some noise about my outfit when I wore it out for dinner. Floral jeans never felt so sexy.
The Date Night Outfit
Thai Silk printed denim
A boudoir-ish silk robe and black camisole
Mules that double as jewelry for your feet
A sweet little pink bag
Friday
Drinks with friends
I'm not going to lie, these prison-stripe jeans scared me a little bit. As it turns out, though, horizontal stripes are actually deceptively easy to wear, and look a whole lot more exciting than basic black. Plus, they match my CHANEL (and the bar at The Lucky Bee in the Lower East Side) perfectly.
The Friday Night Drinks Outfit
Prison Stripe printed denim
A no-fuss black t-shirt
A sophisticated trench
CHANEL
Six-inch heels, to kick it up a notch
I won't lie—a lot of my weekend is spent working out my credit card. It's often unplanned, but still, that's how things tend to work out. Surprise, surprise, here I still managed minimal effort (despite the fact that camo rates at around a 25 in my 1-10 comfort zone scale).