Celebrity
*Cue the crowd of girls excitedly screaming.*
Alec Kugler
It doesn't matter how old you are: once you start talking to Austin Mahone, you start to reminisce about being 18. The YouTube star turned full-blown music sensation has the same mystifying charm as those frat guys everyone dated—"on-and-off," of course—back in college. But unlike those bad boys of your past, Austin actually has talent to back it up. And he doesn't mind looking a little goofy, either.
When we caught up with the soon-to-be-21-year-old, we were ready to chat all things ForMe+You, his latest music project. What we ended up with? A glimpse into the life of a superstar, aka a funny guy named Austin who digs country music, self-help books, and, oddly enough, Full House. Just try not to be a fan by the end of this post.
---
On his new direction for ForMe+You:
"I'm not really switching it up. It's not like I'm doing rock or anything. It's still pop, but I wanted to incorporate some R&B flavor this time, because that's my personal taste in music. I think I married them pretty well. It's a really great project. My personal favorite song is 'Double Up' because it's got some soul to it. That's what I like."
If he would ever try country music:
"I mean, I'm from Texas, so it's in my blood to be country. I would definitely love to do a country song. I want to collaborate with the King of Country, George Strait—if we can make that happen, that would be great! I came out the womb listening to George. I am absolutely [a superfan]. I was sad because he did a farewell show in Dallas and I didn't make it, but hopefully he'll come back out and do a show in Vegas or something."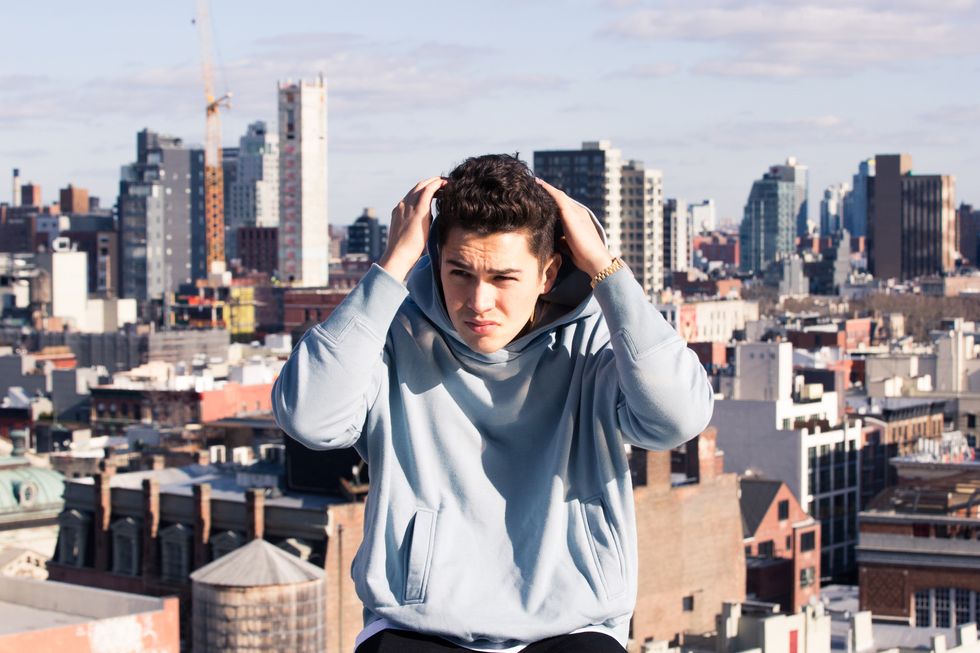 The song he says is the theme song to his life:
"Probably the Full House theme song, because I love that song. I love that show. I don't know how I feel about [the reboot]. When shows come back a second time, it's cool, but it's not the same. Seeing the characters all grown up and still doing their thing, that was pretty interesting. But nothing beats the original Full House."
On his newfound love of fashion:
"I really do like fashion. I don't know too much now, but I'm learning as I go, [like] you can pretty much wear whatever you want, you just gotta know you look good in it. You have to be confident. Sometimes I'm like, 'Oh, I don't know if these pants match with this shirt or these shoes might be too much.' But then I'm like, 'You know what? I'm just gonna wear it and know it looks good.' And that's how it looks good."
What he does in his off time:
"I'm pretty much just making music all the time. I don't have too many hobbies that I do when I'm not working, but I like to play basketball. I work out a lot. I've really been getting into reading books. I've never been a reader, but for some reason, I've been feeling the need to pick up a book recently, and I really enjoy it."
The books he's been reading:
"[I read] this book that my grandma gave me, like, six years ago. It's called Guys Are Waffles, Girls Are Spaghetti. I just threw it in the drawer and never touched it, but I just moved, so I was cleaning out all my stuff and I was like, 'I think I'm going to read this!' It pretty much explains how girls' brains are like spaghetti—everything is intertwining and everything connects. Guys' brains are like waffles; guys' brains have compartments for each thing they have in their lives. They focus on one thing at a time. It explains a lot of things, and it's really true.
"[Now] I'm reading a book called How Successful People Think, and it's really, really good. I haven't even finished the first chapter and I've already highlighted, like, 800 paragraphs. I like to highlight things so I can go back and reread them, or sometimes I'll take quotes out of a book and just tweet it because it's a really good quote. Basically, [the book says] if you want people to believe in your craft and believe what you are putting out, you gotta believe in yourself. If you believe what you are putting out, other people will believe it too. I like to read books that are inspiring and about things I may not understand. Lately, I just want to expand my knowledge on life."