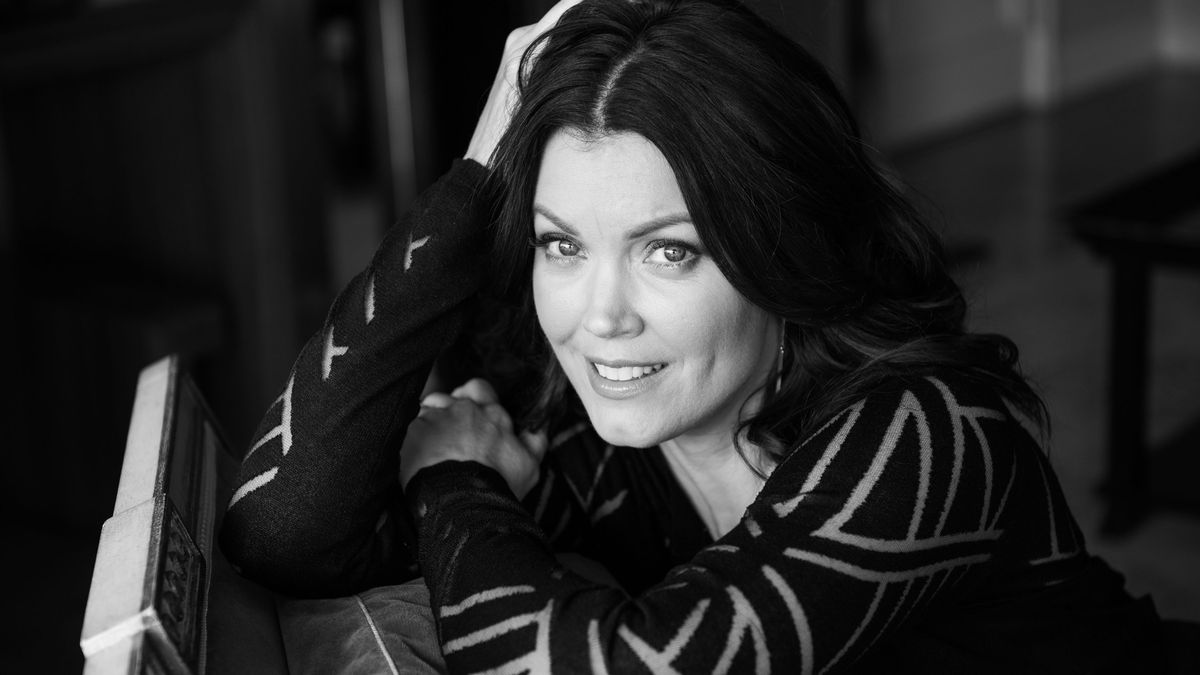 Celebrity
She's more of a 'get your hands dirty' kind of gal.
I don't even have to get up from the plush armchair of the Beverly Hills Peninsula suite where we're about to photograph and interview Bellamy Young to know she's arrived. "Hi! I'm Bellamy!" A high-pitched voice bursts into the room as the woman I only know as Mellie Grant, First Lady and Republican Senator turned presidential nominee on ABC's hit drama Scandal, introduces herself, one by one, to everyone in the room. I get the same warm greeting, accompanied by a firm handshake, and a quick flash of perfect pearly whites and piercing blue eyes that can see right through me. Before I can figure out if I'm just fanning out or they're really sparkling, she's whisked off to hair and makeup where—whaddya know—she barely needs any touching up because the woman is beautiful.
As we start to chat I can't help but notice the similarities between Young and her character—both engaging, energetic, and charming in a Southern hospitality, down-to-earth kind of way. But as soon as we get to talking fashion or politics, it's clear where these two ladies diverge. Young opened up about what we can expect this season (the show's sixth!), and why working for Shonda Rhimes is a breath of fresh air.
---
The differences between her style and Mellie's:
"Mellie is very Escada and very jewel-toned. We played a little bit, we tried a pantsuit this year. She's not that daring, it's always very classic and female-power. I'm a child of the '80s so I love those jewel tones. I love an electric blue, I love fuchsia, I love red. I do love that, but I want to be more comfortable, I want to be more modern. I just want a cleaner line than that, and that dictates my style more."
Ideal designer:
"I wish I were cool enough to just live in Alexander Wang."
Her go-to outfit:
"Something that makes me feel like I can go to any room; I can go to a meeting in the morning, I can go to set, I can go out that night, and still feel like myself wherever I am. So for me, it's power pants, heels, and a good, sexy top. I'm a waist-and-boobs kind of girl, that's where my comfort lies."
On Mellie and Olivia's newfound partnership:
"I feel it's a very female thing, forgiveness. We have so much history between us but also so much similarity. Some of the history is great, and some of it, you know, anything Fitz-related is terrible. But it was beautiful to see those two characters get past it and really work shoulder to shoulder toward a common goal. And they're unstoppable together."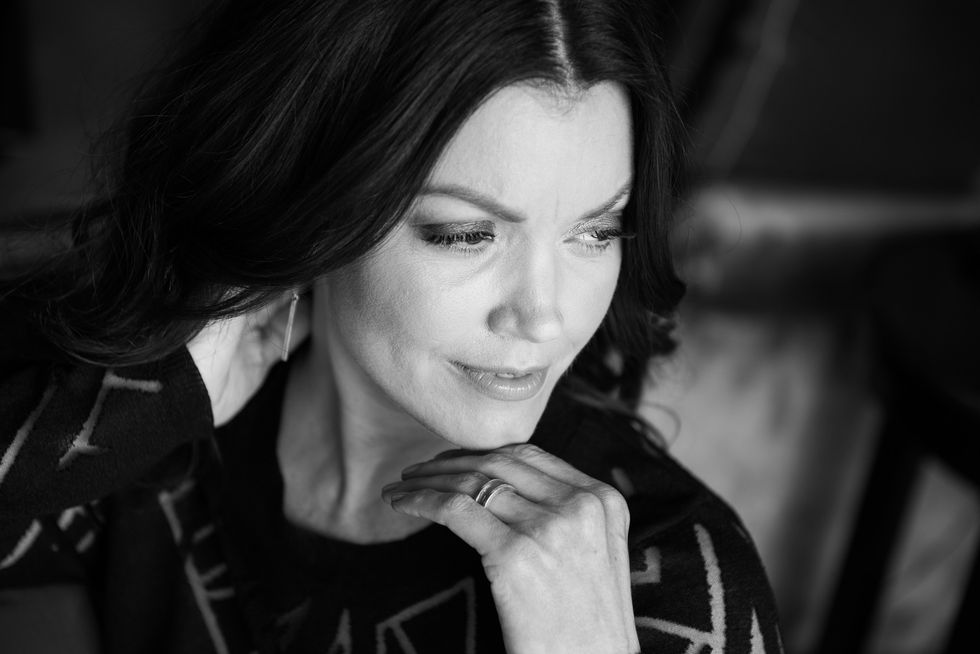 On working with Kerry Washington:
"She's just the best. The best friend, the best cheerleader. I remember she was in Italy premiering Django Unchained on, like, our second season and I got a text from her making sure I had a pair of shoes to wear to some truly non-important luncheon. She's the kindest, most wonderful. None of us had ever been in these situations before and she has shepherded us and mentored us."
Why she walked in the Women's March in Los Angeles:
"Whose quote is that, 'Activism is the rent I pay to live on this planet'—is it Alice Walker? We show up, we use our voices. As Obama said in his parting speech, we hold the highest office in the land [as] citizens. So we have to remember that. We give our power away, but when we show up, we seize it. It's the only thing that can matter.
"I think we all needed to see each other. There were so many more of us than we realized, it was globally people showing up and saying, 'This can't happen, we can't go backward, we're not going backward in history,' but it also was important because the people who would rather us not have our rights and stay at home, they could see us, and they could see that we're committed, and that it's just the beginning."
Why Mellie wouldn't have walked:
"Mellie's Republican, and Mellie's definitely part of the institution. She's not always a 'get her hands dirty' kind of girl. But I think she definitely supports the causes and wants recognition for supporting the causes, so I think she would be there but maybe not, you know, in the faces in the crowd."
Why seeing more female politicians matters:
"It's so important now through all these venues that we nurture, not even young, but any female talent in the political arena because it matters, because then we become people, we don't just become women, we become politicians with agendas and talents and willing to give our time, our lives, our hearts to the cause of advancing everyone's existence on the planet. And for whatever you can argue about the campaign that Hillary Clinton ran, what I find inarguable is her commitment to try and make this world a better place for everybody. She spent a lifetime giving of herself in that regard."
What it's like being a part of Shondaland:
"To work in a matriarchy is very, very different. To work for Shonda is a real exhale as a woman. She said, from the very beginning, 'If you lose weight I'll fire you,' that sort of thing. She wants you to be who you are. She'll say, 'This sex scene is going to happen, but if you want me to write this sex scene in a parka, whatever you need to keep you comfortable, I just need the story to move forward but I want to do it in a way that works for you.' She's the most thoughtful, collaborative, incredibly motivating and incredibly inspiring."
She knows how lucky she is:
"Girl, playing Mellie is the gift of a lifetime. It is a battery that charges itself. That I get handed that script every eight days and get to go on this journey with this character... I love my job so much, I love acting so much, but this job is its own fuel. I'm not just lucky enough to have this job, I'm lucky enough to have this job with these other actors, with our incredible actors and our crew, working for Shonda, saying things I believe in, like that filibuster episode. I still remain so proud to have gotten to put that content in front of the world's eyes. I feel so honored and so joyful that it's easy. It's super easy. All I want to do is honor the scripts I get with every nano-particle of my being, and that's effortless because that's joy."