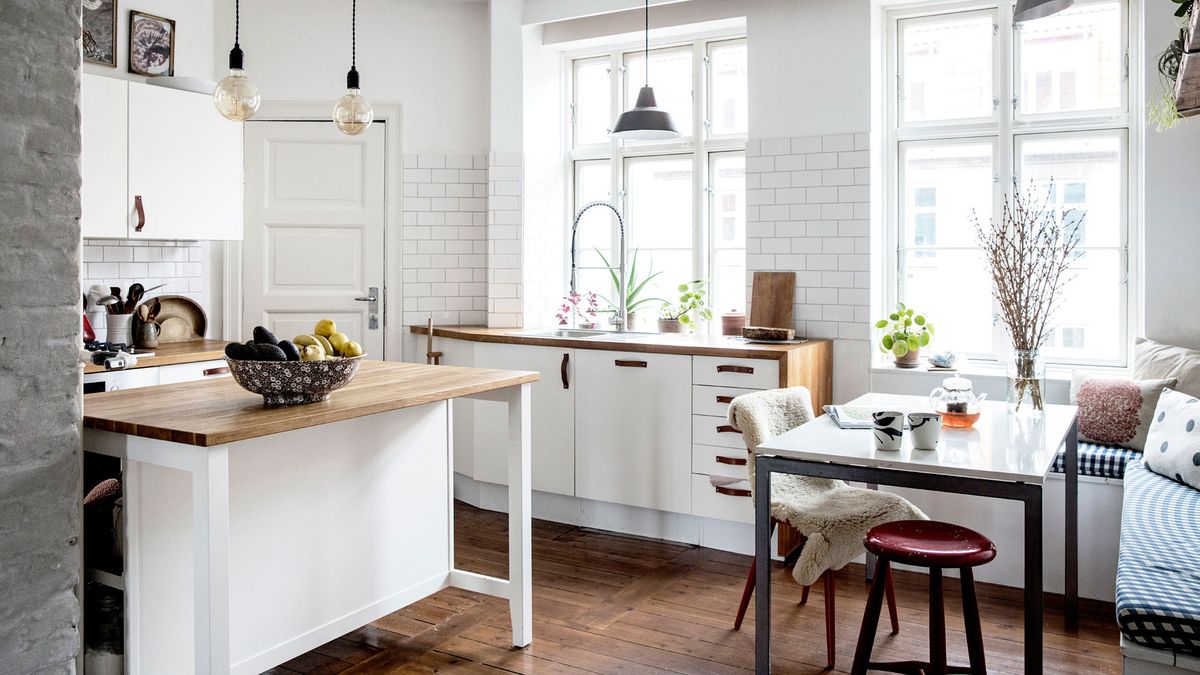 Food
The My New Roots creator's kitchen will finally persuade you to actually eat foods that are good for you—even if it's only to be more like her.
Line Klein
Welcome to In The Kitchen, a (-nother!) brand-new series in which we'll be *Coveteuring* the world's most fascinating kitchens. In other words, we're taking our voyeuristic tendencies to a new level and looking inside the fridges, freezers, pantries, and cupboards of the people who are making waves in the food and restaurant industries. Because if there's anything we like as much as fashion, it's food.
---
We know, deep in our late-night-pizza-slice-loving hearts, that there's very little that's better for you than eating a healthy diet of whole foods. And still, the $2 slice gets us every time. But let us tell you this: there is no one—no one—who could persuade us to give up processed foods once and for all like Sarah Britton, the founder and recipe guru behind blog-turned-full-on-wellness-lifestyle-company My New Roots. And it's not just because she knows the science to back up her claims on everything from why you should store your olive oil in the fridge (click through the slideshow below to learn about other foods that should be in your fridge instead of where they are right now) to the magical powers of lentils—the woman is a holistic nutritionist and a Certified Nutritional Practitioner. It's also because she loves food—not just for how healthful food makes her feel, but because of how damn delicious it is, and even for how beautiful it is (she recently launched a print shop of her jaw-droppingly gorgeous food photography for that very reason).
But the best indication of Britton's powers as a whole-foods evangelist is how excited and happy she is to talk about the minutiae of food, which is what we discovered when we visited her gorgeous, very Scandinavian kitchen in Copenhagen, the scene of all her recipe development—as well as the studio for her photography. In fact, she photographed the entirety of her new cookbook, Naturally Nourished (out today!), inside that very room. (Click through the slideshow and you will find that there's very little this woman cannot do.) But it was her excitement that made us excited to hear about it, and in turn, try some dishes for ourselves (she shared her most made recipes, a lentil soup and a loaf of "bread" with us—make them, make them right now).
If you're as inspired by Britton as we always are, you can read more about how she turned her passion for food and creativity into a booming business here—an interview we did on the occasion of the release of her first cookbook. In the meantime, though, submit yourself to the inevitable lifestyle envy you'll feel clicking through the slideshow, reading about her practice of intermittent fasting, ogling her minimalist decor and capacity for making plants grow indoors, and admiring the fact that she actually picks enough berries in the summer to keep in the freezer and last her through the rest of the year. And at the end, don't pretend she hasn't moved your needle just a little away from that greasy slice of 'za and into the land of nutritional yeast and bee pollen (don't worry, she makes it sound way more fun than we do).
P.S. Britton is book touring throughout the next month all over North America. See you there?