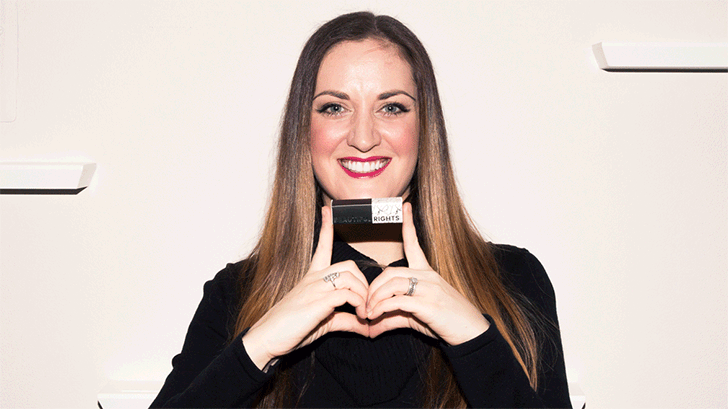 Makeup
Stand Up for Your Beautiful Rights
With lipstick shades like "Pantsuit Pink" and a hefty charitable component, Kristen Leonard's new online cosmetic brand gives much more than lip service.
Alec Kugler
What do you get when you mix gender equality, lipstick, and a Donald Trump presidency? Okay, don't answer that. But for anyone who wants to support women's rights, resist the current administration, and not feel bad about indulging, now there's a lipstick for that.
Enter Beautiful Rights, a cosmetic line donating 20 percent of its sales to charity. We caught up with founder Kristen Leonard to discuss the glass ceiling, taking a stand, the cause economy, and the evolving beauty landscape.
---
How was Beautiful Rights conceived?
"This brand, Beautiful Rights, happened extremely quickly. It's unheard of to launch a brand in three weeks in the beauty industry—but I've been doing product development for a while now, and I pulled in a lot [of] favors!
"I've always wanted to have a brand, but there was just never anything that moved me enough to go out there and just do it. Then the election happened. And I got real fired up. And, if I'm being honest, I had a couple glasses of wine one night, and I had made a donation to Planned Parenthood. And I started thinking, 'One donation, what is that going to do?'
"So literally in one night I—again, really fired up—decided 'I am going to sell makeup and I am going to give money to Planned Parenthood.' In one night I came up with the colors, I thought about the design of the packaging, I named everything. I called my packaging guy and the chemist that I work with and I told them, 'Okay, I want to do this and I want to do this fast.'
"The next day, I signed up for shopify, I built a site, and we're doing it."
What inspires and motivates you to keep growing this product?
"There are a lot of people like me who were never into politics, and didn't really think about it. I really feel like everything that happened has made people like me wake up and realize we need to get involved. We need to get involved in decision-making. And I truly believe now that the politicians are not making the decisions for us, they need to hear us and make decisions based on that. I never felt like that before. I know now I can do something. It's small, but if more people did things like this, it adds up.
"That's why there were lots and lots of women marching after the inauguration. The election spurred this—but it's making a lot of people wake up and realize they need to get involved."
What was your vision for the line?
"The formulas that I developed for Beautiful Rights are the formulas that I always knew I wanted to include if I launched a brand. That portion of it went really, really quickly. But the concept, the giving back, is what drove it forward.
"As for the line, Pantsuit Pink is modeled after the shade we saw all through campaigning. Politically Pout is more neutral, kind of like when you're being politically correct. For Gloss Ceiling, I was thinking about the type of woman who'd be wearing this. It's super sheer, super hydrating, and everyday.
"Lip products are in everyone's handbag, so that's where I wanted to start, but I have ideas for other cosmetics."
How did you decide who to give back to?
"One of the biggest components of this brand, and right now it's an online-only product, is that when you check out you get to choose which charity you donate to. Originally, when I started I was focused on Planned Parenthood—but there's so much more to women's rights than just reproductive health.
"So I did a bunch of research and we have six different organizations we donate to: Planned Parenthood, ACLU, Lambda Legal, Legal Momentum, Emily's List, and MomsRising. So these organizations all touch on different aspects of women's rights and I added MomsRising because, for me, it's really important that women get paid maternity leave.
"I used to work for a manufacturer where there were tons of women. It was the beauty industry and there was no paid leave!
"Also, it's important to note that the 20-percent donation to the organizations is on the sales of the product, not on the profits. I decided on 20 percent because that's, percentagewise, how much less women are paid than men."
In what ways does the beauty space lend itself to female empowerment?
"When we're referring to cosmetics and beauty, it's not so much about needing to wear makeup to attract certain things into your life, whether it be a man or getting the job you want. It's more about self-expression. And if a bold red lip makes you happy, then that's what you should do.
"That's why we're seeing all of these really crazy colors like bright blue and purple lipsticks. We're viewing beauty differently than we used to. It's not 'wear all of this stuff so that you're prettier and part of the group and so people will like you more.' It's more about being an individual and using makeup for fun.
"Experiment, have fun with it…and the thing is, if you are not into makeup and you don't want to wear it, that's fine too. Take care of your skin. I think the beauty industry is really embracing that it's not about trying to fit into a norm or trying to be better, it's just about you."