Lessons In Self Love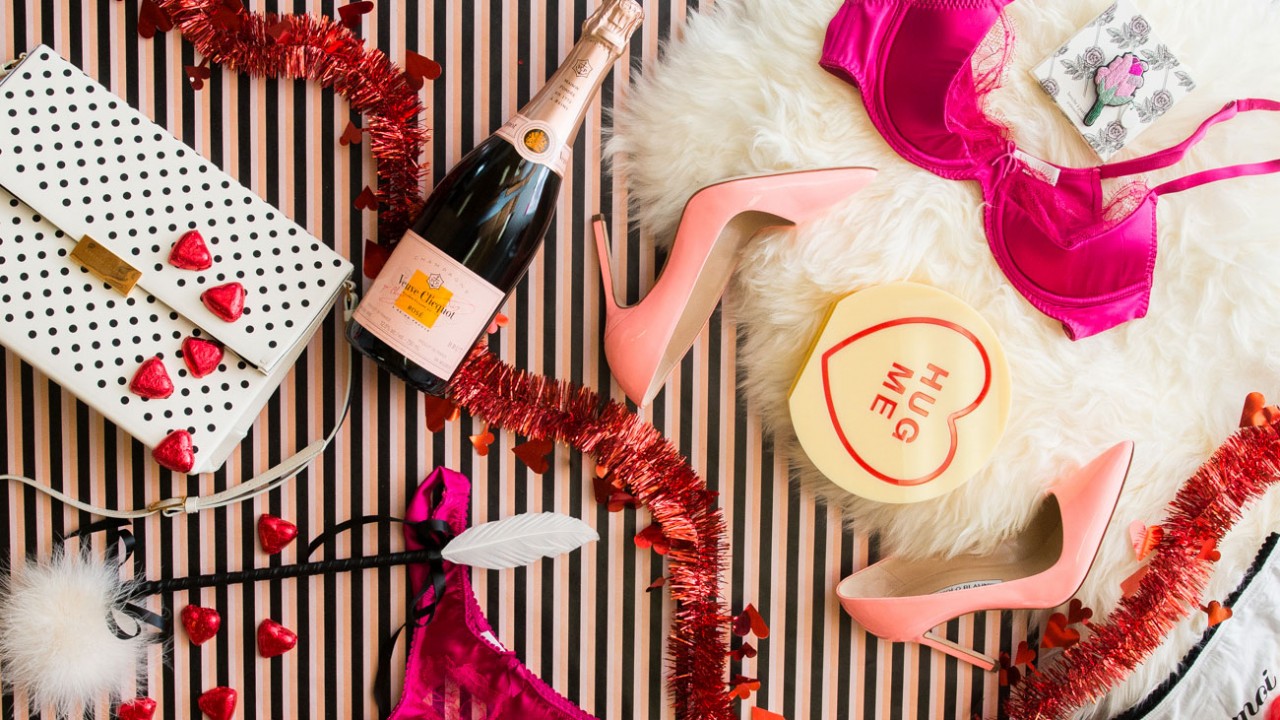 Everything Our Editors Actually Want for Valentine's Day
Step away from the cheesy lingerie.
Valentine's Day is the most polarizing of holidays, right? More likely than not, you'll fall into one of three camps: the loved-up and paired-up one, the cynical single one, or in the straight-up don't-give-a-fuck (single or in a relationship) one. But there is love that brings us together...love of pretty, sparkly, self-treating gifts! Here's what we're hoping to receive, or, if all else fails, treat ourselves to.
Jodi Taylor
Assistant Editor
1. Christian Louboutin Olavague Heels: Trust me, I know, I'm rolling my eyes at myself, too. But these heels are just too good to say no to. We'll call it a coincidence that I'm lusting over these the week prior to Valentine's Day.
2. GloPRO Microstimulation Facial Tool: The way to my heart is through skincare. This year for Valentine's I want the promise of healthy, glowing skin, and I have a feeling this GloPRO gadget will give me just that. We've got a date for the night of the 14th.
3. Bottega Veneta Intrecciato Silver Hoop Earrings: I've been on the hunt for the perfect silver hoops for quite some time now, and it looks like I have finally found them. Totally cliché to want jewelry on this day, but I'm not sure I care.
Noah Lehava
Senior Editor: Health and Wellness
Alicia Cesaro
Senior Editor: Beauty
1. Paul Andrew Sandals: I hardly ever wear heels anymore, especially on nights out, but if gifted these by my s/o I can promise I'll be wearing them out to dinner on the 14th.
2. Sleeper Pajamas: Forget the impractical kind of cheesy lingerie (can you tell I'm almost-married?), I much prefer some silk pajamas that I can wear in and out of the house.
3. Retrouvai Necklace: Never-take-it-off, subtle gold jewelry will always rank high on my wish list (and best-gifts-ever-received list). Thinking this mother-of-pearl Retrouvai piece would fit into that category very nicely.
Emily Ramshaw
Senior Editor: Features
1. Vintage Sapphire & Diamond Earrings: Since I cut my hair, earrings—big, statement-making earrings—have been it. And good lord, would my boyfriend ever be the best person ever should he give me something like these 1980s-era sparklers.
2. Paravel Pouch: Luggage brand Paravel is putting money where their mouth is with their first Causes Initiative—10 percent of the sales from the collection handpainted with phrases you've seen on signs at every protest since inauguration go to the ACLU. So this Valentine's Day is a gift for me and a gift for those that need one much more than me. Now, that's meaningful.
3. Kelly Marie Beeman Painting: I have been steadily stalking the work of Kelly Marie Beeman since I interviewed the artist at her studio last year. Give me a piece of her art and you can be my forever Valentine.
Laurel Pantin
Editorial Director
1. Marla Aaron Square Link Necklace: I recently interviewed the chicest woman I've ever met (and I think also my style soul mate—coming soon to Coveteur) and she collects charms that she wears on long, beautiful gold-and-diamond-chain necklaces. I'm not at gold and diamond status, but I'm now dying to start my own collection of meaningful charms. I'll also take a sentimental antique gold charm too (hint, hint, dear husband of mine).
2. Marla Aaron All Stone Lock: And the way to close said Marla Aaron chain? With a diamond encrusted lock, naturally!
3. Westminster Dog Show Tickets: The best v-day gift I ever got was two tickets to the dog show. Crossing fingers and toes that I get to go again.
1. Skye & Staghorn One-Piece: I feel like Valentine's Day isn't the type of "holiday" where you surprise someone with a vacation. It is, however, the type of holiday where you surprise someone with a cute bathing suit ahead of the vacation you surprise them with for their birthday (and mine's in May, so...).
2. Art Crate Subscription: Since my roommate moved out, I'm on a mission to redecorate my apartment and do something fun with the big white wall in my living room. The only snag in my plan? I know very little about the world of [non-generic] decor. I'd love to give this monthly curated art subscription a try. Bonus: it's a great last-minute gift option if my boyfriend's in a jam.
3. Alberta Ferretti Sweater: I'm truly obsessed with these Alberta Ferretti days-of-the-week sweaters, and each time I see them on someone, I want one even more. I'm also part of a sketch comedy team called Sunday School Dropouts, so this, as a gift, would likely make me ugly-cry.