Hair
Toni Garrn Will Never Dye Her Hair
The new face of Kérastase Aura Botanica is sticking to her beauty guns.
Not that this is an industry secret or anything, but for the most part, when it comes to being the face of major cosmetics or hair campaigns, the model needs to submit to being done up in the image of the given brand. At the end of the day, it's that chameleonic ability that a lot of models are paid (and paid a lot) for. Which is why we were so surprised when we met Toni Garrn last week when she was announced as the face of Kérastase's new Aura Botanica line, and she told us that she'd never, ever dyed her hair—and had turned down major campaign options in favor of holding on to her natural look.
But once we got over that shock and registered that a big part of her job is changing her look all the time, we began to feel more admiration than anything. Garrn is evidently a woman who sticks to her idea that beauty comes from personal happiness and well-being—one that's probably pretty hard to pull off when her job is what it is. That said, it's paid off big time, because after turning down campaigns that just aren't her, she's landed one that fits her like a glove: Kérastase Aura Botanica is luxurious and made with natural ingredients. And it's streamlined enough for someone as low-maintenance as Garrn to use (her daily beauty routine involves no more than five products). Here she talks to us about how she's working towards ~internal balance~ and why she'll never dye her hair—but when it's naturally *that* color, why would she?
---
Her minimal beauty routine (she doesn't exactly have a lot of ~improving~ to do):
"I usually have to run out of the house right away, and I usually have to remove makeup from the day before with Bioderma. If I have some time or if I have some meetings, I use La Roche-Posay Toleriane cream, I curl my lashes, use mascara, sit on the couch and do some emails and drink my tea for half an hour. Usually, I run out of the house and work out or go to work. Because going to work means having my hair and makeup done, I only have to put my hair in a bun and brush my teeth.
"I wash my hair every two days, but if I have a good workout routine, then it's every day. I usually shower after the workout, which is at 7, 8, 9 AM, and then I have the rest of the day fill[ed] with meetings. Or I go to work, shoot, and then go to the gym after and shower at night. But I never shower first thing in the morning."
Her less-is-more philosophy (that goes as far as coloring her hair):
"I've never had my hair colored or anything. I've never highlighted. I've never had anything done to my hair, because, yes, I like my hair color, but also I feel like it's quite sensitive and I haven't always had great hair. When I was doing all the fashion weeks when I was 16 to 19, so much of my hair wasn't healthy. Blonde hair is just very sensitive, so I'm really careful with everything—even washing it. I always think that less is more. I had the best hair and skin before I started working, you know what I mean? I always do as little as I can—when I'm on vacation or when I'm in Africa with my charity, I don't touch my hair or my face. I just have good lip balm or good coconut oil or a good argan oil—anything that I can use anywhere. I put lip balm on my eyes when I travel. I put coconut oil everywhere."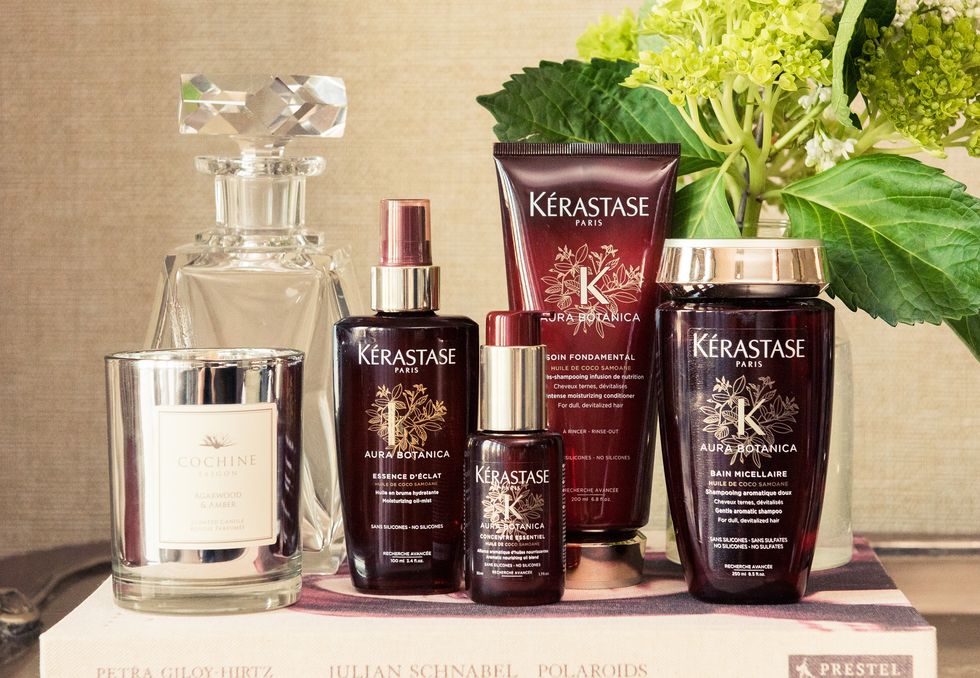 She chose to keep her hair its natural color over getting big advertising contracts—until Kérastase came along, that is:
"When I heard Kérastase was starting a natural line, I was like, 'Oh my god, that's so me.' They loved that I'm a natural blonde. A lot of hair companies want color, so I was very lucky. It's finally a very good product for me, because I've lost a lot of clients because a lot of people say that for you to be the face of something, you have to color your hair.
"There was one big option one time for a lot of money to bleach my hair. I was like, 'It could look cool,' but then everyone was like, 'It's going to fall out, don't do it.' I thought, 'It might not change my look, but I don't see a reason for it.' And this job now made me realize it's all for a reason, because I said no for so many years. I don't know if they would have booked me if I had colored my hair."
Her beauty philosophy:
"I think the most beautiful people I know are the happiest and most confident. Some people who go by a certain look just for the sake of it, you can immediately tell that they're not feeling it, and that to me is not beauty. As stupid as it sounds, it comes from the inside. I find my friends stunning and none of them have perfect features."
When she feels the most beautiful:
"When I'm around people I love. When I'm being listened to. When I'm rested. Actually, I've had moments the past couple days when I'm really exhausted. For some reason, when you're really tired and sick as a model, often you hear the opposite, like, 'You look great.' Usually I'm very bubbly and loud and energetic, and if I have to be around new people and I don't have the energy to ask how their day was, that's when I feel like shit. I always want to ask everyone how they're doing, and if I have no energy because I'm that tired, I'd rather not go to work than not be able to talk [to] everyone."