Food
Carla Gugino Took Us on a Food Tour in New York City
FYI: she counts cookies and pasta as main food groups.
Alec Kugler
While residing in Albuquerque, New Mexico, filming her latest movie, The Space Between Us, self-confessed foodie and actress Carla Gugino must have missed New York City at least once a day. And not for its charming cobblestone neighborhoods and plethora of things to do at any waking moment, but for the food: the fresh northern Italian, the gluten-free cookies that don't taste free of anything; the almond milk cortados from a local coffee shop; the drinks atop a rooftop bar that once belonged to RuPaul. Those are the kinds of places Gugino frequents when she's back home in the city, which we became privy to when we tagged along on her tour de food through the West Village and Chelsea. Think of this as a great template for those weekends when you find yourself with "nothing to do." Just follow Gugino's lead, and by the end of the day you'll be happily stuffed with cacio e pepe, cookies, champagne, and coffee. Otherwise known as the most perfect day ever.
---
"I'm always looking for food that is really good quality and preferably organic—at least farm-to-table—but that is *also* really delicious. Because that's the thing: food is such a central pleasure and I've never been into the notion that eating healthy would mean not having something delicious. So these three places—I Sodi, The Jane Hotel, and Haven's Kitchen—really enhance the quality of my life in New York."
EAT
 I Sodi
105 Christopher St, New York, NY 10014
"I'm a big fan of Buvette and was speaking to owner Jody [Williams] about her partner Rita Sodi's little Italian restaurant, I Sodi. I found it the next time I was wandering around Christopher Street. I love that it's so incognito, just a wonderful gem behind closed doors that you'd never think to look in. Me, my boyfriend and another dear friend go for what we call "grandma dinners"—just really nice early dinners. But it's also a great late-night dinner. You can just roll in, sit at the bar, and get a beautiful salad, cacio e pepe, and a Negroni and the best olives in the world, and your night is done. [Chef] Rita [Sodi] very rarely comes out of the kitchen, she's just such a master. The ingredients are such good quality and so simple, and yet you can't ever make anything that tastes anything close to it at home. To get a table, go early or late, or just go and be willing to stroll around or sit and have a Negroni and some olives."
"The top of The Jane! I had no idea it existed, and then I looked it up because I was like, 'How long has that been there?' I realized that it was RuPaul's apartment at one point. I was just so enchanted by that spectacular view. I'm not a big club person, so a small-sized bar like this, where you can go and have a cocktail and just sit and talk to a friend, or go outside and feel that breeze and look at that incredible view, is my style and speed. I love to bring people from out of town here because they really get a sense of the scope of Manhattan and the skyline, you know?"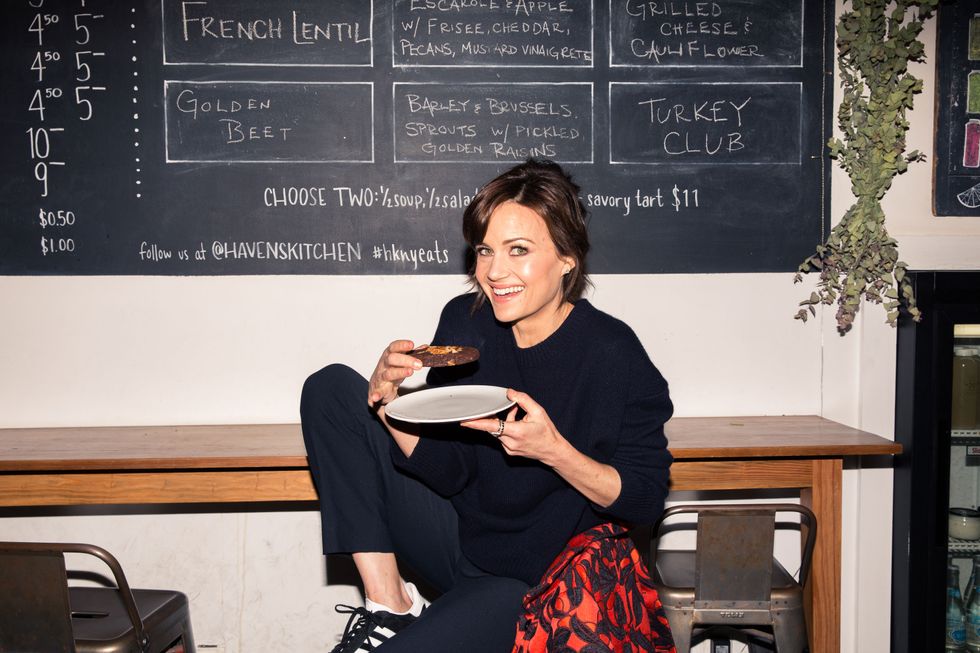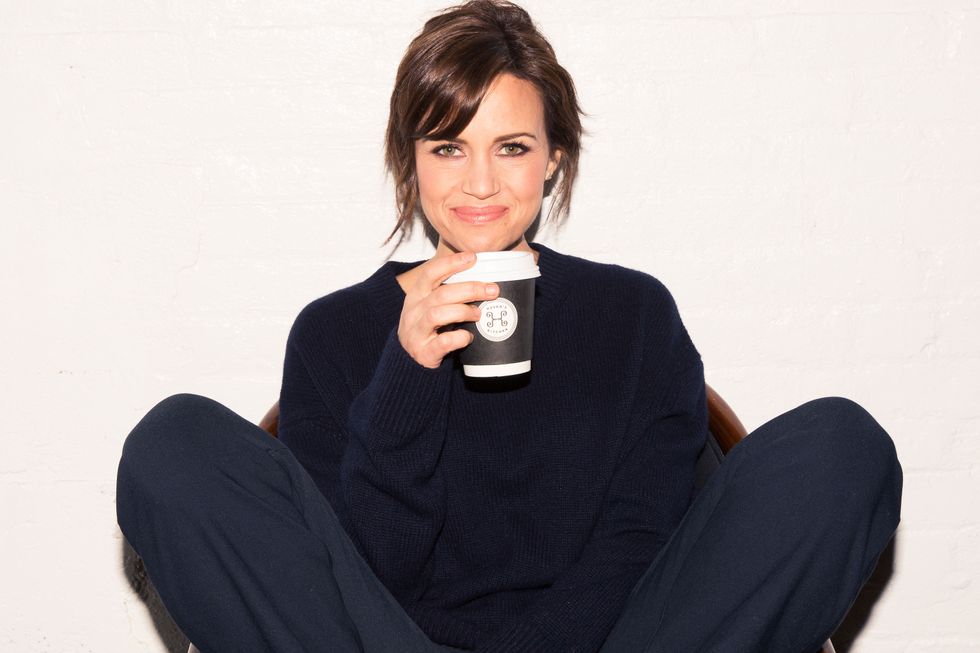 "I'm obsessed with the cafe Haven's Kitchen—it's also a wonderful cooking school. I love their gluten-free chocolate coconut cookies! And they make my favorite homemade almond milk cortado. I also like their frittatas in the morning. It's just a place where I run in and out and they're always so lovely. Because they're also a cooking school, they just have a wonderful aesthetic, both visually and in terms of their food."
Catch Carla in The Space Between Us in theaters Friday, February 3rd!