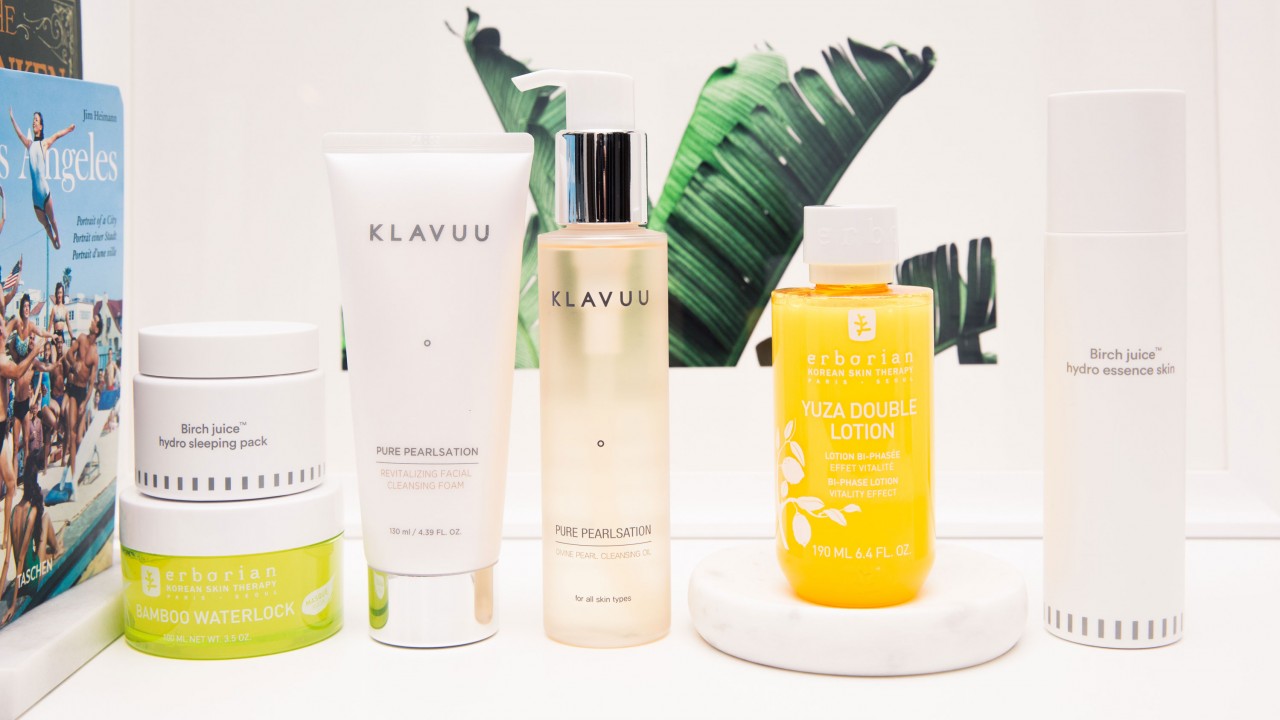 6 Natural Korean Skincare Products that are Going to be Big This Year
Soko Glam breaks down the ingredients you need to look for in 2017.
In Korean beauty we trust. As evidenced by this when we broke down the ten-step routine, this when we then tried them all, and this when we grilled a bunch of flight attendants (the ultimate source) on their beauty tips. So when Soko Glam's co-founder, Charlotte Cho, came to us with a list of the top three natural skincare ingredients to look out for in 2017, we were all ears. Because while we trust blindly in pretty much everything with a K-beauty stamp of approval, we've also become more and more attuned to scrutinizing the ingredient list on the labels in our lineup. Seoul is unquestionably way ahead of the curve when it comes to products and ingredients we'll soon see everywhere, so we'd say now is a good time to start introducing these three natural *and* proven effective ingredients—yuza, birch, and pearl—into your daily routine.
Yuza
"Yuza is a citrus fruit that is grown in the tropical Jeju Island in South Korea. Packed with vitamin C, it's an ingredient used to stimulate collagen production and brighten dark spots. Yuza has three times more vitamin C than lemons and is often drank as a tea to help combat colds!"
"Yuza's vitamin C helps stimulate collagen production and serves as an anti-aging ingredient which you can find in Erborian's Yuza Double Lotion. It's called a double lotion because it works in two phases: the aqueous phase helps brighten skin, and the oily phase helps to nourish."
"This is a multi-purpose aqua gel moisture mask. It can either be used as a rinse-off plumping mask, or you could leave it on for a moisturizing treatment. The bamboo sap and fiber in the formula work together to lock in moisture."
Birch
"Birch juice is a sap from birch trees and is known to be the next coconut water because of its richness in proteins and antioxidants and hydrating properties. The E Nature Birch Juice line was curated because the products contain up to 91% birch tree sap (no water filler!). Because birch juice is extremely hydrating, this line is perfect for the harsh and drying fall/winter months."
"This essence has a high dosage of the natural-healing nutrients including 78% birch tree sap, chamomile, and plantain seed extracts to nourish dry and rough skin. After a cleansed face, the application is light enough for your skin to absorb instantly and deep into your pores. It is free of animal ingredients, parabens, mineral oil, and artificial fragrances."
"Sleeping packs are the best, mess-free way to boost moisture overnight. Skin is likely to dry out as you sleep (because you are not drinking water!) and even more so in cooler months because of the radiator. This product not only provides the usual benefits of a sleeping pack, it also contains 74% birch sap, chamomile, and plantain seed extract to deeply hydrate and soothe your skin as you sleep. You apply this once to twice a week in replacement of your moisturizer."
Pearl
"Pearl has a long laundry list of skin benefiting properties, including accelerating new skin growth, healing acne and blemishes, and minimizing large pores. This power ingredient has long been used in traditional beauty treatments and is the key ingredient in one of the hottest emerging brands coming from Korea, Klavuu. The minerals and active properties in pearls keep the skin acidic, which slows the aging process while still keeping skin hydrated and firm. It also stimulates regeneration of collagen to plump wrinkles and fine lines."
"Klavvu's oil cleanser is a natural blend of oils like safflower seed, jojoba seed, and macadamia seed to easily break down heavy makeup and cleanse pores. The vanilla and macadamia notes are fragrant for a therapeutic cleanse and a perfect first step into a double-cleansing routine."
"Innovation is one of the key highlights when it comes to the Klavuu brand and this cleanser has a light and creamy texture for a luxurious cleansing experience. It contains over 30 natural plant extracts to help loosen and dissolve impurities on the skin that an oil cleanser may have missed."