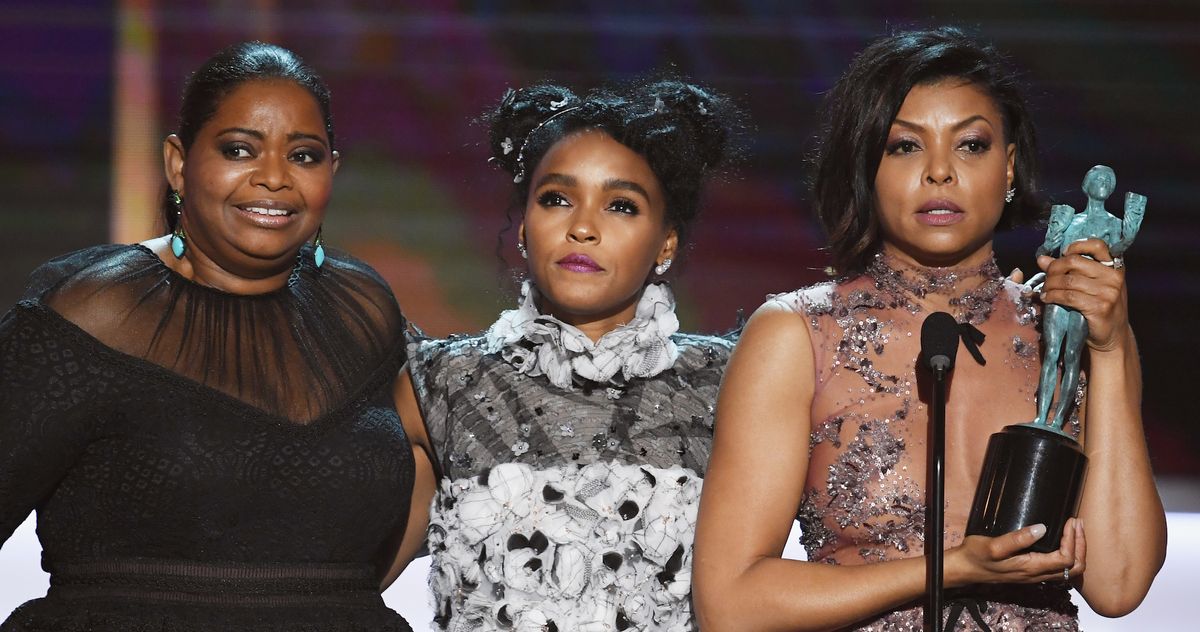 Celebrity
The Most Inspiring Acceptance Speeches From The 2017 SAG Awards
These are the moments everyone is going to be talking about tomorrow.
It feels undeniably strange to be watching, talking about, writing about or even thinking about an award show right now with the executive orders and events that have transpired over the last few days—but nevertheless, here we are, and there were all of the biggest actresses and actors in the world at the Screen Actors Guild awards tonight. 
It was a show unlike any we've ever seen—mostly because of the current political climate. Kerry Washington opened the show saying, "A lot of people are saying right now that actors shouldn't express their opinion when it comes to politics. But the truth is, actors are activists no matter what because we embody the worth and humanity of all people…". She was shortly followed by Ashton Kutcher who welcomed viewers to the show saying welcome "to everyone in airports [right now] that belong in my America." Sarah Paulson even encouraged her fellow actors to donate to the American Civil Liberties Union, the organization that was behind putting a stay on the immigration ban this weekend. Over the course of the show, more and more actors expressed a sentiment of inclusion and unity that was overwhelmingly inspiring. Here are some of our favorite moments. 
---
Julia Louis-Dreyfus
While accepting her award, Julia Louis-Dreyfus spoke out about the immigrant ban calling it flat out "un-American." She said, "Because I love this country, I am horrified by its blemishes, and this immigrant ban is a blemish, and it is un-American. So I say this...our sister guild, the WGA made a statement today that I am going to read because I am in complete agreement with it. 'Our guilds are a union of storytellers who have always welcomed those from the nations and the varying beliefs who wish to share their creativity with America. We are grateful for them. We stand with them, and we will fight for them.'"
Mahershala Ali
Moonlight star Mahershala Ali made a beautiful and emotional speech about his role in the film, and about how he and his mother overcame their religious differences. He also warned about what happens to people when they're persecuted:
"What I've learned from working on Moonlight, is you see what happens when you persecute people. They fold into themselves, and what I was so grateful about in having the opportunity to play Juan was playing a gentleman who saw a young man folding into himself as the result of the persecution of his community, and taking that opportunity to uplift him and tell him that he mattered, and that he was okay and accept him. And I hope that we do a better job of that. We kind of get caught up in the minutia of the details that make us different and I think there's two ways of seeing that. There's an opportunity to see the texture of that person, and the characteristics that make them unique, and then there's the opportunity to go to war about it, and say that that person is different from you, and 'I don't like you, so let's battle.' My mother is an ordained minister, I'm a Muslim. She didn't do backflips when I told her I converted seventeen years ago. But we put things to the side, and I'm able to see her, she's able to see me, we love each other, the love has grown, and that stuff is minutia. It isn't important."
Viola Davis took home the Actor for Outstanding Performance By A Female Actor In A Supporting Role, and she thanked playwright August Wilson in her moving speech:
"What August [Wilson] did so beautifully is that he honored the average man—who happened to be a man of color...The fact that we breathed and lived a life...just that means that we have a story and it deserves to be told. We deserve to be in the cannon, and in the center of any narrative that's written out there. And that's what August did. He elevated my father, my mother, my uncles who had eighth and fifth grade educations, and he encapsulated them in history. So thank you to August. Thank you."
Taylor Schilling
While accepting the award for Outstanding Performance by an Ensemble in a Comedy Series, Taylor Schilling said, "We stand up here representing a diverse group of people representing generations of families who have sought a better life here, from places like Nigeria, the Dominican Republic, Colombia,  Puerto Rico, Ireland! And we know that it's going to be up to all of us, and all of you to tell stories that show that what unites us is stronger than the forces that seek to divide us."
David Harbour
While celebrating Stranger Things' win for Outstanding Performance in an Ensemble in a Drama Series, David Harbour basically screamed his speech, which celebrates the 'freaks and outcasts' and promises to 'punch some people in the face.' It was incredible:
"In light of all that's going on in the world today, it's difficult to celebrate the already celebrated Stranger Things, but [this] is a call to arms to our fellow craftsmen and women to go deeper. And through our art to battle against fear, self-centeredness and exclusivity in our predominantly narcissistic culture and...cultivate a more empathetic and...serve as a forceful reminder to folks that when they feel broken and afraid and tired, they are not alone. We are united in that we are all human beings, and we are all together on this horrible, painful, joyous, exciting and mysterious ride that is being alive. As we act in the continuing narrative of stranger things...we will repel bullies! We will shelter freaks and outcasts, those who have no home! We will get past the lies, we will hunt monsters! And when we are lost amongst the hypocrisy and casual violence of certain individuals and institutions, we will, as per Chief Jim Hopper, 'Punch some people in the face…' and we will do it all with soul! With heart! And with joy!"
Taraji P Henson
Taraji P Henson, our personal hero, reminded us all of what we're capable of when we come together while accepting the award for Outstanding Performance by a Cast in a Motion Picture, for Hidden Figures. She said, "This film is about unity. We stand here as proud actors thanking. The shoulders of the women that we stand on are three American heroes, Katherine Johnson, Dorothy Vaughan and Mary Jackson. Without them, we would not know how to reach the stars. These women did not complain about the problems, their circumstances...we know what was going on in that era. They didn't complain, they focused on solutions. This story is of unity, it's about what happens when we put our differences aside, and we come together as a human race. We win. Love wins. Every time."