Models
5 Things We Can All Learn from Jasmine Sanders
On puppies, her love of thigh-high boots, and the styling tip she learned from Bella Hadid.
Alec Kugler
Catching up with Jasmine Sanders in a booth at Nom Wah Tea House as a hair and makeup team hovers in between shots for her new DL1961 denim campaign is like catching up with Instagram IRL—if only because we see her constantly popping up on ours, whether via her own account or through those of pals like Emily Ratajkowski and Kendall Jenner. And just like on Instagram, we can't stop staring (we decide to save ourselves the existential crisis and get over her prettiness as quickly as possible). The fact is, though, that Sanders has got it nailed when it comes to a whole lot more than beauty (she knows that too, though, and if you want to know what she knows in that area, read this). While she chatted away to us about everything from YSL thigh-high boots to how great a dog dad her boyfriend is, we started to jot down some mental notes. From us, to you, the things we would all do well to learn, care of Jasmine Sanders.
---
1. Don't be precious with your denim.
"I like a good fitted jean. I used to be obsessed with high-waisted, but now I'm pretty chill. Especially when I'm not working, I try to stay away from anything tight and restraining. I just really want to be comfortable. I love, love, love DL1961. I like some good destroyed jeans because you can get some more movement in them. I have puppies and I'm always running around with him. I love jeans that you don't mind getting dirty and still look stylish—like [how you think of] a Chuck Taylor! If you wear Converse, the worse they get the better they look! If paint gets on it who gives a shit? It looks good."
2. Embrace thigh-high boots.
"I am obsessed with thigh-high boots and they look really good with nice denim. I love going for an all-black look—nice black denim jeans with a black bomber or a black leather jacket—something that looks edgy in 'don't mess with me' style. [I just bought] YSL thigh-high boots. They are lower on the heel but still come over the knee, they are amazing. I can't wait to wear them! They are waiting for me at home."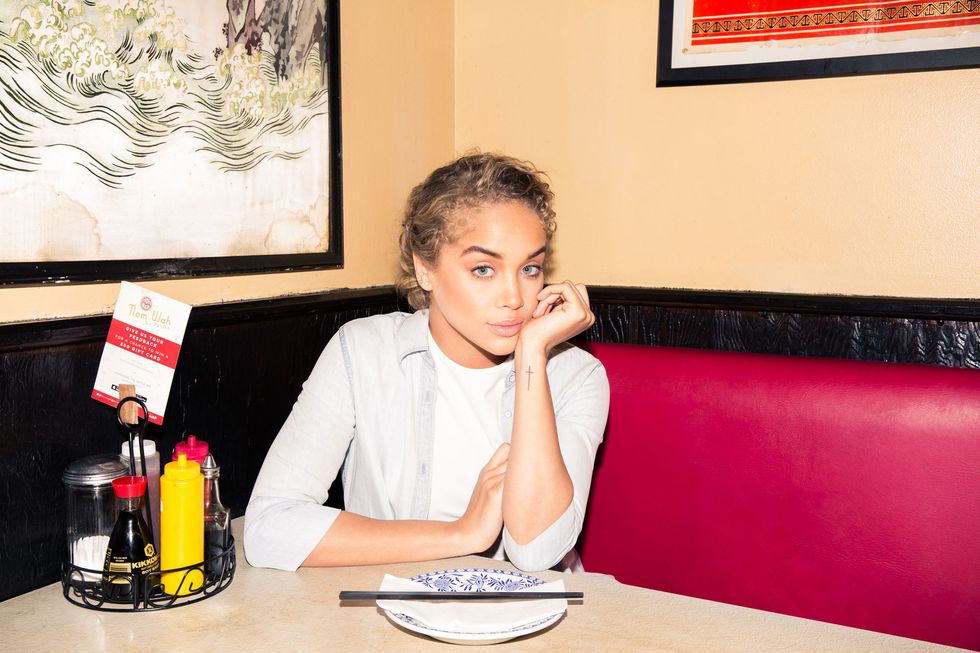 3. Invest in good coats (especially bombers).
"I want to switch up my coats a lot this season. It doesn't have to be a fur or anything like that, just really dope bombers. I have very tomboyish style, but I like to wear sexier tops underneath—a crop, or something low-cut. But I like to have boyish edge and be able to just slump around and be comfortable at all times. It's all about really good coats!"
4. Follow Bella Hadid's lead.
"I love Bella's style. I love it because it's different and it feels like it's something from back in the day. It's not like, 'Oh, it's 2017, what is the hottest thing out right now?' It's edgy stuff that you don't see any other girl wearing or thinking to wear. It has a gothic edge, but is still super sexy, she plays that fine line very well. Whoever her stylist is, they have nailed getting the right pieces for her."
See her stylist, Elizabeth Sulcer's, closet here.
5. Make sure your boyfriend loves dogs as much as you do.
"My puppies wake up at 7 AM. One is 14 weeks, and the other one is 11 weeks. It's like having twins. Thank god I have an amazing boyfriend that sticks by me, wakes up, helps me if I'm working. He is the best dog dad ever! Seriously though. I give it to him now, because he is all by himself at home trying to handle the two of them and juggle work.
"I've loved Frenchies for so long and my boyfriend surprised me with two for Christmas. It was the best thing ever. He drove me out all the way to San Diego and he did not tell me anything. I was sitting in the car like, 'Where are we going? What are we doing?' He told me to put on clothes I don't mind getting dirty—mind you, at 6 AM in the morning. We pull up and all I hear is little dogs barking. And I'm like 'Oh my goodness! Okay, okay I'm ready!' He was like, 'Do you know where we are?'"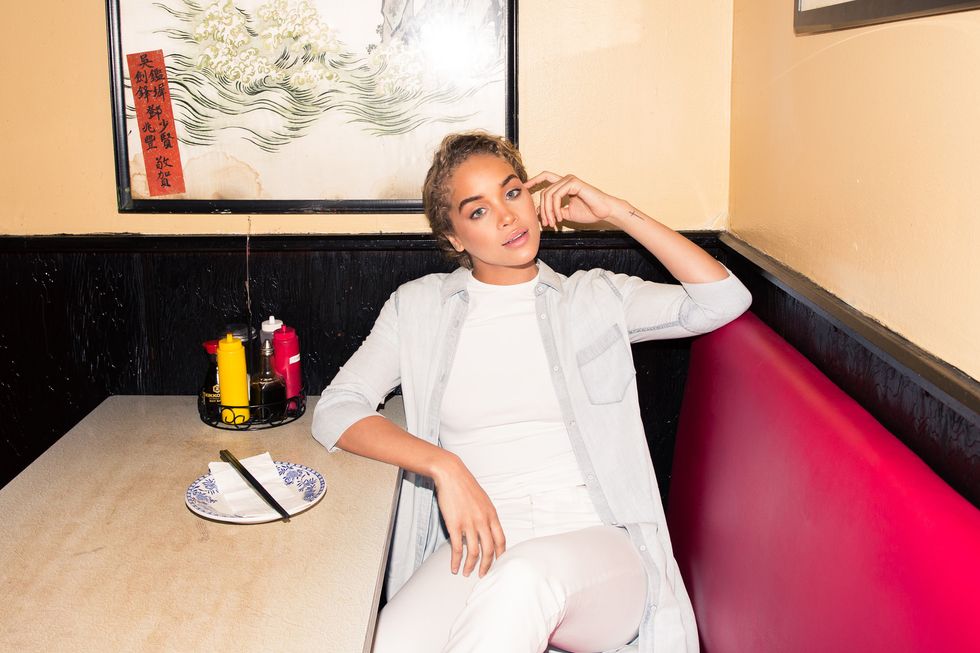 And something we all know, but bears repeating…
"I'm obsessed with Black Mirror. It's very intense. It scares the shit out of me. Not even gonna lie. It makes me think about the world completely different. Then again, when I'm watching it I'm like, this is the world that we live in. It's scary but it's an eye opener to those who are blind to it. I'm like, wake up: this is how social media really is, this is how creepy people are! It's really terrifying. It's one of those shows that everybody needs to watch."
Watch her do her makeup in 60 seconds: