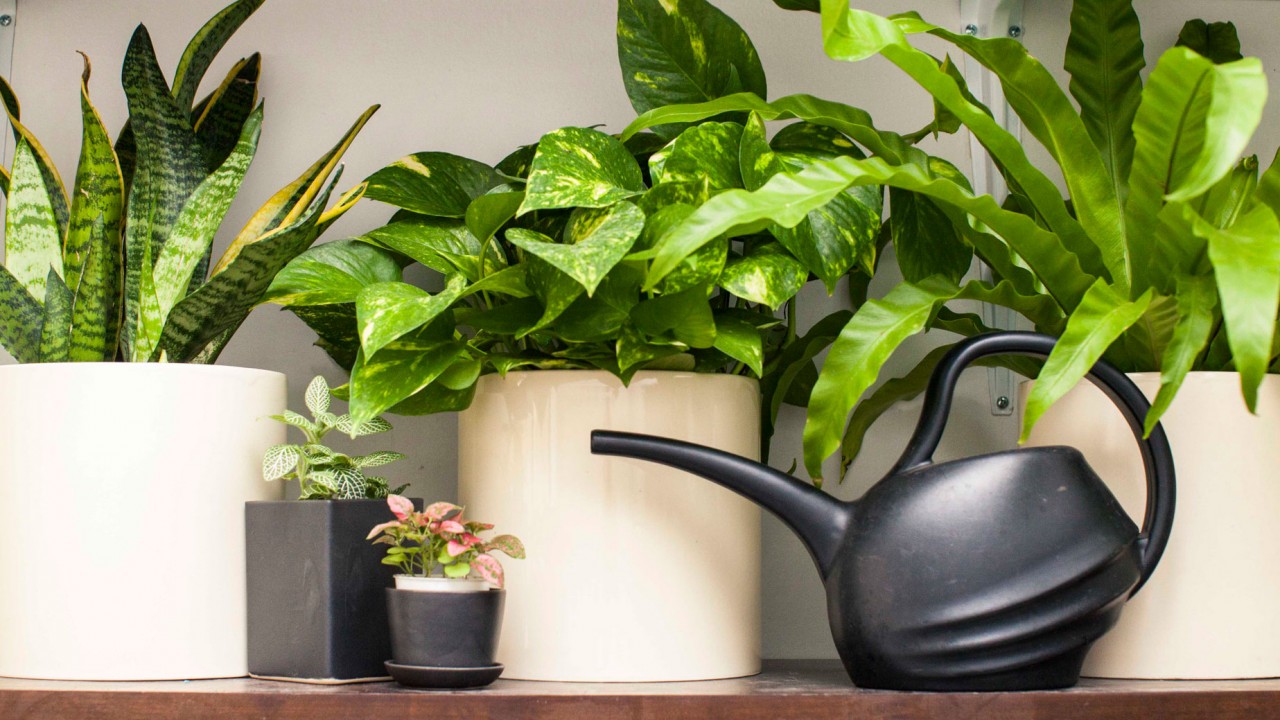 Pretty Houseplants That Even *You* Can't Kill
Guaranteed to last more than a week, c/o The Sill's tips.
It wasn't long ago—er, just last week—that we met up with Eliza Blank and Andrew Erdle at their uber-cool greenhouse storefront, The Sill, in Manhattan to talk plant business. It's their mission to educate and inspire people to fall in love with houseplants (and not kill them). So we took it as chance to get them to help us turn our black thumbs green with a few surprisingly easy tips. Hint: it's all about buying the neglect-loving kind.
SO YOU'RE NEW TO PLANTS…
"We have a tried-and-true baseline of plants that we always recommend for a first-time plant owner—things that we think are nearly impossible to kill. The snake plant, Sansevieria, and the ZZ plant can really withstand a whole range of environments, as well as neglect [laughs]. Both neglect and overcaring; it's sort of like you're either on one end of the spectrum or the other—you either kill your plant because you overwater it, or you just completely neglected it till the point it just withered and died."—Eliza Blank
KNOW WHERE YOUR PLANT COMES FROM
"[Think] about the environment that the plant comes from. If it's from a jungle in West Africa, you probably should water it regularly. Keeping those things [in mind] really help[s] out, and that's why cacti are really great, [although] people really can kill them if they neglect them."—Andrew Erdle
REMEMBER IT'S A LIVING THING
"I think people who aren't plant people tend to think about plants as an inanimate object. It's alive and requires food and light and attention. People will purchase [a plant] just because they like how it looks without really considering what it needs."—EB
SNAKE PLANTS, BECAUSE THEY'RE EASY
"I think personally, I have over 30 potted plants in my apartment, and they are all some sort of variation of a snake plant. They're really good for bedrooms because they give off oxygen at night and throughout your day when you're in there."—AE
SAME WITH AIR PLANTS
"[They're easy to look after], provided they're cared for correctly. They prefer bright to moderate light, and high humidity. We recommend spritzing them with water every day or every other, and keeping them in a spot where there's decent air flow, instead of an enclosed container."—EB
DON'T OVERWATER
"A lot of people think that water is the cure-all. If their plant looks sad, they're just going to water it again, which is very much not what the plant needs. The easiest way to kill a plant is by overwatering it. It's very difficult for a plant to recover from an overwater versus an under-water." —EB
DON'T FALL FOR GIMMICKS
"A lot of [plant accessories] give you false confidence. There's a lot of self-watering things out there, or newer startups that have things that track how moist the soil is or something like that, and it takes away the connection that you actually need in order to stay on top of it. We don't really use any self-watering tricks, just because you really want to be monitoring [the plant] and check it out as it naturally needs water. The only high-tech thing we use is a meter that checks to see if it's actually wet at the bottom of the pot, and that's for your bigger plants."—AE