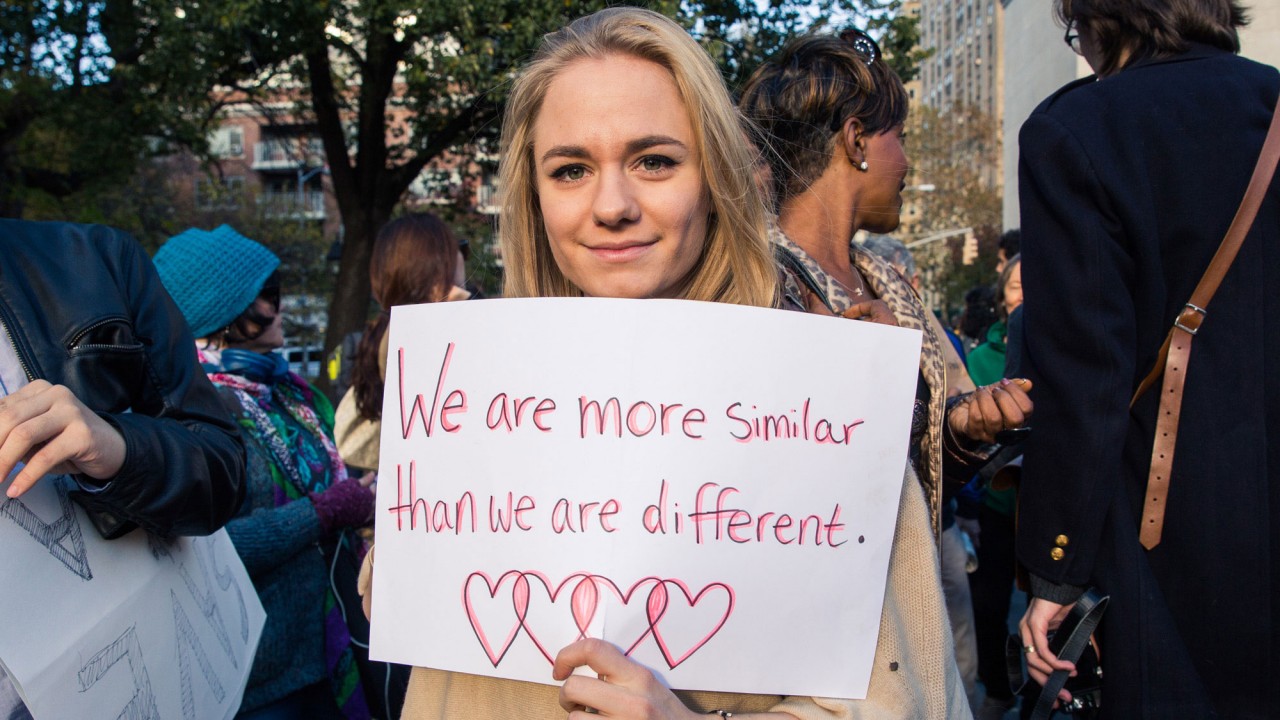 7 Excellent Reasons to March This Weekend
Courtesy of some of our most inspiring friends in fashion.
In just two days, more than 200,000 people will descend on Washington to protest Trump's inauguration. I'll be one of them, along with Andee Olson and Emily Ramshaw from team Coveteur, and we'll be standing alongside literally thousands of other women (and men!) who, like us, believe in equal rights, affordable health care, and the freedom to live without fearing police brutality or sexual violence. Among many, many, many other things.
In case you need a reason to either find a last-minute bus to D.C. or join one of the more than 600 (!!) sister marches planned around the country and world, we spoke to seven women we admire to find out why they're marching, and who they're marching for. Whether you're heading to D.C. like Glamour's Florence Kane, or protesting at the UN in NYC like Maria Cornejo, if this is an issue you care about, just do something. Tweet us, DM us, or send us an email about your experiences on Saturday—we want to know what it means to you.
"There are few things as uplifting and energizing as coming together with thousands of people to stand peacefully for a cause you believe in. I'll be marching next weekend to demonstrate that I oppose racism, sexism, xenophobia, discrimination, and prejudice, and the use of a rhetoric that inspires violence and hate."
"Okay, friends, who's getting ready for January 21st? Who's ready to show up and let the world know that we are a unified force of strength, love, and power? Who's ready to use their voices loud and clear, and lend them to those who cannot? Who's ready to stand for equality, justice, and protection of women's rights and bodies? I AM READY.
"I am marching for everything that I believe in as a woman and as a human. I am marching for all of the women in my life and the ones that are not directly in my life. I am marching for my son, so that he grows up understanding without question that women are his equals. I am marching for this planet and for finding a way to bring peace to all living beings. WHO'S IN?"
Global Editor-In-Chief and Co-Founder, Refinery29
"This weekend, I'm marching for the women in the world who want to play a role in the futures of all the young women in this country and who can't march in D.C. themselves. I'm also marching for climate justice, which affects everyone on our planet, not just women, and for the right ALL women should have over their own bodies AND to earn a living wage."
Fashion News Director, Glamour
"I'm marching to show the previous generations who fought for women's rights that we don't take for granted what they won for us. And on a more personal note, to show my children that it's important to be vocal, show up, and participate in change."
"I'm attending the WMOW because I think now, more than ever, it's important that we take a physical stand in protecting the rights that we believe in. Social media has made it easy for people to voice their opinions but oftentimes the message can get lost in a haze of never-ending scrolling. My hope is that young women across the country will wake up to images on January 22nd of the thousands and thousands of women that showed up in support of their future the day before. I hope that image of us reverberates around the world and helps mend the pain of the negativity spread over the past year. I hope that image creates some healing and feelings of solidarity amongst all of us."
"I'm so excited to be in D.C. this weekend for the Women's March. It's not just important to me and the things that I believe in, but I'm so proud to be a part of the community of strong female designers and entrepreneurs, who have come together to fight for what we value most—it's never been more important to make sure our voices are heard."
"I'm proud to stand in solidarity with the Women's March on Washington not only as a woman, but as a person who believes that we are all created equal. Regardless of your politics, religious beliefs, race, sexuality, or socio-economic status, women's rights are human rights. When one group's basic human rights are threatened, it affects us all. On Saturday, I'm marching for women, mothers, immigrants, LGBTQ individuals, small business owners, and climate change."