Off the Menu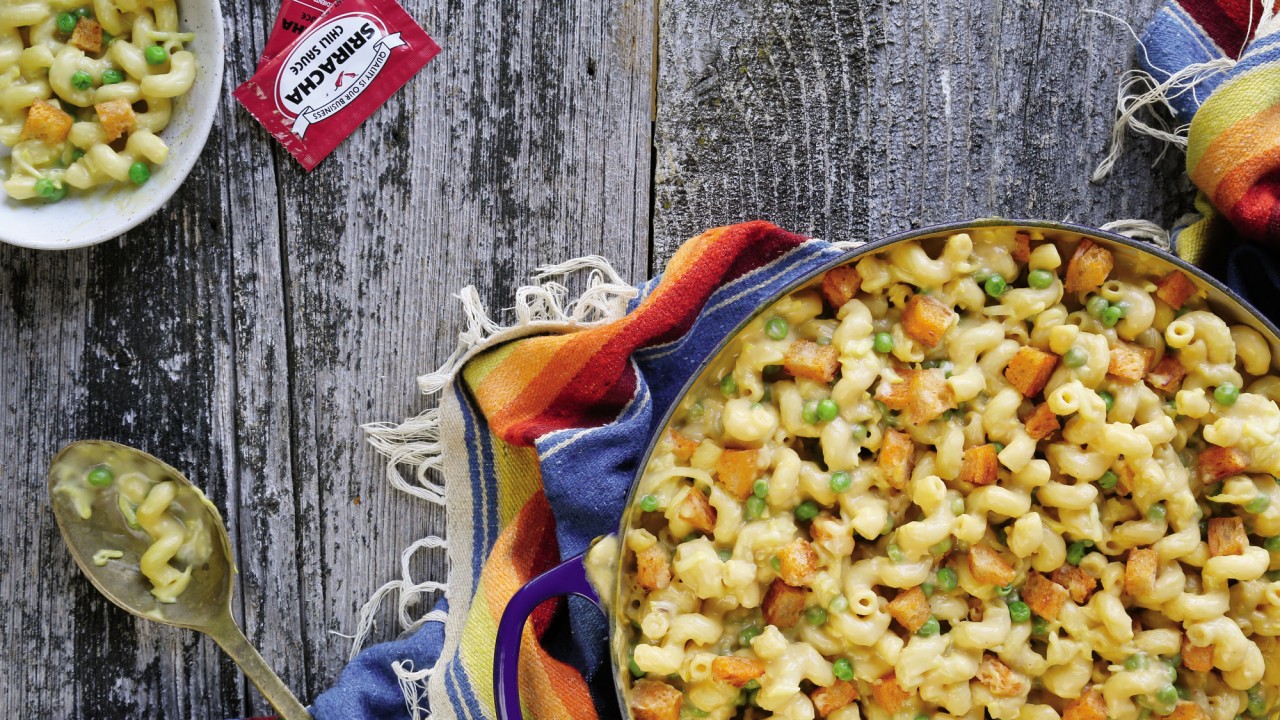 3 Comfort Food Dishes that are Actually Healthy
Thug Kitchen shares recipes you'll actually get excited about making.
We're the first to recognize that restrictive healthy eating plans are bullshit. We also know ourselves—and in the winter, when it's cold and dark and generally miserable, despite our greatest efforts to treat our bodies like the temples they are and just be healthy goddamnit, the last thing we want for dinner is a salad. Warmth and comfort are our January-through-March eating requirements. With that in mind we asked Michelle Davis and Matt Holloway, the creators of Thug Kitchen, to share some recipes that are healthy, but don't skimp on comfort. The genius part? The recipes are (almost) as easy to make as a box of mac and cheese (also, actually fun to make, in large part because Thug Kitchen talks to you like a real person) and come with none of the ensuing guilt of consuming the whole thing.
"Wanna stuff your face with tacos but without the guilt? We got you. These al pastor tacos pack a flavorful punch that's only surpassed by the fuckload of fiber packed into every bite. Eat 10 tacos but with the healthy sense of satisfaction you get from eating salad."
Cook Time: 15 Minutes
Makes enough for 8 good-size tacos, enough for 4 to 6 people
Ingredients:
Filling
½ white onion, chopped
1 cup fresh or canned pineapple chunks with ¼ cup juice
¼ cup lime juice
3 tbsp mild chili powder
2 tsp liquid smoke 
2 tsp smoked paprika
1 tsp ground cumin
½ tsp dried oregano
2 tbsp olive or safflower oil
8 oz tempeh, cut into thin 1-inch-long strips
3 cups shredded raw sweet potato
2 tbsp Bragg's or soy sauce
Tacos
8 corn tortillas
Toppings: diced onion, jalapeños, cilantro, Pineapple Salsa
Directions:
1. Make the filling: In a blender or food processor, throw together the onion, pineapple, lime juice, chili powder, liquid smoke, smoked paprika, cumin, and oregano. Let that motherfucker rip until the sauce starts looking sorta smooth, then set aside.
2. In a large skillet, warm the oil up over medium heat. Add the tempeh and sauté it around for about 2 minutes, then fold in the sweet potato and sprinkle over the Bragg's. Keep cooking until the sweet potato starts to soften up, 3 to 5 minutes longer.
3. Pour in the sauce you blended up earlier and stir it all up until everything is covered and starting to warm up, about 3 more minutes. Remove from the heat.
4. Start making some damn tacos: Warm the tortillas and serve topped with the filling, onions, jalapeños, and cilantro, or pineapple salsa.
"One-pot meals are where it's at. Fast, easy, and best of all: minimal dishes. Especially if you eat straight out of the pot you cooked everything in like a goddamn genius."
Cook Time: 35 Minutes
Makes enough for 4 to 6 people
Ingredients:
Veggies
2 tbsp coconut oil
1 large yellow onion, halved
2 cups chopped cauliflower
1 cup chopped green beans
1 carrot, chopped
1 ½ cups cooked chickpeas
1 tsp garam masala
1 clove garlic, minced
2 tsp minced fresh ginger
Rice
1 tbsp coconut oil
2 cups basmati rice
1 cinnamon stick
1 bay leaf
1 tsp garam masala
1 tsp minced fresh ginger
1 clove garlic, minced
4 cups vegetable broth
¼ tsp ground turmeric mixed with 1 tbsp water
¼ cup chopped cashews or almonds
¼ cup golden raisins
chopped cilantro for topping
Directions:
1. Cook the veggies: In a large soup pot, warm up 1 tablespoon of coconut oil over medium heat. Add the onions and sauté until they start to brown all over, about 7 minutes. Remove them from the pot and set those bastards aside.
2. In that same pot, heat the remaining 1 tablespoon over medium-high heat. Toss in the cauliflower, green beans, and carrot and sauté that shit until they start to soften up and get browned in a few spots, about 5 minutes. Fold in the chickpeas, garam masala, garlic, and ginger and cook for another minute to get the spices all mixed up. Remove from the heat, remove all the veggies from the pot, and set them off by the onions.
3. Make the rice: In that same damn pot, warm up the coconut oil over medium heat. Add the rice, bay leaf, garam masala, ginger, and garlic and sauté that shit until the spices start to smell all delicious, about 1 minute. Add the veggie broth and bring it all to a simmer. Reduce the heat to low, cover, and cook until the rice is tender and the liquid has evaporated, 15 to 20 minutes. Sprinkle the turmeric mixture over about half of the cooked rice and let it sit with the heat off for a minute to absorb.
4. To serve, fluff the rice with a fork, fold in the veggies, three-quarters of the onions, the nuts, and raisins. Top with some cilantro and the rest of the onions and serve that shit up right away.
Creamy Squash Mac and Cheese with Hot Sauce Bread Crumbs
"YOU'RE GODDAMN RIGHT WE MADE MAC AND CHEESE WITHOUT CHEESE. SHUT THE FUCK UP—YOU HAVEN'T EVEN TRIED IT YET. Whip up a batch of this classic comfort food and you won't ever mess with the blue and yellow boxed bullshit ever again." —Matt & Michelle
Cook time: 30 Minutes
Makes enough for 4 to 6 people
Ingredients:
Hot Sauce Breadcrumbs
1 tbsp olive or safflower oil
2 cups chunky breadcrumbs or cubes
3 tbsp hot sauce
1 tbsp unsweetened plain almond milk
Cheesy Sauce
1 tbsp plus ¼ cup olive or safflower oil
1 shallot, chopped, or ¼ cup chopped yellow onion
2 starchy potatoes, such as russets, peeled and cubed (about 4 cups)
2 carrots, cubed (about 1 ½ cups)
2 cups veggie broth
1 cup unsweetened plain almond milk
½ cup nooch (nutritional yeast)
2 tbsp lemon juice
1 tbsp Bragg's or soy sauce
½ tsp salt
1 pound pasta, like shells, fusilli, or anything that will hold some sauce
2 cups frozen or fresh green peas
2 cups shredded yellow squash
Directions:
1. First let's make the bread crumbs: Grab a large skillet with a lid (you'll see why in a bit) and warm up the oil over medium heat. Toss in the breadcrumbs, stir until everything has some oil on it, and keep stirring around every few seconds until all that starts to look a little toasty, 2 to 3 minutes. In a small glass, mix together the hot sauce and milk, then pour it all over the breadcrumbs, making sure everything gets coated. Remove from the heat and scrape them onto a plate. Wipe that skillet down right quick cause we're using that shit again.
2. Make the cheesy sauce: In that kinda clean skillet, warm up 1 tablespoon of the oil over medium heat. Add the shallot and sauté until it looks kinda golden, 3 to 4 minutes. Stir in the potatoes, carrots, and 1 cup of the broth. Cover and let that shit braise until the potatoes and carrots are soft, about 15 minutes. When the veggies are soft, remove from the heat and let that cool for a sec.
3. Toss the milk, nooch, lemon juice, Bragg's, salt, and remaining 1⁄4 cup oil and 1 cup veggie broth into a blender. Add the softened veggies and all the liquids in the pan to the blender and run that shit until the sauce is all creamy, about 30 seconds.
4. Meanwhile, cook the pasta according to the package directions. Right before the pasta is done cooking, throw in the frozen peas. Drain the whole pot, then throw it all back into the pot and fold the squash into the pasta.
5. Pour over the warm cheesy sauce and serve right away topped with hot sauce bread crumbs.
"Got some extra time? Crank up your oven to 425°F and bake that motherfucker, bread crumbs and all, in a large baking dish until the sides start looking crispy, about 20 minutes. Totally worth the wait."
Photos: Courtesy of Thug Kitchen