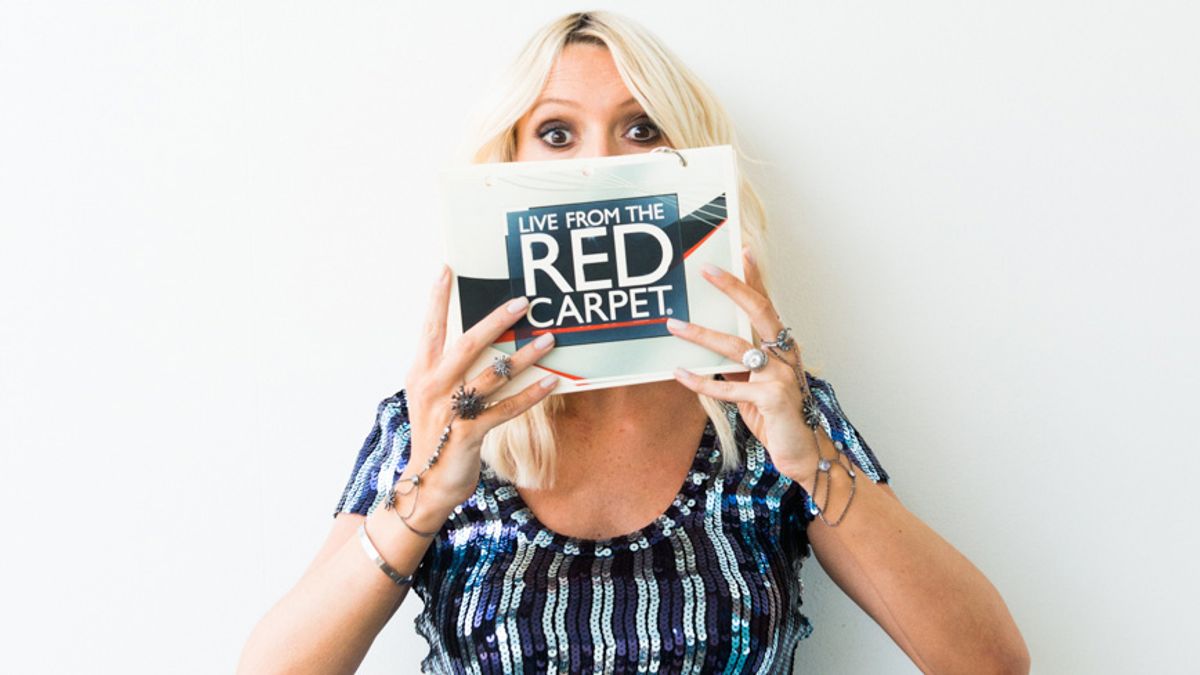 Entertaining
Everything You Really Need to Know about the Golden Globes
An alphabetic cheat sheet to last night's show (you know, in case you had a little too much wine at your viewing party and have to make conversation this AM).
The Golden Globes are always a little like a high school reunion.

The Jimmys are still class clowns. The Ryans are still hot. Everyone's secretly hoping that wise, all-knowing Mrs. Streep will remember their name (and everyone's a little sad cool-girl Jennifer didn't come this year).

Well, lucky for you*, I stayed home from Hollywood High this year**, drank a bunch of wine***, and made this alphabetized list of all the moments you may or may not have caught between rounds of Speech Cliché Bingo.

From inside jokes to inner boobs, here are all the 2017 Golden Globular moments you need to know, from A to Z.

*Debatable.
**By choice.
***Employer-approved.
---
A is for All of Us, which is who Emma Stone was when she hug-bombed Damien Chazelle's girlfriend.
B is for Beards.
For men of beard-bearing age, the theme of the eve was werewolfish, Revenant sequel-worthy facial hair. Best Supporting Role on Chris Pine's face goes to the ski mask of exposed flesh in the middle.
C is for Claire Foy.
Ugh, love us a feminism-infused acceptance speech in a glimmering mermaid gown.
D is for Diversity.
Cheering-hands in every color of the emoji rainbow for the most diverse show in Golden Globes history. From Tracee Ellis Ross's speech, to Atlanta's double wins, to Fences, to Hidden Figures, to Moonlight, people of color not only stole the show this year—they ran it.
D is also for Damien Chazelle, who we're only, like, 72 percent sure isn't Wells from The Bachelorette. (Oh, and for Emma Stone's friend Doug. Hi, Doug!).*
*D is not for Donald Trump.
E is for Elle, and how genuinely psyched its cast and crew were to be there.
F is for Fired, which is what the production assistant who misspelled John Le[d]gend's name on his place setting will be this morning.
G is for Glarden Glarb, which is the correct Australian pronunciation.
H is for Hidden Fences, the nonexistent hybrid film people kept calling out (for the record, Hidden Figures is about three brilliant Black women who worked at NASA; Fences is about a sanitation worker who wants to become a professional baseball player. Neither is about covert barricades, although it does seem topical for 2017).
I is for Internet Outrage, which is what ensued after Meghan McCain tweeted that Meryl's speech was the reason Trump won. (Okay, but what did we all expect Fox News to do? Compliment her bedazzled frock?)
J is for Justice for Barb, which was served.
K is for Kerry Washington's face, which we've heard is a totally attainable blend of Tarte cheek stain and unbelievable luck in the genetic lottery.
L is for La La Land. From the homage-paying opening numbers to the clean sweep of musical/comedy awards, Damien Chazelle's candy-colored musical about Hollywood was (shocker) a hit with the Hollywood Foreign Press.
M is for Meryl, with the speech that launched thousands of memes in minutes. (It's also for Migos, whom Donald Glover inexplicably [but also, we get it] shouted out for their song "Bad and Boujee.")
N is Nepotism, and The Stallone Sisters Three. (We kid—the sibilantly named trio were the picture of class and gentle balayage).
O is for Oh No, Tom Hiddleston, and the humbliest, Hiddliest brag.
P is for Pride. From Moonlight's big win to Andrew Garfield and Ryan Reynolds's sneaky kiss, it was a good night for same love.
R is for Ryan Seacrest, who would like you to know that he Watched All the Movies This Time. (It's also for Rectangular Cleavage, for obvious, gravity-defying reasons).
S is for Sunny Pawar. Someone bring me that tiny child.
T is for Technically Difficult TelePrompTer, which we can only imagine Jimmy Fallon smashed to pieces post-show.
U is for Unaccompanied Minors.
Was there a handler in charge of corralling the cast of Stranger Things? Was it Amy Schumer?
V is for Vagina Gowns.
Yes, yes, Carrie Underwood looked as though she was crowning out the top of her distinctly labia-like rose appliqués. But you can't say it wasn't origamic. (Sorry.)
W is for Womance.
From Michelle Williams and Busy Philipps to Viola Davis and Meryl Streep, to Sarah Paulson and Amanda Peet, the best-femmeships were out in full force last night.
X is for all the Expats Meryl shouted out. And for their stunned expressions upon realizing Meryl knew their names and birthplaces.
Y is for the Young Pope. In the words of Twitter, damn, is that pope ever young.
Z is for Zingers.
"What would it have been like if Joffrey would've lived? Well, in 12 days we're gonna find out."