New Year New You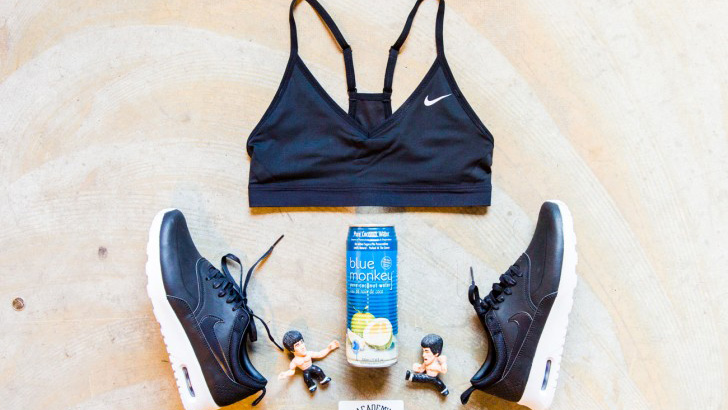 What We're Wearing to Work Out in 2017
Turns out nothing gets you to dust off that gym membership like buying stuff to wear!
In case you haven't caught on yet, we're big fans of busting out our reasoning skills to justify just about any new purchase. New job? Calls for a shiny new I-am-a-serious-businessperson bag. Bad day? Champagne and a cozy throw blanket to comfort yourself with. Bumble date? New lipstick, because you've already managed to creep his ex-girlfriends and he apparently has a thing for girls who wear it. But nothing quite tops our rationale for splashing out on new gym gear—after all, nothing is quite as motivating to actually leave work on schedule in order to make your pilates class as new leggings you don't feel embarrassed walking around in.
Noah Lehava
Senior Editor: Health and Wellness
1. Gem-Water Bottles: Call me crazy, but I'm finding ingenious ways to work more pretty rocks (er, crystals) into my life, like, say, this water bottle. Not only is it so damn pretty, but apparently red jasper, magnesite, and clear quartz in your water is a good coffee alternative for your energy level and is great for circulation and bringing oxygen to your blood. Sounds good to me!
2. Track & Bliss Sports Bra: This is a bra you want to show.
3. P.E Nation Leggings: Black workout gear pulls me in like gravity—color + sweat...yikes. So I love the strategic and retro-ish injection of just-enough color on these predominantly noir leggings.
Jodi Taylor
Assistant Editor
1. Lacroix Cloud Mirrored Ski Goggles: This year I've decided to get back into skiing and naturally, I want to look good doing it, which is exactly where these goggles come in.
2. Lucas Hugh Leda Mesh Bodysuit: There is no doubt that between ski sessions I'm going to need to hit a few yoga classes to loosen up. For that, a bodysuit never fails.
3. Live The Process Geometric Leggings: Perfect for either under my ski pants, or over my bodysuit for yoga. I like my workout gear to be simple for the most part, so these are right up my alley.
Alicia Cesaro
Senior Editor: Beauty
1. Lululemon Wunder Under Pant: I recently received a pair of Lululemon's new workout leggings, which are basically the high-waisted counterpart to their OG version. The whole thing is that they're supposed to fit like a second skin, and after trying them through a Y7 Yoga class I can definitely confirm that's true.
2. APL Sneakers: If a brand-spanking-new year isn't inspiration to Marie Kondo your apartment and toss your old (way too old) running sneakers, I don't know what is. Either that or I just really like the *inspiring* feeling that comes with buying new athletic gear.
3. New York Pilates: In keeping with my 2017 resolution, I'm attempting a small but manageable goal of at least one workout class per week (yes, this is a goal for me, whatever). Starting with a New York Pilates class, which is maybe because it's about 17 steps from our office to their studio, so there's no excuse for skipping out. No judgments, okay?
Meagan Wilson
Editorial Manager
Emily Ramshaw
Senior Editor: Features
1. Koral Drive High Rise Legging: High-waisted leggings are a non-negotiable, IMO.
2. Reebok Crossfit Speed TR Shoes: In the past few months, boxing has become my workout of choice (cathartic, ass-kicking, generally not boring), but I'm in desperate need of more supportive running shoes. These Reeboks are the best when it comes to that.
3. Carbon38 Atom Tank: Give me a breezy tank top that doesn't cling when I sweat, and I'm set.