Hair
What Happened When I Decided to Go Platinum
How going gray made Renée Rodenkirchen bleach her hair.
Selin Bozkaya
Confession: I'm going gray. And have been for a while. I mean, I love gray hair, but being in my early 30s, I'm just not quite there yet (no matter how well Sarah Harris and Caroline Issa manage to pull it off).
I first started dying my hair brown to cover up the silvery strands, but then, in the summer sun, my hair began turning into this brassy color. I tried to let the brown grow out for as long as I could; the gray still didn't sit quite right with me. I couldn't stop being worried about the idea that I was too young to be going so gray. I'm not new to trying drastic hair changes, because I always try to remind myself that it's just hair, and hair grows. This isn't permanent. So this time around, I decided to take the ultimate plunge and bleach my hair. Live a little, ya know?
---
When I showed up the morning of my appointment a few weeks ago, I was pretty nonchalant about the whole hair bleaching thing, which I think weirded out the team at Sharon Dorram color at Sally Hershberger salon. That said, I knew I was in good hands the minute I started chatting with Sharon—she's colored everyone from Annie Leibovitz to Kate Hudson. She assured me this wasn't going to be a Miley Cyrus production that would take us into the wee hours of the morning. Phew.
Here's how the transition all went down.
The (obvious) truth: bleaching your hair stings. The first part is the worst—this is when they do your roots. You keep the bleach on as long as you can stand it. I think I did 15 minutes under the heater and then I had to get out. My scalp started sizzling a little. I tried to stick it out for a little longer, but Sharon ushered me to the sink as she explained, "We don't want it to blister." Yup. Same.
Turns out it was perfect timing; my scalp was completely fine and the bleach actually took well to my hair. Sharon, plus four assistants, were satisfied with my root colour. The caveat, though, was the bottom half of my hair, where some old color was clinging on. We processed it two more times (which equalled three hours) before the team was satisfied with the color. Every time we washed it out, the orange would fade a little more.
I'll be honest: the in-between stages ain't pretty. A quick clean-up chop of my ends for a fresh look, and an application toner later, and I loved it! I seriously hardly recognized myself, but it felt good!
The one thing you have to remember is that you're now blonde. I'd go to the bathroom at night (or after a glass of wine or two) and startle myself because I wouldn't recognize my reflection. So stay aware, kids.
— one —
Washing your hair is a whole other ballgame.
You have to be SO gentle. I now use conditioner before and after I shampoo. When you first get out of the shower, your hair sticks down like a helmet. I do a couple of back-and-forth hair flips to loosen it up, and put in a few pumps of hair serum. I try to let it air-dry for as long as possible to minimize the damage of the hot air of a blow dryer. I put a serum in my hair every day to help moisturize it and keep the hair-washing to a minimum—every 3-4 days. Even if I just rinse my hair, I'll need to use some conditioner. It's a hydration game.
— two —
Invest in some good purple shampoo.
It takes the leftover brassiness out of your hair. Be careful not to overuse or your hair will turn gray.
— three —
Change in skintone.
Having bleached hair has really brought out the red tones in my skin. I've started wearing a little more makeup and penciling in my eyebrows. I really love the dark-eyebrow-to-platinum-blond-hair look.
— four —
Embrace the grow-out period.
Platinum hair is high-maintenance, but even just a few weeks out, with a hint of roots, I'm really loving it. My gray, which is mostly concentrated to the front, has really toned down the severity of my roots, too. See? Knew there had to be an upside to going completely gray, very early.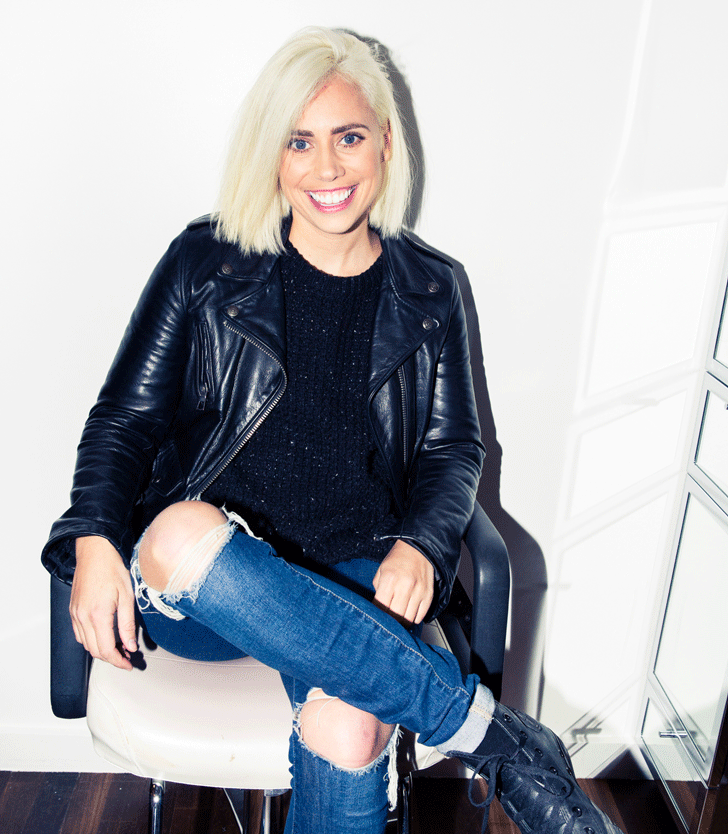 All in all, the blond has been a bit of an adjustment. I'm a very low-maintenance person when it comes to my appearance, and have never done much other than a little mousse or some mascara and lipstick. Now I take better care of my hair; conditioning a lot and paying much closer attention to my skin as a result. I use to just put oil on my face and call it a day; now I have a whole morning and night routine for both my skin and hair. Let's put it this way—going platinum might just be the one thing that takes low maintenance into high maintenance.
This is Malfoy signing off. Or is it Kim Kardashian, circa 2015?